North American Bike Park Review Tour
Deer Valley Bike Park
Photos by Dusten LaPointe
Deer Valley, Utah is known as one of the most luxurious and elite ski resorts in the Western United States, with miles of terrain, an Olympic park and some of the best snow around. In the summer, Deer Valley transitions into a mountain bike park with 70 miles of trails leading back down to the lift. If you like to pedal and explore, you'll be happy to know you can also access over 400 miles of other singletrack in the mountains above Park City and Deer Valley. The lifts first started carrying mountain bikers back in 1992, making Deer Valley Bike Park one of the oldest lift accessed bike parks in North America. Many of the trails date back to that era, and some of them ride like it too. Deer Valley has teamed up with Gravity Logic and their own trail crew to make big strides in recent years however. There are several new modern style flow trails, green trails and even a black jump trail to compliment some of the old school tech this mountain is known for. Of course, they've also made tweaks to some of the black tech trails that made them our favorites, while others are definitely in need of some flow improvements.
THE TRAILS
With 3,000 feet of descending per lap, the 24 trails on the mountain are accessed by two main chair lifts (and one connector lift). The lower half, which is accessed from Snow Park Lodge via the Silver Lake Express and Homestake Express lifts offer fewer trails that are a bit more natural aside from one brand new Gravity Logic flow trail.
The upper Sterling Express lift begins at the upper Silver Lake Village and provides access to the upper trail network. This upper section is where the bulk of the trails reside, like the green trail Holy Roller. It also houses plenty of blue flow, tech, and the advanced jump trail, Tsunami. This upper lift is also where riders can link into the 400 miles of additional singletrack terrain without having to pedal to the top of the ridge under their own power. Even though it isn't officially part of the bike park, many of these trails offer incredible views and some of the best singletrack riding in Utah. Be warned that they don't end up at the lift though. You'll have to get home under your own power! Check out the full map here.
If you're sticking to the park alone, true beginners only have one green trail, called Holy Roller. It is a wide, mellow trail that leads you around expansive summit vistas and down into the trees before ending up back at the lift. As far as green trails are concerned, it's very welcoming, but still has small features like rollers and berms to let riders get their feet wet.
The next step after Holy Roller are the blue trails that have a slightly steeper grade and more pronounced features and tighter corners. Blue options range from wide flow, jump trails, to meandering single track through the aspens like Super G. At low speed, Super G is a mellow, meandering trail. Crank up the speed though and it turns into a thrilling ride even for advanced riders.
The other two popular trails are Tidal Wave, a blue jump trail, and the black jump trail called Tsumani. We have a full POV video run on Tsunami here. Both trails give riders a chance to ride extensive jumps and berms, with no gaps or high stakes features. Both trails are also part of a recent effort to modernize the park with new school trails built by Gravity Logic.
This year, Gravity Logic finished a brand new blue trail on the lower mountain called Undertow. We have a full trail preview of that trail here. Tsunami is a solid jump trail for advanced riders, with jumps similar in size to A-line at Whistler Bike Park. Some of the larger jumps and shark fins out of berms will keep advanced riders happy, but a couple sections of trail could benefit from some alternative lines and better speed management to reduce braking bumps from beginner riders. We also found inconsistencies in jump sizes as you worked your way down the trail. Just as you'd be building speed after hitting a few larger jumps a small jump would appear requiring speed adjustment and trail reading skills to avoid flat landings.
While some of the construction was top notch, we felt a few areas could use some improvements. There were definitely a few issues on the newly built Undertow. On average, it's a solid trail with plenty of fun to be had. It's a pretty mellow pitch that keeps riders off the brakes however we didn't love the steep, blind rollers. Beyond the steepness of the rollers, which we found problematic for inexperienced riders and others who were carrying a lot more momentum, there were with sharp drainage edges on the backside of the rollers that could easily take riders out if they're just a couple inches off line. The trail transitioned from being pretty mellow and fun to having steep, sharp radius switchbacks, where we encountered several beginners sliding on their butts down the steep, downhill berms. No doubt it was a struggle building the trail down such a steep mountain, but after watching several beginners feeling a bit overwhelmed in the steep turns, it may be something to note if you are taking newer riders down this trail.
The majority of the other trails on the mountain are technical, raw black trails. Many date back to the 90's, or at least feel that way. While we love natural trails, some felt like they needed revisions to flow to keep up with modern bikes and riding styles. Aspen Slalom was a trail we thought looked great from the lift and had an enticing name to match. After dropping in we pretty quickly regretted our decision. Let's just say it's not on our "Must Hit" list.
One trail that kept us excited and coming back for more however, was NCS.  Each lap we looked to perfect our lines to gain speed and gap obstacles. It is a rocky, loose trail with some root sections thrown in for good measure. It snakes through trees with steep sections and plenty of gnarly, challenging tech. If you like rocks, roots, blazing through aspen trees and beautiful views— Deer Valley has lots to offer. If you're gonna stay for a while bring an extra rear tire and some brake pads.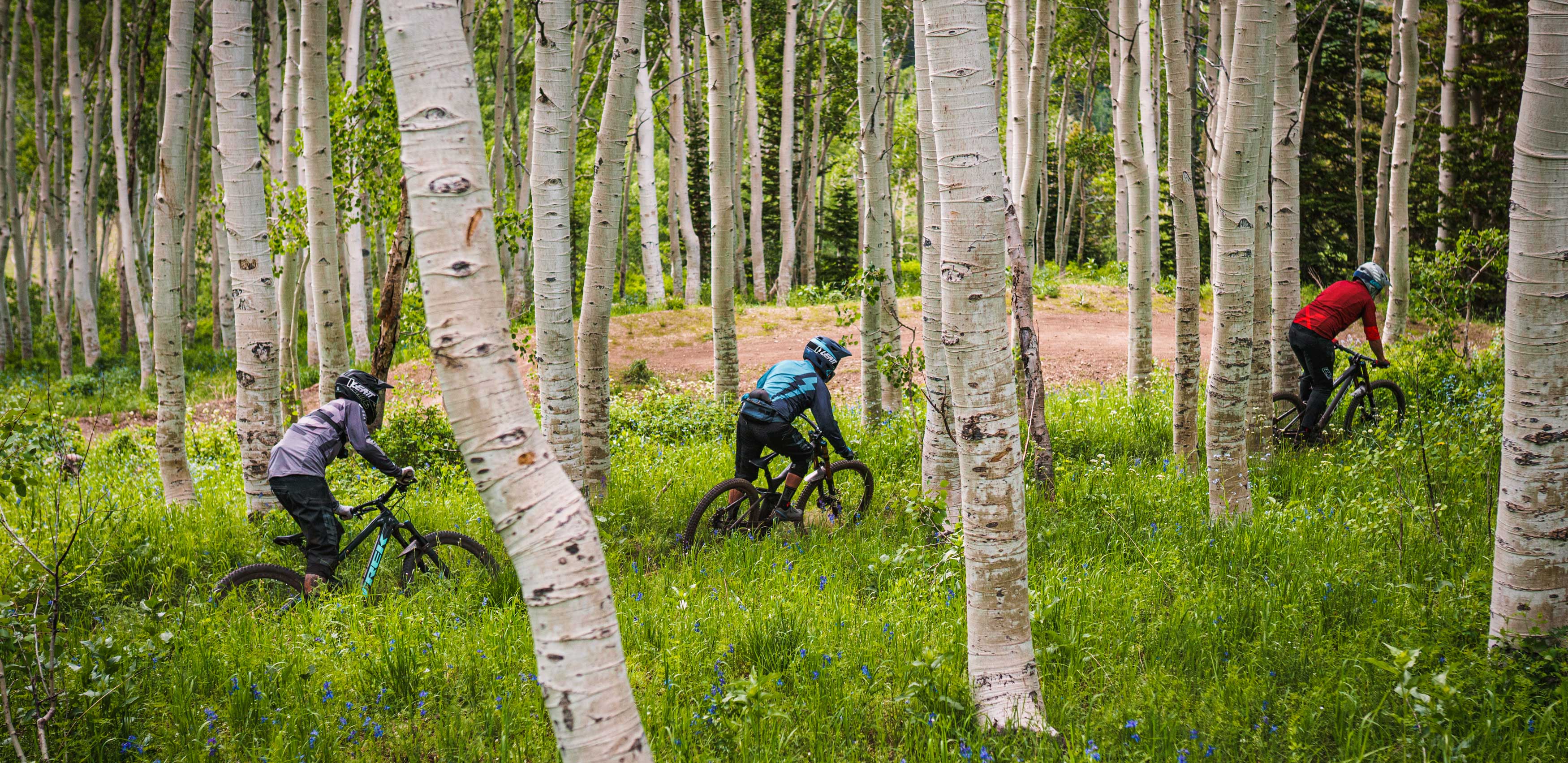 ON SITE ACTIVITIES
Deer Valley is a premier resort, with facilities to boot. In the Deer Valley area, there's no shortage of spas, high-end restaurants, and traveler experiences. For families with kids, Deer Valley offers a Summer Adventure Camp, and has several other activities. Each summer Deer Valley has a free concert series at the Snow Park Outdoor Amphitheater where visitors can enjoy beer, friends, and a picnic on the grass hill above the stage. The folks at Deer Valley were nice enough to set us up with some concert pick-up pizzas from The Brass Tag, a delicious restaurant just down the street from the venue.
Not much says summer like watching a band play from the comfort of a lush, grassy hill as the sun sets in the mountains. Another highlight for mid-week travelers is the Deer Valley Twilight Ride Series. On Tuesdays, July 2 through August 27, lift-served mountain biking is available from 4 to 8 p.m. on Silver Lake Express, Homestake Express and Sterling Express chairlifts. Ticket prices are dropped to only $25, with $3 and $5 beers. The Snack Shack also serves up some killer tacos. For about $6 you can have a full dinner and shred trails with your friends until the sun sets. It was a great scene, and we had fun ripping trails and eating tacos with all the locals who head up after work!
WHAT BIKE TO BRING
Deer Valley has lots of technical, rough trails that require a bike with at least 140mm of travel. If you are planning to stick to green and blue trails, then short travel or even hard tail bikes will get the job done, as proved by plenty of people we saw riding around. If you are an aggressive rider and like bike parks, we recommend something with 160mm of travel or more. We thought the Trek Slash was a pretty solid bike all around as it blended playfulness on the jump lines and mellower trails but could still handle the old, school tech without being too long and slow.
WHERE TO STAY
We were thankful for the generosity of Deer Valley providing us with an incredible ride in ride out accommodation right at the base of the Snow Park Lodge Lift. The condos and accommodations in the valley are luxurious and priced accordingly, even if summer is cheaper than the winter prices. The stay becomes much more manageable if you can split the cost with friends. A quick search for two adults yields pricing between $175 and $880 per night for resort lodging in the Deer Valley area. For those looking for more night life or cheaper lodging, moving the search down to Park City drops prices and puts you closer to the bars and downtown area. Of course VRBO and Airbnb also have some solid deals.
Camping is not a great option in this area. Campers are pretty much limited to long drives and paid campgrounds outside the Deer Valley area. This is a location we'd recommend just getting a condo or hotel instead of trying to camp.
LOCAL INFO
If you're looking to spend some time outside the bike park, Deer Valley and Park City have a lot to offer. Our favorite spot for breakfast was the Deer Valley Grocery, which is located just a quick pedal from our place. Inside they had delicious pastries, coffee and breakfast food on the shores of the Deer Valley ponds. You can also paddle board or kayak from the deck of the restaurant. If it's fine dining you're in the mood for, you'll run out of days before you run out of restaurants. If you venture down into Park City there's plenty of more affordable options as well. One of our favorite dinner spots is Davanza's Bar and Eatery. Inside you'll find walls lined with vintage beer cans, great staff and some amazing pizza and Philly Cheesesteaks.
If you're willing to venture a little farther into Park City, Five5eeds has some incredible food, pasties, coffee and one of the best non-traditional chicken and waffles we've ever had. Seriously.
For those interested in more outdoor activities, there are hundreds of miles of trails to enjoy in the Deer Valley area accessed on foot or from the top of the lift. Gorgeous views of the mountains and town await those willing to climb the mountain peaks.
While it is a short drive away, Jordanelle State Park is worth a visit for the beautiful swimming spots or paddle boarding. We also went over to the Park City Olympic Center where they held the Winter Olympic games. Inside they have a winter sports museum, as well as ziplining, ropes courses, a ski pool jump and you can even buy a ride in a luge! It's a cool visit for anyone interested in the Olympics.
FOOD AT THE PARK
Deer Valley's upper Silver Lake Lodge has several dining options including the Snack Shack and Royal Street Café. The Snack Shack offers more budget friendly, quick dining but doesn't skimp on quality. We thoroughly enjoyed the nachos, wraps and pulled pork sandwiches and felt the prices were reasonable for resort food. It's also just a few steps away from the lift.
If you want something more upscale, the Royal Street Café has higher end sit down dining for lunch. While the food was good, it was nearly $200 for the five of us to get sandwiches, burgers and lemonades, so be ready for the bill. Deer Valley has always positioned itself as a high-end resort, and the prices reflect that position. Thankfully the exceptional service and high-end food did too.
The resort and high-end lodging cater more to established adults than young families because of the pricing. By no means is lodging or food cheap in the Deer Valley area, but thankfully the neighboring town of Park City has plentiful lodging and food options that are a bit friendlier on the wallet. Of course if you've got a big group of guys like we did, you can combine your dollars and get something large like our beautiful condominium at the Trail's End Lodge. Deer Valley provided the five of us with ride in ride out lodging so were able to work efficiently, cook food, soak in the hot tub and pedal 40 feet to the chair lift entrance. It was a beautiful space that really set the stage quite high for the rest of our trip.
The Wolf's Last Word
At $48 for a one-day adult lift ticket, Deer Valley's bike park is actually quite affordable. That price gets you access to a massive trail network, two chairlifts and a large range of trails. Beginner riders might find that there are gaps in progression from the green to black trails, but intermediate and advanced riders will have ample terrain to enjoy at this park. Many of the tech trails like Fire Swamp and NCS are highly challenging and fun to ride once you get the lines and flow dialed. For riders that enjoy jumps, Tidal Wave and Tsunami are solid jump trails that give riders ample airtime on a wide range of jump sizes.
We wish the park had slight tweaks to features and updates to older trails like Aspen Slalom that lack flow and maintenance. We also hope they make speed management and maintenance improvements to reduce braking bumps on the flow and jump trails like Tsunami.
That said, no park is perfect and our critiques wouldn't stop us from booking another trip back to Deer Valley. The surrounding area also offers more trails to ride, places to eat and things to do than you could possibly fit into a long weekend. The charm of the town and fun local culture in the summer complete with concerts and evening taco Tuesdays make Deer Valley a truly memorable experience! We know we'll be back to ride this park and hang out in the incredible town.
Check out ticket prices and more info on the Deer Valley website.
THE FINAL SCORE
Trails: 7/10
Affordability: 6/10
Food: 9.5/10
Nightlife: 8.75/10
Lodging: 8/10
Camping: 3/10
Off Mountain Activities: 9/10
Chairlift Dates and Hours
June 14 – September 2, then weekends only through September 22, 2019
Chairlift hours are 10 a.m. – 5 p.m., daily. Last round-trip leaves at 4:30 p.m.
Please note downloading is not permitted on Homestake Express chairlift
Twilight Series Hours
Tuesdays, beginning July 2 through August 27, 2019, from 4 to 8 p.m.
For more information, visit Deervalley.com
LEAVE A COMMENT, WIN FREE SWAG!
Want to win some free schwag? Leave a comment and vote up the most thoughtful comments and each month we'll pick a winner. The person with the smartest and most helpful replies will earn some sweet new gear. Join the Pack