2022 eMTB SHOOTOUT
SCOR 4060 Z LT XT 2022 eMTB Review
Video by Brian Niles / Treeline Cinematic
Photos by Dusten Ryen

When we first saw the SCOR 4060 Z LT eBike at Sea Otter Classic last October and were instantly impressed. In fact, it was the first time we'd seen any SCOR mountain bike. The entire SCOR MTB lineup was beautiful, and they looked like very fun bikes to ride. We poked around the booth and were lucky enough to get connected with their marketing department who agreed to send us a bike for our 2022 eMTB Shootout. We selected their longer travel, enduro eBike, which sports 160mm of rear wheel travel with 170mm of travel up front and a well-balanced geometry and spec recipe and some pretty respectable pricing compared to other offerings in the current eMTB market.
For those also unfamiliar, the SCOR Mountain Bike brand was a bit of a passion-fueled side project of BMC Bicycles, that has given birth to one of the most fun bikes in this year's eBike Shootout. BMC Bicycles is an elite-level bike brand known for their incredibly light, and beautiful cross-country and road bikes. As it worked out, some of BMC's more shreddy R&D department employees grew restless knowing that the brand they worked for didn't have bikes that catered to their style of riding. They set out to create a line of bikes under a new flag, designed to play in the steep, tight and technical trails of the local Jura Mountains in Switzerland. When a new bike brand launches with one good looking bike it's pretty exciting for us bike nerds, however when a new company launches with trail, enduro, and two eBike options, then we get really excited. So, let's see how that excitement played out while doing this scor 4060 z lt xt review during our 2022 eMTB Shootout.
QUICK HITS
• Lower-Link Driven Instant Center Linkage
• 160mm Rear Travel
• 63.8° Headtube Angle
• 77.9° Seat Tube Angle (effective)
• 485mm Reach (Large)
• 435mm Chainstays
Price: $6,599 (SLX) – $8,699 (XT)
Website: SCOR-MTB.com
THE LAB
SCOR's 4060 Z is a fully carbon fibered frame that utilizes a lower link driven instant center suspension linkage. Also known as a virtual pivot point. A cool feature about SCOR's eMTB and MTB offerings is that the bikes can be swapped between 140mm of 160mm of travel. We kept our bike as an LT (Long Travel) but knowing we can swap between the two travel categories depending on where we're riding is a neat feature. It's also a coil or air shock compatible design and the depth at which SCOR highlights their suspension technology and thoughts is quite awesome. Check it out here.  
SCOR offers the 4060 Z LT in two spec options from $6,599 to the tested XT level bike at $8,699. There are also two shorter travel models available. Our SCOR Z LT XT model may offer one of the most competitively built/priced eBikes in the shootout. SCOR built the Z LT XT model with a Fox Float Factory 38 fork with 170mm of travel and a 160mm Fox Float X Factory rear shock. Shimano XT brakes and 12-speed drivetrain handle stopping and shifting duties while the Shimano STEPS EP8 drive unit helps maximize your power with a 720Wh battery. DT Swiss H 1900 wheels are wrapped in Maxxis Assegai / Dissector tires for a weight right around the 50lb mark for a size large. As with all of our test bikes in this year's eMTB Shootout, we swapped the Maxxis tires out for our official shootout tire from Schwalbe.
The geometry is capable for an all round bike that is both playful and stable. This bike surprised many of our testers when they found out it was actually in the Enduro (160mm +) category and not a Trail bike.
THE DIRT
From the first moment we saw the SCOR MTB line we were in love. Whether it's the electric or standard mountain bike offerings, SCOR have created lust worthy mountain bikes that ride as good as they look. Our first day out on the SCOR 4060 was during a Trail bike test day and we didn't even tell the testers they were on an Enduro category bike. They were bopping and playing all over the trails, moving quickly through flatter sections of trail and enjoying the snappy and lively feel. It wasn't until the end of the day they found out this was a 160/170mm bike that was part of the Enduro group. This is quite a testament to the light and lively suspension platform and competitive weight of the 4060 Z LT.
The downside to that playfulness did present itself on the chunkiest and gnarliest of downhill tracks at Windrock Bike Park. Perhaps a burlier shock spec would have helped keep the rear end a bit calmer but we're betting that the shortest chainstays of the shootout had more to do with it. The average chainstay length is 448.2mm and the SCOR's sit at just 435. Most bikes are in the mid 450-460 range, and the difference was noted. While it made the bike handle like a shorter travel trail bike on a majority of trails, those regularly bombing the gnarliest downhill trails they can find, may have issue.
Some of our testers would be part of our party-train laps at Windrock and doing fine until the trail dropped or got excessively chunky. At the point we found ourselves fighting hard to keep up speed and slowly realizing, "I'm just gonna tap the brakes and have fun." Once at that slightly slower speed, gaps, jumps and jibs opened up and we began to forget the freight train of race bikes leaving us and we had fun just styling everything we could get airtime off of.
That may or may not be what you want out of a bike, and for that reason we felt it prudent to share. If you want a bike that lets you easily bop and bounce around on mellower trails but still want the extra travel and ability to hit some burlier trails, this bike is a very good option. If you live for self-shuttling your eBike to hit the double black diamond downhill trails day in and day out, a slightly more stable and DH capable rig may be a better option for you.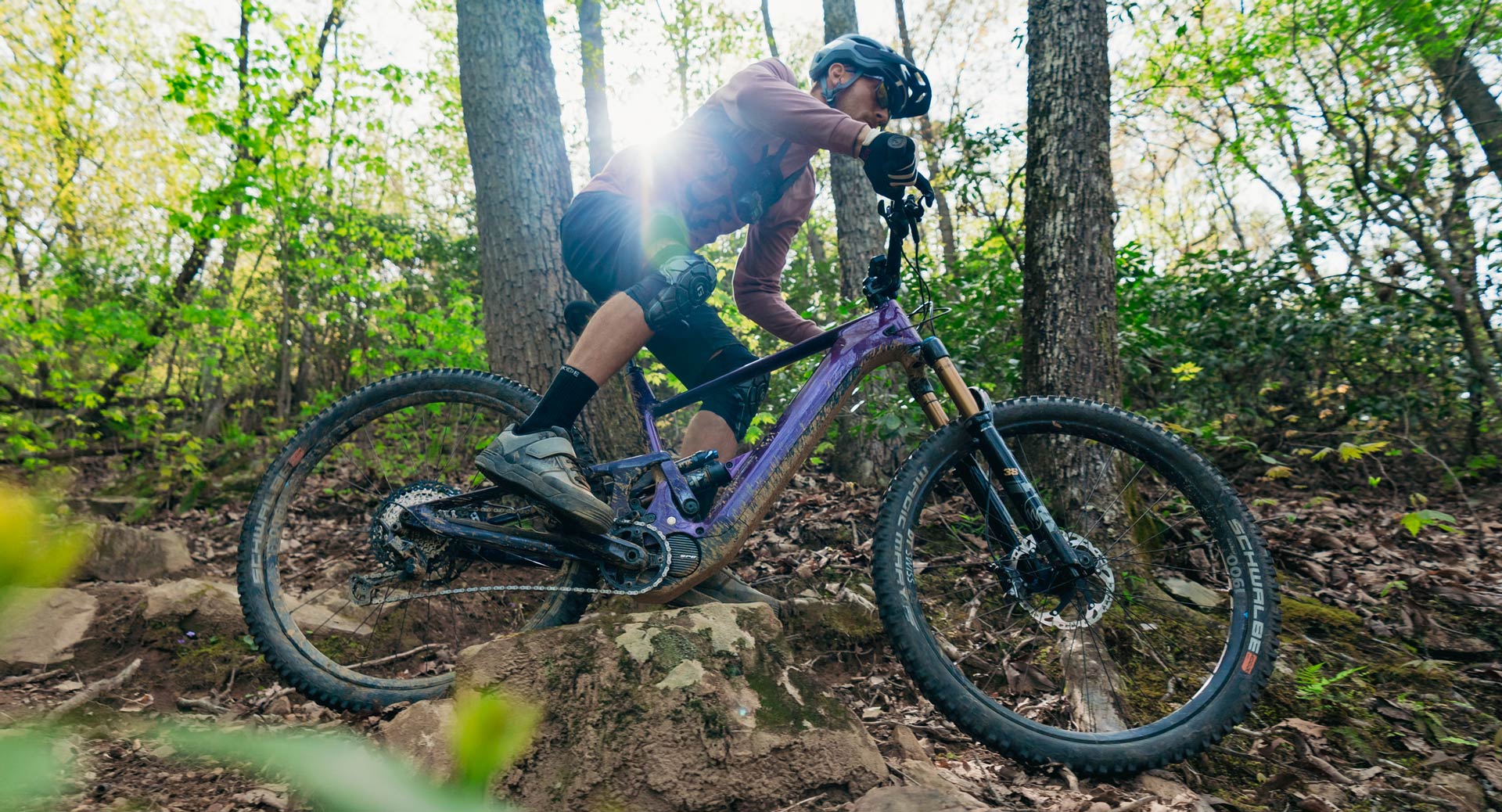 The Wolf's Last Word
Without a doubt this was one of the bikes our crew was most excited to learn. We definitely found its limits and where it shines. At the end of our test session, it had quite a few miles under it and we loved the fact it could be taken on mellower trail rides, big flowing jump lines and still able to navigate down trails at Windrock Bike Park. It's not our top pick for those rough and rowdy bike park days, but if you're someone who's more likely to be spending time pedaling miles, jumping around and wanting a bike that blends longer travel confidence with trail bike playfulness, our 2022 eMTB review of the SCOR 4060 Z LT XT showed it's a very awesome bike. Just make sure you get some LocTite on that shock and linkage hardware as ours came loose every single day.
Price: $8,699
Weight: 51.5 lbs.
Website: SCOR-MTB.com
SCOR 4060 Z LT XT SPEC:
CHASSIS
Frame: SCOR 4060 Z full carbon | 160mm
Fork: Fox Float 38 Factory GRIP2 | 170mm
Shock: Fox Float X Factory
ELECTRONICS
Motor: Shimano Steps EP8 | 85 Nm
Battery: Darfon 36V | 720Wh
Display: Shimano EM800
COCKPIT
Brakes: Shimano Deore XT | 203mm
Bar: SCOR Carbon Bar | 31.8mm | 800mm wide | 20mm rise
Stem: Burgtec Enduro MK3 | Length: 35mm
Seatpost: Bikeyoke Divine | S: 125mm, M/L: 160mm, XL: 185mm travel
Saddle: Fizik Terra Alpaca
WHEELS
Rims: DT Swiss H 1900 Spline
Hubs: DT Swiss 370
DRIVETRAIN
Cassette: Shimano Deore XT | 10-51T | 12spd
Cranks: Shimano Deore XT | 165mm | 34t
Shifter: Shimano Deore XT | 12spd
Derailleur: Shimano Deore XT | 12spd
We Dig
Blurs the boundaries of Trail / Enduro
Playful and snappy
Rides light
Looks Great
Value
We Don't
Hardware came loose daily
Short rear end limits gnarly DH stability
Would love an X2 Shock Option
LEAVE A COMMENT | WIN FREE STUFF
Want to win some free schwag? Leave a comment and vote up the most thoughtful comments and each month we'll pick a winner. The person with the smartest and most helpful replies will earn some sweet new gear. Join the Pack and get the latest news and read the latest reviews on the top mountain and electric mountain bikes.