Frigid Phalanges
Cold Weather Riding Gloves
Words & Photos Drew Rohde
As the days get shorter and the temperatures continue to drop, adapting to our changing environment is vital to staying on the bike through the winter months. There are countless options on the market when it comes to cold weather gloves, but we've got three of our favorites for three different types of cold.
---
Dakine White Knuckle Glove
These are hands down, our favorite winter glove. The top of the hand is substantially thicker than the 100% Briskers and Tasco's Dawn Patrol gloves. Depending on the temps, we find ourselves rotating through this line up or even packing a pair so that we can ditch the White Knuckles for a thinner pair as we warm up.
We've been wearing these White Knuckles for over two years and easily have another season to go. Bar feel is one of the highlights of these gloves. Often times, thick winter gloves will sacrifice bar feel for thickness. This means the White Knuckles probably aren't ideal for fat bike riders who love steamrolling pow-pow and throwing snowballs, but for mountain bikers looking to ride comfortably in cold temps, they're awesome.
One hundred grams of Thinsulate insulation traps the heat below the windproof stretch nylon/neoprene shell block wind. The top of the hand also has a mid-weight fleece lining for added comfort and warmth. The synthetic suede palm isn't much thicker than a normal glove, but does have a 3mm foam padding insert near the back of the palm.
Slim with a comfortable palm, ample bar feel and cold weather protection, these gloves are nearly perfect for temps down into the 30s and up to the mid 40s. Our only real nitpick is that they aren't waterproof, but we're not quite sure what compromises that would bring to the points we love so much about them.
NOTE: We just found out that Dakine is discontinuing the White Knuckles so if you're in the market, we recommend you get 'em before they're all gone!
Price: $38;
Website: dakine.com
---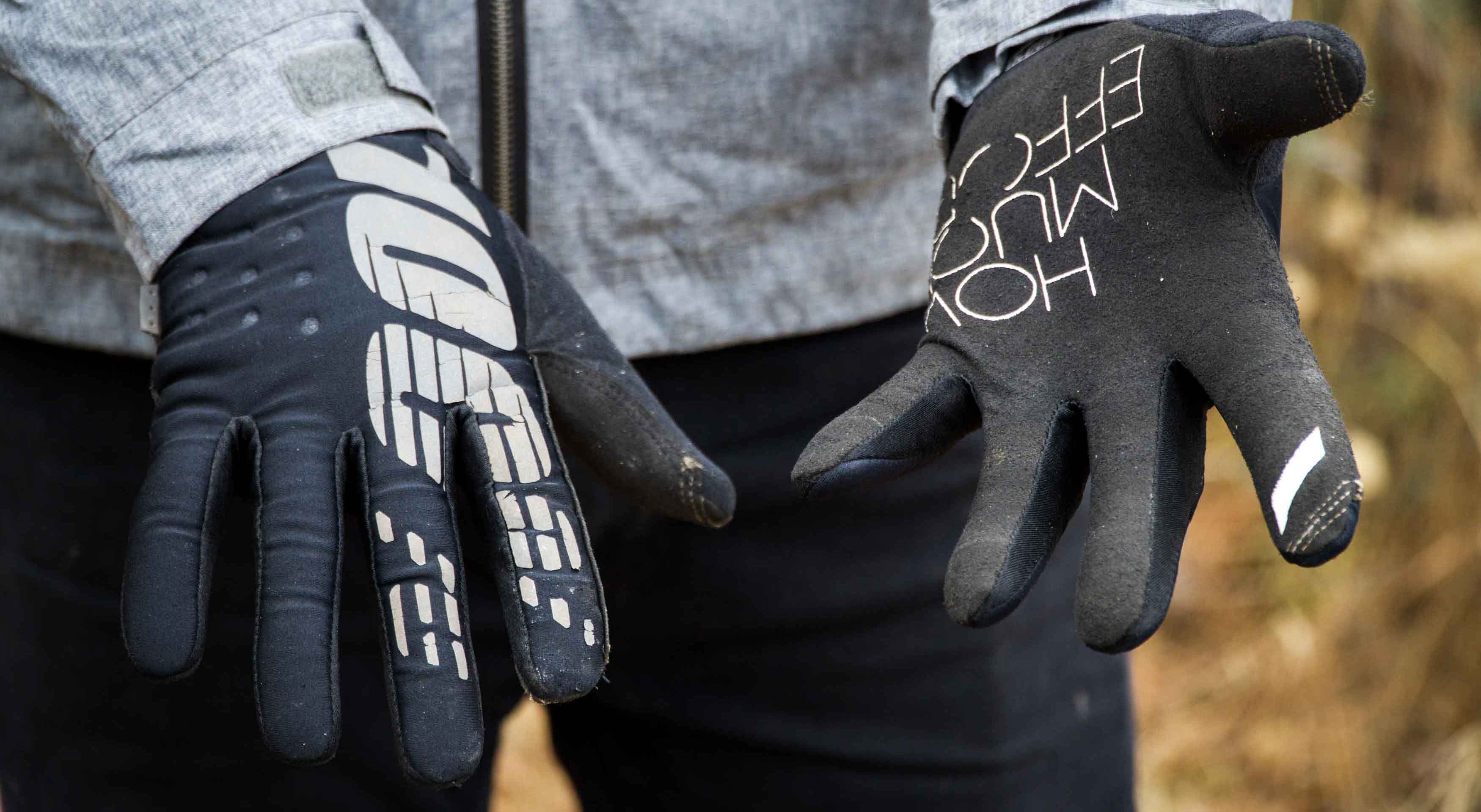 100% Brisker Glove
Designed to be a minimalist cool weather glove, the Briskers are a solid choice for rides starting on cooler mornings when the temps will creep up. Depending on your hand circulation, these gloves are great from 45-50 degrees up to about 60.
The lightly insulated soft shell top takes the edge off chilly breezes while also keeping some warmth in the glove as you drop into your favorite descents. The single-layer Clarino palm is comfortable and features silicone-printed graphics, which increases grip in damp conditions.
Tech thread makes those moody Instagram photos easy to capture while the soft thumb means you can comfortably wipe away the snot before you snap that selfie.
For riders who are warm-blooded or don't quite get the cold temps that necessitate the White Knuckles, 100%'s Brisker are a great cool weather glove that blends comfort, versatility and subtle styling with practicality for less than 30 bucks.
Price: $29.50;
Website: ride100percent.com
---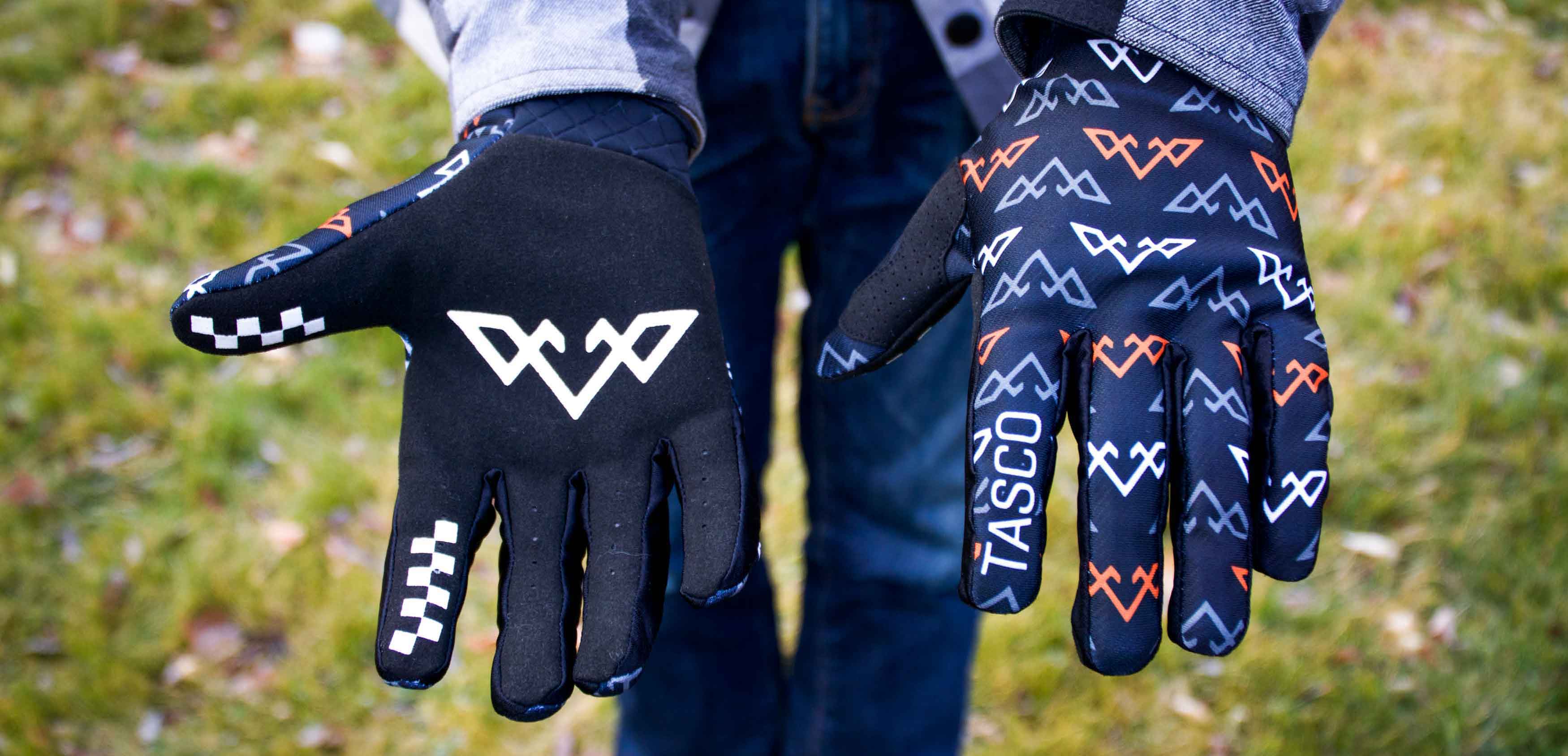 TASCO MTB Dawn Patrol
The brand we collaborated with to make our own Loam Wolf gloves, has just released a new winter offering. TASCO MTB's Dawn Patrol gloves came from the brand's early SoCal morning rides. Cool temps and dew-covered brush helped fine-tune these gloves for warm-blooded riders, or those who don't live in the arctic.
These fleece-lined mits are windproof and water resistant on the top of the hand while the synthetic leather palm's single layer material maintain bar feel.
Creature comforts include micro-fiber handkerchief wipes on both thumbs and smart phone conductive material. The Velcro-free neoprene enclosure makes cleaning a breeze.
Price: $35.98;
Website: tasco-mtb.com

Leave A Comment & Win Free Schwag
Want to win some free schwag? Leave a comment and vote up the most thoughtful comments and each month we'll pick a winner. The person with the smartest and most helpful replies will earn some sweet new gear. Join the Pack