Words by Andrew Taylor  |  Photos by Paris Gore
It's been nearly two years since I stumbled upon this old decommissioned school bus that I knew would eventually take me on some dream road trips. When purchasing the bus I had some big goals in mind, with the first being a road trip north from California to Alaska, and the second being an adventure south, down the entire Baja Peninsula in Mexico. It's a great feeling sitting here writing this knowing that after some hard work and motivation, both of those dreams turned into a reality.
Although Alaska was one of the best road trips of my life I knew I was missing one thing that could make the next adventure even better. Every solid road trip needs a good wingman. I reached out to my old pal Martin Soderstrom to see if it was something he would be interested in.
Martin and I met near the beginning of our riding careers over ten years ago at a jump contest in England and have crossed paths many times over the years. Whether it was an epic road trip or at a contest, Martin has always been someone that I looked up to as a rider so it was an easy decision inviting him along for this adventure. After a quick chat to lock down some dates we both could swing, he was on board for the Baja journey and I was more than stoked to have him along.
Now that I had a solid road trip buddy on board and the destination picked out, it was time to dig into the research part and find out what kind of riding the Baja actually had to offer. Over the years I had seen some videos and photos from other riders traveling down in the area but I wasn't really sure what the desert terrain held. Luckily we are living in a day and age where we can use one of many social apps, and the biking world gets that much smaller.  We're able to connect with riders and trails from all parts of the world in minutes. After some research and a handful of messages I had a solid route planned with some locals that seemed more than stoked to show us around along the way. It was time to pull off yet another epic road trip in the bus.
For those of you reading this that don't know much about the Baja, it's a peninsula that starts just below San Diego, California in the border town of Tijuana, Mexico. A narrow two-lane highway stretches nearly one thousand miles south, ending in Cabo San Lucas where the Pacific ocean meets the Sea of Cortez.
The region is made up of sparsely populated desert towns with a handful of large cities along the way. With it being mostly desolate terrain, I found that there are few and far actual riding locations but what I did find looked very promising. I find it's always great to have a somewhat loose plan on trips like this but leaving some of it unknown also makes it very intriguing!
We picked up Martin at the San Diego airport after his long flight from Sweden. We loaded things up and made our way south towards the border at Tijuana. I've traveled down to Mexico by plane many times but this would be my first time crossing the border in a vehicle so I really had no idea what to expect. With Martin and I, a crazy looking school bus, an RV and a film crew of three we really didn't know how the crossing would go. Luckily after a quick X-Ray of both vehicles and some fresh stamps on our passports it was smooth sailing to our first destination just south of Ensenada.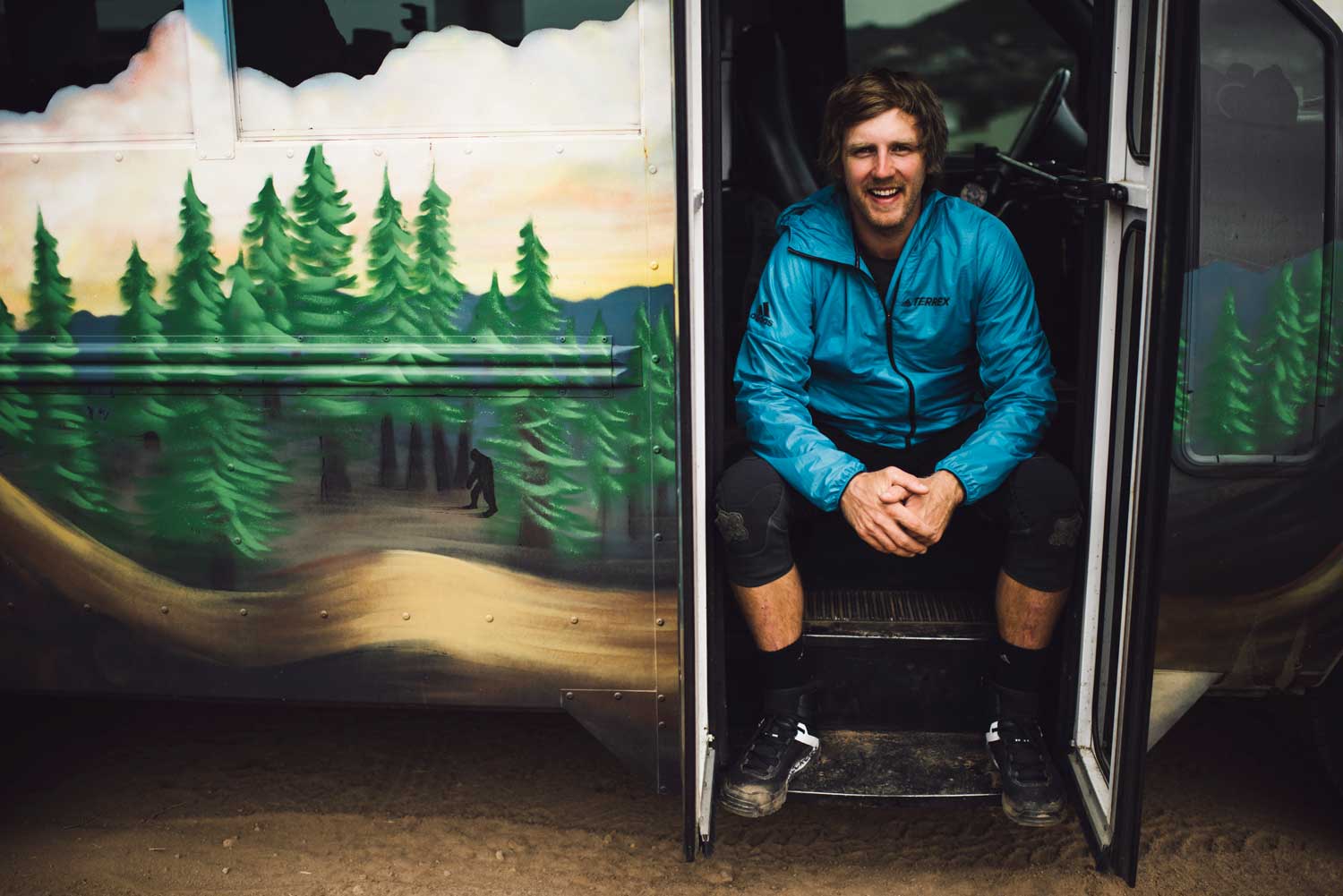 Johnny Peraza was one of the locals that I was able to connect with before the trip so after a quick phone call he was ready to meet us at his local trails right above the famous La Bufadora marine geyser. This was a place I had previously visited without a bike and had no idea there was a ton of mountain bike trails lying in the hills above. After a solid day of riding above the scenic ocean trails we ended the day with some tacos and beers in the town of Ensenada, the morale was high and we were stoked to keep the good times rolling.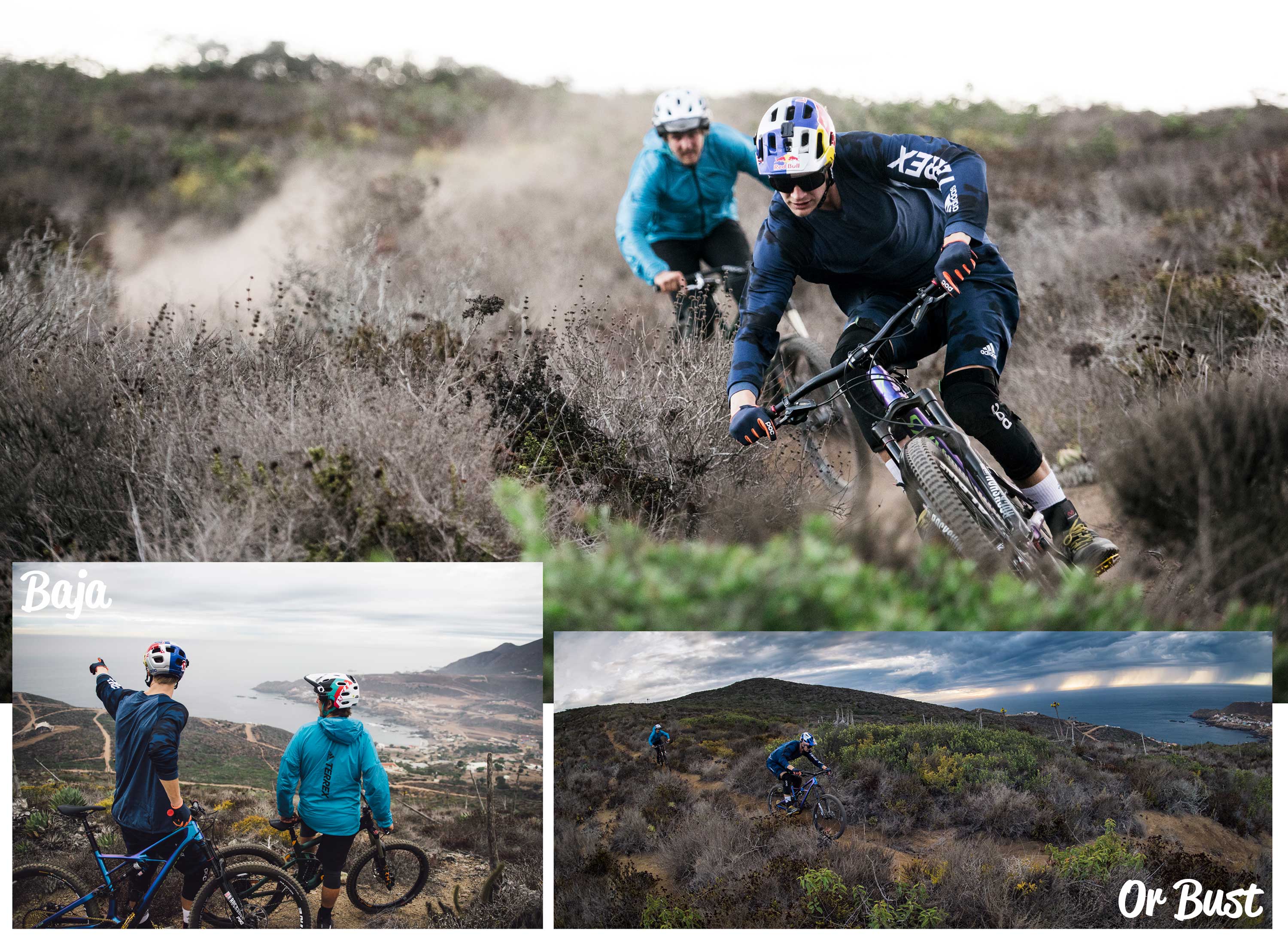 The following day we woke up and made our way south to our second destination. Punta San Carlos is about a six hour drive south, with half of that being a two-lane highway and the other being on one of the longest bumpy dirt roads I've ever experienced. With short days in November we arrived on the dirt road portion of the drive just before sunset so most of the drive into Punta San Carlos was in the pitch black. Driving three-hours down a dirt road at night in the desert felt like an eternity but luckily it wasn't too hard to navigate and we finally found the sign we were looking for. A guy by the name of Kevin runs a wind surfing/mountain bike operation out in the middle of nowhere, Punta San Carlos called Solo Sports. Once we found the location we searched around for the perfect spot on the beach. This would be home for the next few days.
It was one of the coolest feelings of the trip waking up in the morning and finally being able to see the terrain that we drove into the night before. With it being the off-season for Kevin and Solo Sports we were one of the only camps setup throughout the entire area, which made for a cool experience. Being out in the middle of nowhere with no connection to the outside world is something that I long for at times and this was definitely that type of place. Luckily I was able to talk to Kevin for a bit before the trip and he sent over a map of the mountain bike trails he and his crew built over the years so it was pretty easy to know where to look.
That morning we ripped around on the dirt bikes and found all the goods within a couple hours. At that point we knew the next few days would be filled with great trails and some solid camp vibes.
After what would be some of the best riding we found throughout the entire trip in Punta San Carlos we made out way back out the long dirt road and headed south towards our next destination. Like I mentioned earlier there isn't a ton of mountain biking destinations in the Baja so we decided to check out a little town call San Ignacio to break up our drive on our way towards the next riding destination. San Ignacio is located between Guerro Negro and Santa Rosalia and is a little Mission town with a population of less than 600 people. It was a nice quick stop to get on our jump bikes for a little street ride while seeing some of the culture that makes the Baja such a special place. It was super cool seeing the locals and even the police officers were impressed by Martin's street skills. I'd say he definitely left his mark.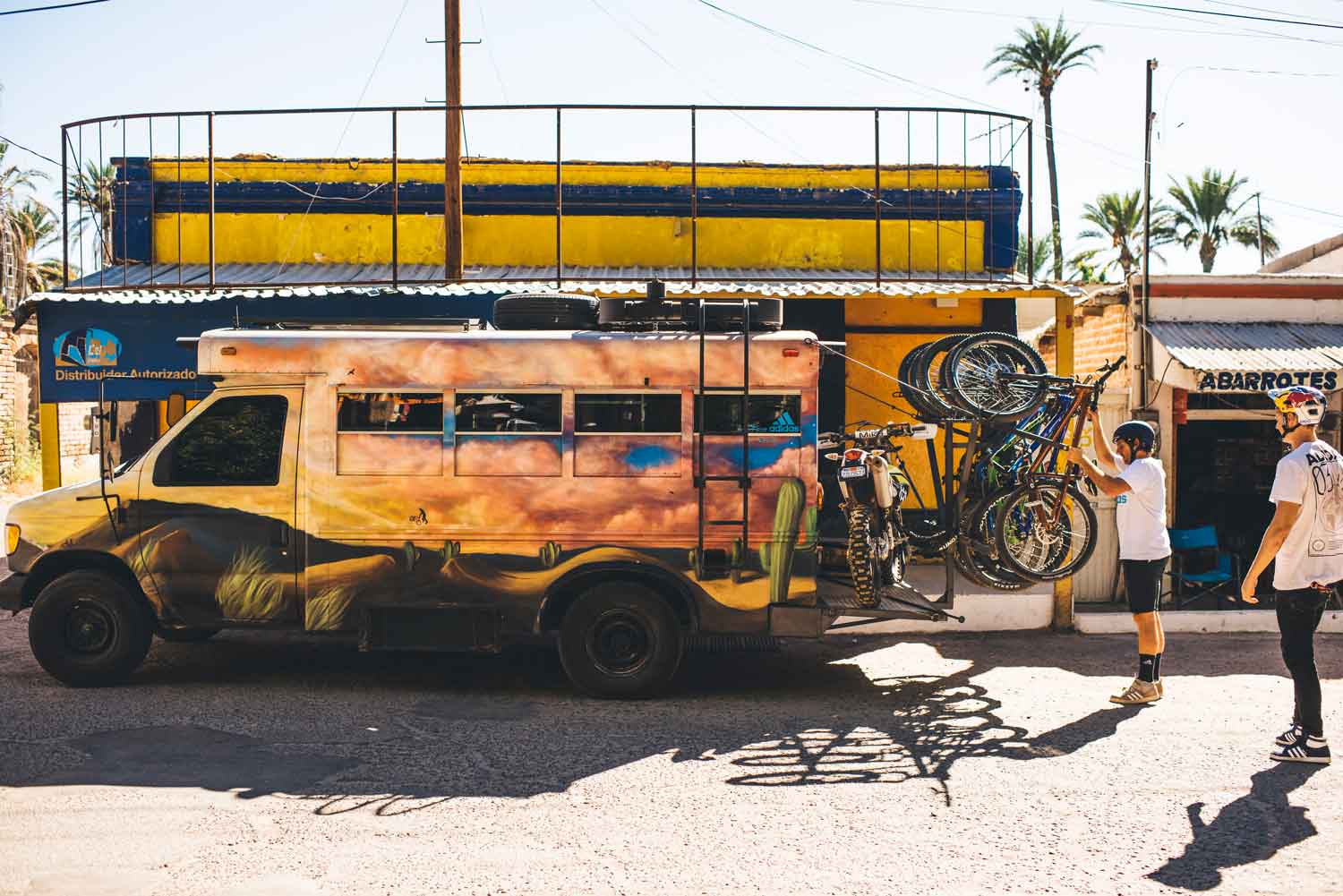 After a nearly five hundred-mile drive through the desert we finally arrived to Los Barriles located on the Sea of Cortez side, where we had a good lead on the trail network above the town. As we arrived in town we were greeted by a guy by the name of Todd Simmler. Todd is originally from Hood River, Oregon but spends his winters building trails and guiding mountain bikers in the area. He was more than stoked to show us the lay of the land and the many trails he had helped build over the years. After a solid afternoon chasing Todd through the trails we were set for the next couple days exploring the area on our own. After a few days of fun on trails that ranged all the way from beginner to expert I'd definitely recommend checking it out if you find yourself in the area.
From Los Barriles we made our way back across the Baja Peninsula to the Pacific side to a town call El Pescadero. This little town located just south of Todos Santos holds one of the best, if not the best skate park in all of Mexico. Word has it an NFL player helped fund the park because of his ties with a local skateboarder. Nonetheless we felt like we had found the jackpot rolling up on this pace. Martin and I both come from jumping backgrounds so it's always a good time when we have the chance to break out the hard tails.
As we entered the park we were greeted by a few of the local skateboarders that were super pumped to have a couple of fresh faces at the park, even if they were mountain bikers. After a few hours of non-stop runs through the park, the heat from the sun forced us to pack things up and head to the beach to get into the water.
With the rest of the afternoon spent surfing and chilling out on the beach it was time to make our way an hour south towards the Los Cabos area. This would be our final destination. We left ourselves a few days for this area since we had heard about some epic downhill trails above the city of Cabo San Lucas and some killer dirt jumps nestled into a neighborhood in San Jose Del Cabo. Both locations exceeded our expectations and made for some epic final days exploring the riding that the Baja has to offer for mountain bikers like us.
There is always the unknown when planning trips like this and especially when you are traveling into a foreign country, but overall I would say the Baja definitely delivered good times and some epic riding locations along the way. A lot of people tend to think of Mexico as a scary or dangerous place to travel but after adventuring over two-thousand miles to the tip and back I would argue otherwise. If you have the means to explore it I wouldn't let other people's opinions stop you. We met some of the nicest, most generous people along our trip and made it out with zero problems. Thanks for the good times Mexico, I'll be back soon!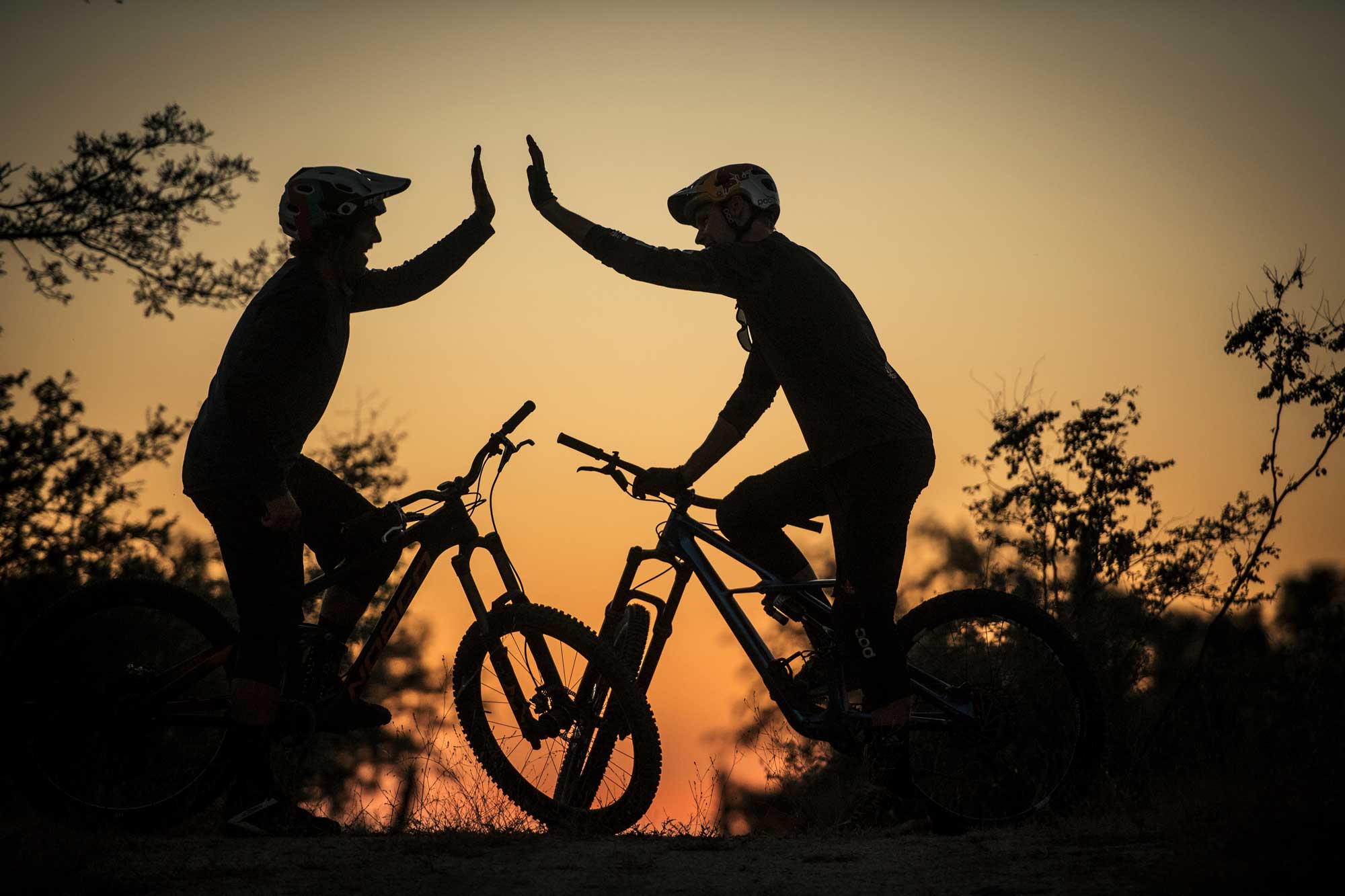 Extended Baja or Bust Gallery