FSA Afterburner WideR wheelset
Words & Photos by Andrew Lee
The wheel game has become quite the octagon, with heavyweight hitters duking it out for a slice of the market. FSA has been fighting their way to show they too earned a place in the ring. Strong, light and affordable wheelsets are FSA's specialty. Striving to give the consumer a strong and dependable wheel capable of all mountain bike abuse, they introduced the Afterburner WideR wheelset.
The Lab
Being the number crunching nerd I am, I was very intrigued with this wheelset. The specs looked promising and let's face it – who isn't game for a sub $700.00 wheelset that claims it can shred with the best of them. I'm also stoked to see FSA utilizing straight pull spokes on the Afterburner WideR wheels.
A quick spin of the freehub sounded promising. Fifty-four points of engagement might be  on the lower end of the spectrum by today's standards, but if I'm being honest it's still totally acceptable. Hitting the scales at just 1,720g the weight is very competitive for a budget friendly wheelset. FSA attributes the low weight to the low spoke count. Running just 24 spokes front and rear enables them to watch the grams while still building a wheel stiff enough to pound. That's all thanks to more consistent spoke tension, an attribute that makes an asymmetrical design so desirable.
Our test wheelset was a Boost 29er, but the Afterburner WideR is also available in 27.5. Graphics are minimal, and the rims themselves have a matte black, textured finish. Boost and non-Boost hub spacing is available in both sizes. It should be noted that the wheels did not show up tubeless ready, but did include the tape and valves to make it possible. Although I'd like to complain about that, it's not really a big deal and only took a few minutes to get taped up before install. It would have been a nice feature though since most people these days are either tubeless or looking to convert. I guess I want convenience and a low price, does that make me greedy?
Mounting the tires was easy and I seated the beads with a floor pump. Upon installation of the tires I realized the preinstalled driver was for Shimano cassettes and our test bike had a SRAM XD driver. I was a bit bummed that the driver required either a 12mm allen, or a set of cone wrenches– neither of which I own. Luckily the local bike shop was still open and just a short drive away.
The Dirt
I rolled out of the garage and onto to the trail thinking that these wheels had some hefty shoes to fill. They were replacing a set of Enve's. Replacing and being directly compared to arguably the strongest, stiffest and lightest carbon wheels on the market to date is no easy task for any aluminum contender, but the FSA's were ready to put up a fight.
Immediately on the trail I noticed a difference in compliance, but not so much in overall ride quality. Notice I didn't say bad, just different. The FSA's were easy to spin up and to keep rolling down the trail. They were almost as light and almost as fast as the carbon contender. That is a very positive ALMOST.
Take into account that this wheelset is considerably more affordable than a lot of its competition and you got a damn good reason to buy a wheelset that's described as "almost." A lot of companies marketing claims can be rather large, but I found that FSA under-promised and over-delivered.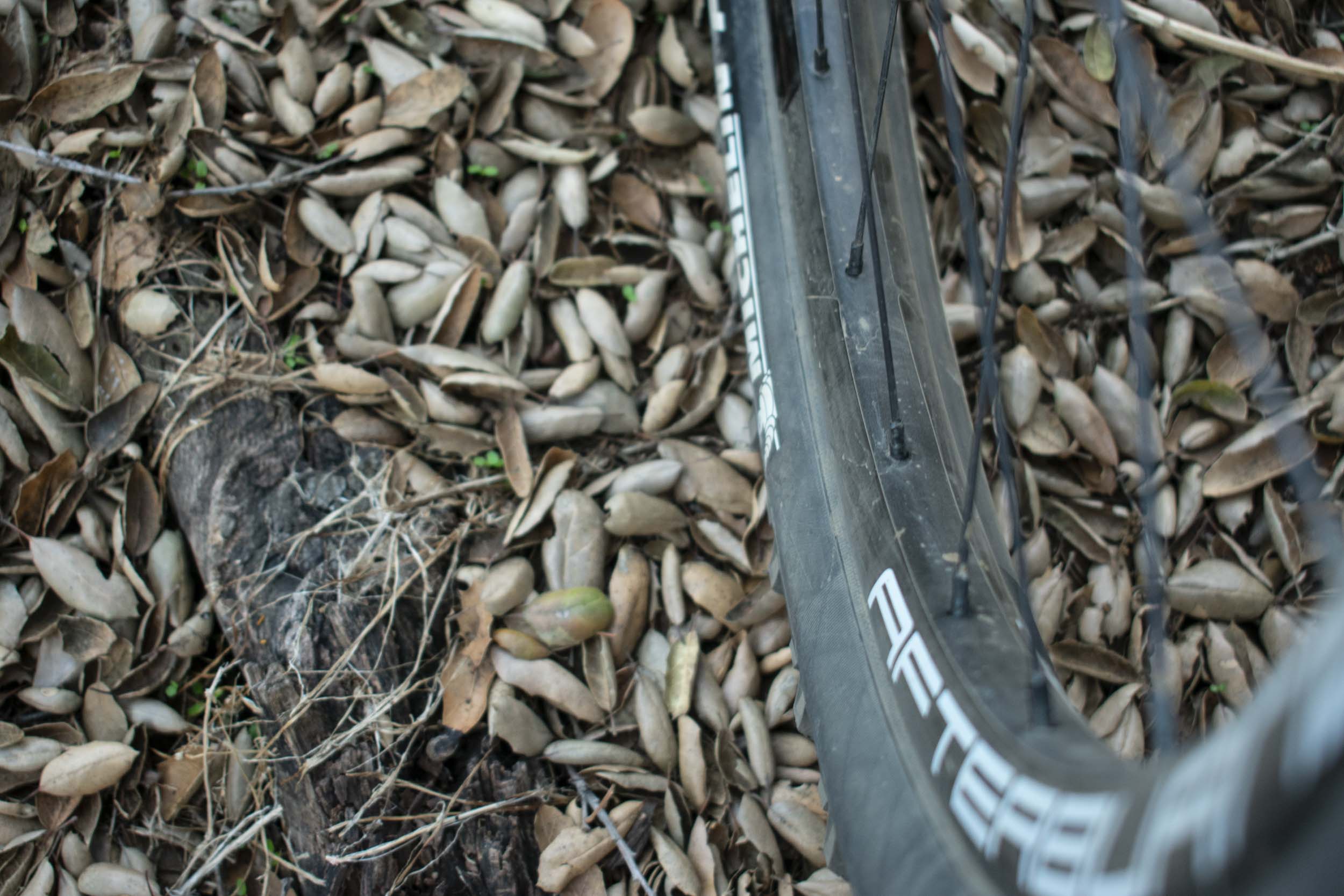 Pleasantly surprised, I wasn't counting the miles 'til I could swap back to the carbon opponent. Wincing every time I saw a sharp, chunky rock garden had ceased. Some might have the pocketbook to spring for a higher end set of wheels, but replacing those can be a rather costly affair should you damage one. Charging hard at every obstacle I saw, I was no longer as worried about trashing a wheel. Mainly because I could buy a whole new wheelset for what some of the carbon competitors charge to replace a hoop.
When rolling down trails the wheels had a very composed feel. The difference in compliance led to more traction and ultimately translates to more confidence. Obviously stiffness in a wheelset is very much relative to frame stiffness, but on my Santa Cruz Hightower I felt the wheels muted more of the small chatter and inconsistencies on the trail. The only time I really felt the wheels moving under me were on slower rocky technical climbs. Pedaling through patches of rocks and roots, the wheels tended to move around a bit but I do believe it only aided in traction as it had a tendency to form more so to the trail rather than just getting pushed around. Given the price and intended use for these wheels it was a non-issue for me.
The Wolf's Last Word
Is it the softest wheel out there? No. The stiffest wheel? No. But that lands them somewhere nicely in the middle. After flogging them in Utah bike parks and around the local rocky Southern California trails they proved their durability. I would not hesitate to throw them on any bike I own should the need arise. With a 27mm internal width, straight pull spokes and 54 points of engagement, they served me well. Aesthetically some might say they lack that certain pop, but we're all about a stealth look. I can also say they hold their own against wheels double the price without a hiccup, and that was after making a back to back change from what is arguably the industry standard when it comes to carbon wheels. Sometimes there are exceptions to the old saying "You get what you pay for," and these wheels are that exception.

We Dig
Value
Weight
Hub Engagement
Ride Quality
Leave A Comment & Win Free Schwag
Want to win some free schwag? Leave a comment and vote up the most thoughtful comments and each month we'll pick a winner. The person with the smartest and most helpful replies will earn some sweet new gear. Join the Pack