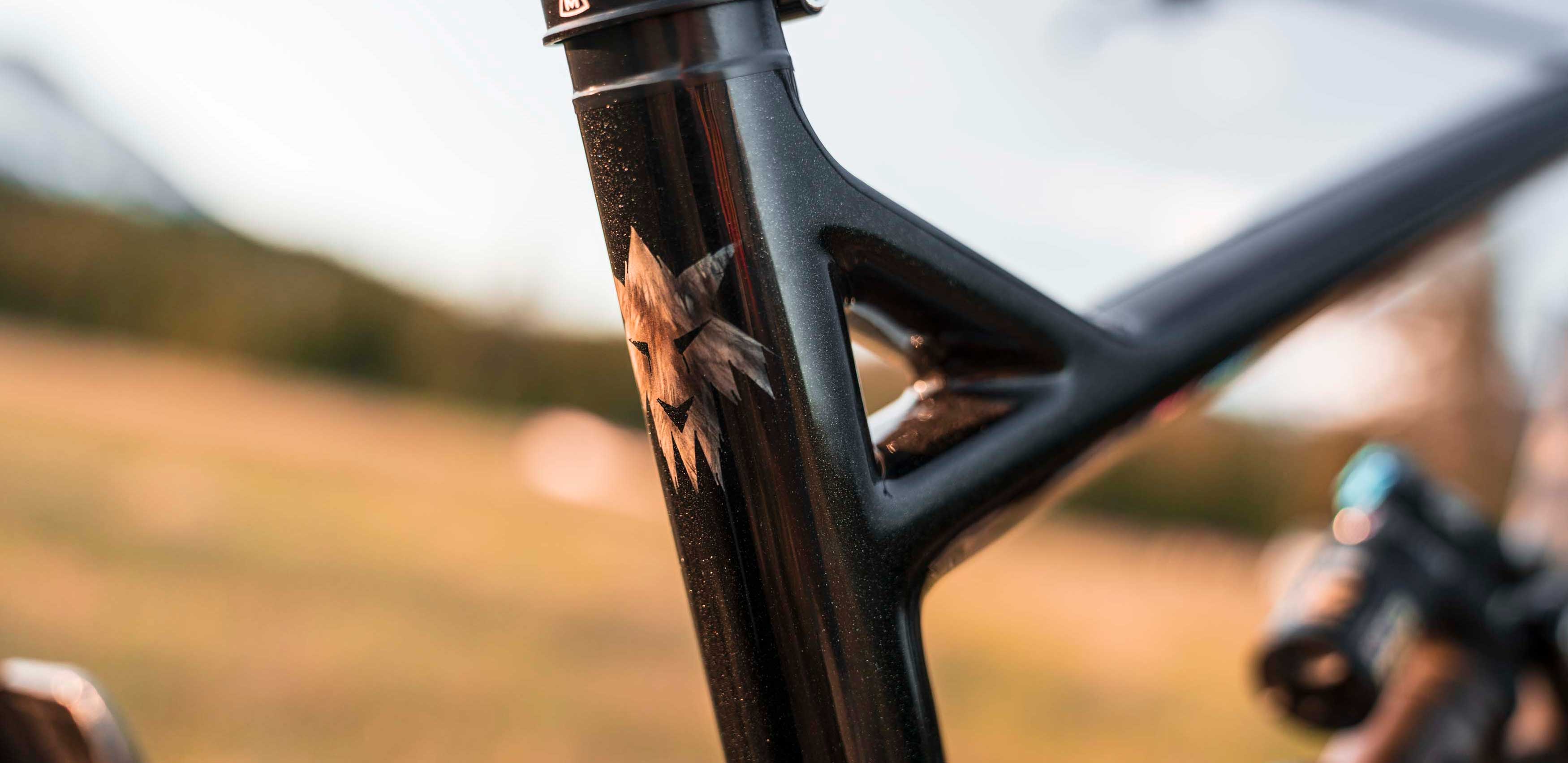 Giveaway II
The Witch Hunter Goes Home
Like a parent dropping their child off to their first day at college, it's always sad to see a giveaway bike leave. We put a lot of effort into these builds so that all of you will have a bike you can be stoked to win. This one of a kind Marin Wolf Ridge was no exception.
Yes it's a bit sad, but at the same time, it's one of the best feelings in the world to be able to literally change someone's life in an instant. I called Deven McCoy to let him know he had won the bike and was met with silence on the other end of the phone. "This is a joke right?" he responded. "This can't actually be happening right?!" Turns out, the order that won him the bike, a pair of socks and a t-shirt, had been stolen off his front porch just a few weeks ago. Needless to say, the new bike is probably more than enough to make up for the loss. We're gonna put a new shirt and socks in the box anyways though. And maybe ship it to his work instead of home! .
After the shock of winning subsided, we asked Deven a few questions so we could introduce you to the new owner of the Witch Hunter! Be sure to give him a high five if you see him out on the trail.
And stay tuned for our next giveaway bike that we'll be announcing soon!
Name. Age. Hometown.
Deven Mccoy. 25. Ashland, Oregon
Have you ever won anything before?
Just the love of my homies and the genetic lottery.
Really though, I've entered into hundreds of raffles and stuff, but never came out on top. It's such a surreal experience winning this bike. I've been drooling over it since I saw it on the website, and I never thought I would be the one to win it.
How did you hear about The Loam Wolf?
I don't really remember, but I think I may have seen a video posted somewhere from you folks and that brought me over to the website. I've been a daily visitor to the site since then.
How long have you been mountain biking?
It's been about 15 years off and on. I sustained a back injury riding DH in late 2016 that I thought was going to permanently take me off the mountain bike, so I took a good amount of time off of the mountain bike and bought a road bike to keep my body moving and my mind sane. I've found the base fitness from road and CX to be a great ally in mountain biking.
Where were you when you found out you won the bike? And how did you find out?
I was at a 10 Barrel Brewery pop-up at 45 North in Portland, so I was primed to start celebrating. Andrew called me and told me the good news! I think I probably asked "Are you f*cking serious?!" about 30 times, It was hard to say anything else after I found out. People definitely shot me some weird looks out on the patio and I for sure freaked my girlfriend out.
Where's the first place you are going to ride your new bike?
I'll probably take it to Cold Creek or Sandy Ridge right near Portland OR. Most likely Cold Creek in Washington, since the trails up there are some of my favorite around. They have a bit of everything, which will be a great place to test the bike out!
What do you do for fun when you're not mountain biking?
I'm a photographer, so I do a lot of that in my free time. Cycling and photography are a good pair. Outside of the bike world I hang out with my dog and wonderful girlfriend. There's lots of good hiking and trail running here in the PNW. I also just started surfing too, because cycling isn't expensive enough.
What do you like best about The Loam Wolf website?
I like the reviews a lot; you folks are pretty comprehensive and honest with them. There's also good re-caps and coverage of events. My favorite now though is probably the giveaways!
What would you like to see more of on The Loam Wolf?
That's a tough one! There isn't a lot lacking from what y'all do. Video Reviews are always cool and helpful, but I'm not complaining.
What is your favorite kind of donut?
I f*ck with a Bavarian cream or raspberry jelly for sure. You can't really go wrong with donuts though. Maple bars are bomb A.F. too, I'm actually eating one as I type this.
Does pineapple belong on pizza?
Yeah, if it's on there with jalapeno and BBQ sauce. Other than that it's not always the best idea.
What is one random thing you'd like the Wolf Pack to know about you?
I have two uvulas and they swing around in my throat when riding rock gardens and hitting big features. I tried removing one when I was nine and now one hangs a little lower and slaps my throat. TMI?
Congrats on the new bike Deven. If you want to see more of it (and hopefully he'll put those photography skills to use sharing it) follow him on Instagram @devenmccoy