Fasthouse Fastline DH Gear
Subtle Reigns Supreme
Words by Tyler Leicht | Photos by Sourpatch
It's chairlift season (err well, the tail end of it anyways) in Southern California and the bike parks are bustling with new bikes and riders decked out in the latest gear. We recently made a trip to the Fasthouse warehouse in Valencia, CA for a kick ass tour and to pick up one of their new MTB line DH kits for review.
Fasthouse may be new to making mountain bike gear but, they've been actively making a name for themselves in the moto world and have a line up of heavy hitters as well as up and coming groms progressing the sport.
Like the stylish moto gear Fasthouse designers are known for creating, they kept the mountain bike line looking sharp and clean. I couldn't wait to get in the lift line at Snow Summit and show off my new kit.
The Lab
Fasthouse's Fastline jersey's have a simple, yet timeless design style combined with a desired athletic cut. Where most companies have opted to sublimate most of their jerseys, Fasthouse keeps it old school and carries on with screen-printed design elements. That old school look however, can bring additional heat or perspiration on hot days or if you wear a pack.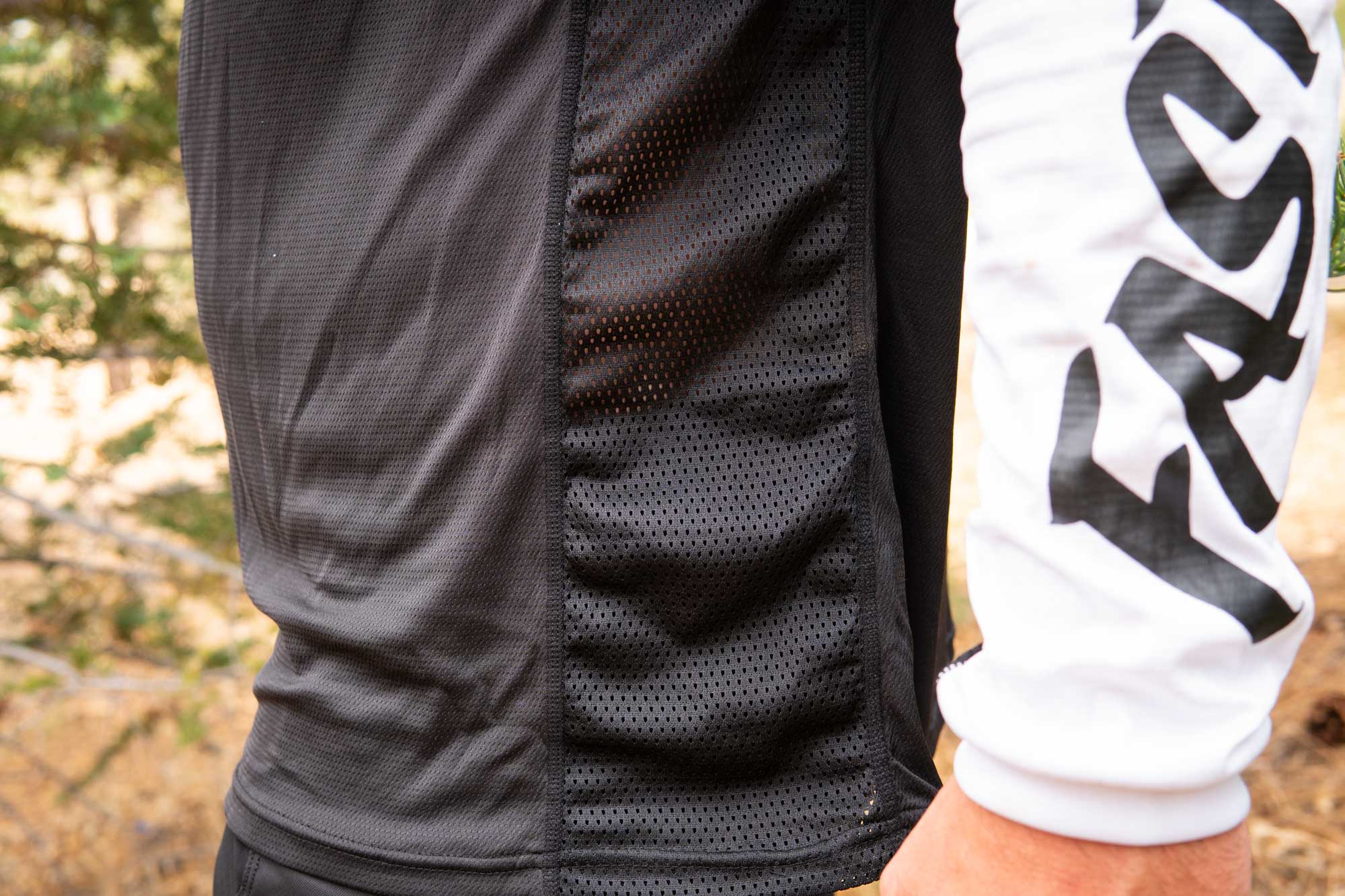 The jersey is available in two different long sleeve styles, FH and Speed Shop and each style comes in two different colorways. Fasthouse jerseys are built of a 16-percent polyester / 84-percent polyamide blend. Polyamide is a synthetic fabric that contains moisture wicking and water repelling properties. Vented mesh in the side panels and inner sleeve areas provides excellent airflow during the warm summer months.
The Fastline pant follows the basic construction of most DH and moto pants with a sublimated 400D Polyester main body and a solid black 600D polyester reinforced saddle area. There is a two-way stretch material incorporated at the leg openings and just above the knee area. Reinforced polyester is also present at the bottom of legs. Fasthouse also realized the importance of a pocket, thank you! Properly placed on the right thigh, it's just big enough to hold a slim wallet, a couple credit cards, cash and/or a lift pass.. The front panel is also punched to allow a little bit of ventilation through as your flying down the hill.
The Dirt
Here's the scene – we are in Big Bear at Snow Summit, it's 9AM and the sun is glaring. There was not a single cloud in the sky and it was already close to 80 degrees. I was second guessing my mostly black Fasthouse DH kit. The words, "Are you serious? This is gonna be hot as balls," start creeping in my mind. I was dreading the hot, long journey on the lift baking in the sun, but to my surprise, the Fastline kit was not as hot as I'd expected. With a slight breeze flowing through, the Fastline jersey breathes well thanks to the ventilation and material. Once on the bike I dug the athletic fit. It allows for a more comfortable range of movement. The pants are where most of my focus and attention were placed.
Similar to the jersey, the Fastline DH pant shares a slim, athletic cut, allowing a comfortable range of motion. The poly-punched front panel allows for plenty of airflow to keep the nether regions cool. The leg openings of the pant offer a wide exit for great mobility when stretching it out over technical sections. I really liked how well the leg openings stayed put around my ankles. I never had to fumble with the pant legs and pull them down to avoid that high-water look. A hugely ignored feature of moto/mtb pants…the pocket! Fasthouse did a great job including a pocket large enough to hold my phone, lift ticket and credit cards. Placement around mid-thigh makes it hardly noticeable on the bike or standing in line. My only gripe about the Fastline DH pant, and it's kind of a big one, is that they run a bit small. I normally wear a 34 pant and was bummed to find these don't run true to size, they fit, but I can only get 3 clicks in on the ratchet. Just to confirm that I wasn't crazy, I tried on the Crossline Short from Fasthouse in a 34, and those fit much better and more true to size. It's definitely something to note if you're going to be placing an order or have tried their shorts on, beware the pants are not the same.
The Wolf's Last Word
After countless park weekend, laps and sessions, I was beyond pleased with the Fasthouse Fastline gear and I would recommend their selections to anyone that asked. I've ridden in too many kits to count and most of the time they leave me wanting more. That isn't the case with the Fastline setup.
Fasthouse pricing is on par with other offerings on the market and the durability is most certainly there as well. Although the name may be new, the experience and commitment to deliver quality products is not. Whether it's on a dirt bike or a mountain bike, it looks like Fasthouse will soon be filling our drawers with stylish, functional pieces of gear that we're proud to wear. Just make sure you're cautious with the sizing on the pants, if you have the ability to try them on before ordering I would certainly suggest it.
FASTLINE JERSEY
Price: $55
Sizes: S, M, L, XL, XXL, XXXL ($57)
Colors: FH – Red, Blue; Speed Shop – Black, Olive
FASTLINE DH PANT
Price: $120
Sizes: 28 – 42
Colors: Black, White, Olive
Website: Thefasthouse.com

We Dig
Great Ventilation
Athletic Fit
Subtle Design
Pocket placement and size

We Don't
Pant Sizes Run Small
LEAVE A COMMENT, WIN FREE SWAG!
Want to win some free schwag? Leave a comment and vote up the most thoughtful comments and each month we'll pick a winner. The person with the smartest and most helpful replies will earn some sweet new gear. Join the Pack