Archer Components D1X Electronic Shifter Review
Words & Photos by Nic "U-Turn" Hall
Archer Components is a newer player in the shifting game, but instead of developing a new derailleur, they chose to build a universal electronic shifting device that will work with any derailleur on the market. Want to have the reliability of wireless, electronic shifting but don't want to be replacing $700 derailleurs, buy a cheap derailleur and run this setup instead. The D1x is a wireless shifting mechanism and remote that pairs with a smartphone app to dial in shift points and program the shifter button functions. It's easy to set up, has a very long battery life and never missed a shift! We threw this unique product on one of our test bikes for a grueling Fall full of wet and muddy rides to see just how likely we were to make the switch.
THE LAB
Archer Components came to market a few years back, just before the big names released their wireless shifting options. The D1X offers something beneficial to the consumer however as it can be adapted to any derailleur regardless of brand. The initial investment is there yes, but if you're looking to go electronic, the savings in replacing one broken derailleur has the Archer taking the lead. But, why would you want to go electronic when your cable shifting works just fine? I asked the same question when I installed the device and I don't think there's a right or wrong answer.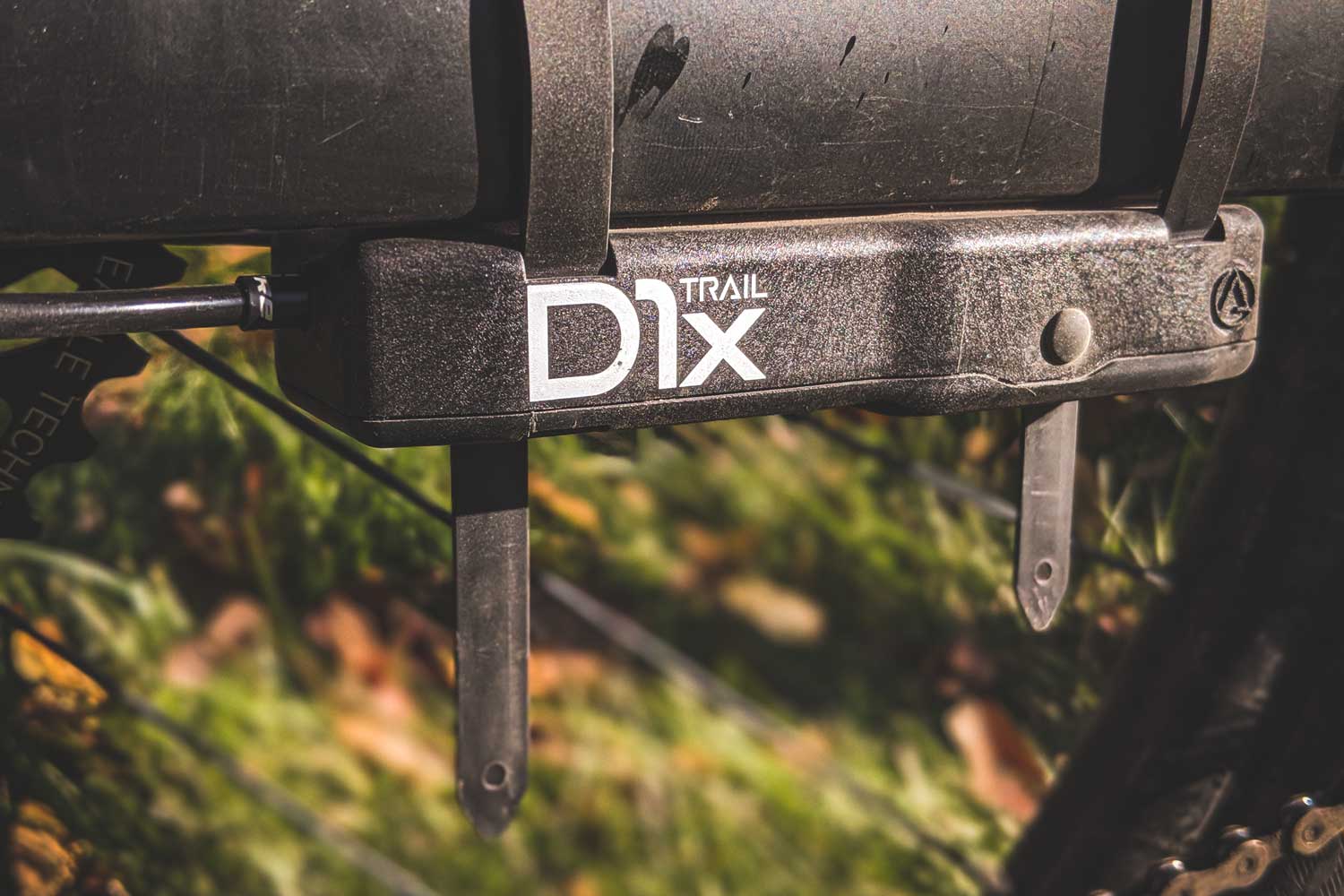 The kit consists of a rear derailleur actuator, small cable, and thumb shifter. Set-up was pretty straight-forward and didn't take long. Especially since we didnt have to fish a derailleur cable and housing through a frame. Note our precautionary (read lazy) cable housing still in our test frame.
All that's required to set up the Archer D1x is mounting the shifter to the bar, securing the unit to the chainstay of your bike and attaching the cable to the derailleur. Archer's detailed install videos help answer any questions and their smartphone app make for an easy install. The app give you the ability to control button commands, lets you set up the emergency "bail out" gear in case your battery dies and gives you the ability to adjust where you would like your shift points to be.
Weight for the total kit is about 235 grams, which is not that much, but considering that you are removing only about 50 grams worth of weight off your bike, your net gain is significant.
THE DIRT
Once I set up the shifter with my phone, I found it very quick and responsive. There was no lag between the button press and shift. It might even be faster than a used cable actuated system. Despite my attempts to ignore cleaning and maintenance of the drivetrain, the D1x worked. Every time I tried to make shifts under load, out of corners or in creeks the derailleur moved exactly where I wanted it to.
Another impressive feature is the battery life. Claimed at 150hrs I never hit the end of the battery despite using it for a solid month before recharging it. If you do get close to the end of the battery on a ride, the D1x has a low power mode that uses about half the power along with a, "Get me home" gear that will default to whatever gear you set up in the app in case the battery does completely fail.
I rode the D1x through rain, standing puddles, snow, and all types of dirt conditions with no issues in waterproofing or performance. We feel confident saying the system is very weather resistant. A word of warning for clean freaks however. The system rubs a bit on the chain stay so if you ever were to remove the unit you'd have some surface abrasions. Nothing some pre-installation wrap protection couldn't handle though.
A techy piece of gear wouldn't be complete without some techy information right? Archer's app will give you reports after the ride so you can see how many shifts you made and what gear you rode in the most. If you're looking for data to add to your Strava post, Archer's got it.
The Wolf's Last Word
Do the D1x's features justify the setup and weight? If you like to geek out on ride data, see yourself using multiple different derailleurs throughout a season, or just want to try something unique on your bike, the D1x might be for you. I personally have no problem with cable actuated shifting and it feels like the D1x might be trying to solve a non-existent problem. However, we really applaud Archer for creating a product that shifts accurately after months of abuse and gets riders in the electronic shifter game at a much lower price point.

We Dig
Post-Ride Data
Reliable Shifting!
Battery Life
Ease of Setup
We Don't
Not Sure We Really Need It For the Price

LEAVE A COMMENT, WIN FREE SWAG!
Want to win some free schwag? Leave a comment and vote up the most thoughtful comments and each month we'll pick a winner. The person with the smartest and most helpful replies will earn some sweet new gear. Join the Pack and get the latest news and read the latest reviews on the top mountain and electric mountain bikes.