Commencal Meta Power 29 Team eMTB Review
Words by Drew Rohde | Photos by Dusten Ryen
Charged by RISE BREWING

Commencal's Meta Power bikes were some of the first ebikes we rode after we made the switch to riding pedal-assist mountain bikes. Back then we rode their impressive 27.5 model and had a great time learning what eMTBs were all about. Since then Commencal has made some improvements to their ebikes, integrated the battery and expanded their offerings. For our 2020 eMTB Roundup we put the Meta Power 29 Team ebike up against the best in the Enduro (155mm of travel and more) category. Let's see how this long-legged 29er did.
THE LAB
Built around Shimano XT cranks and a Shimano Steps E8000 drive unit powered by an E8035 500Wh battery, this 6066-aluminum frame comes with a high-end build and $6,299 price tag. A Rock Shox Superdeluxe Ultimate shock handles the 160mm rear end and is complemented by a Rock Shox Lyrik Ultimate RC2 170mm fork. SRAM Code RSC 20mm brakes control the speed and SRAM's GX Eagle shifters move the X01 Eagle derailleur up and down the 12-speed GX Eagle cassette.
DT Swiss H1700 wheels are wrapped in Schwalbe Magic Marys off the showroom floor, however we swapped them to Schwalbe's incredibly well performing ebike specific tires, the Eddy Current. Commencal's Ride Alpha bars and stem make up the cockpit along with a Kindshock Lev Integra 175mm dropper post.
Unfortunately, at the time of our test Commencal only had an XL in stock, which did affect our on-trail experience as most of our riders are 5'10" to 6'1" and prefer to ride a large. To keep things uniform across the line we'll list out the geometry dimensions of the size large next to the XL stats. Reach on the XL Meta Power 29 is 500mm (475mm Large) and comes with a 453mm chainstay and overall wheelbase of 1300mm (1273mm on Lg). The head tube angle sits at a very versatile 65 degrees and the seat tube angle is 77 degrees, putting it right in the middle of the current crop of enduro ebikes.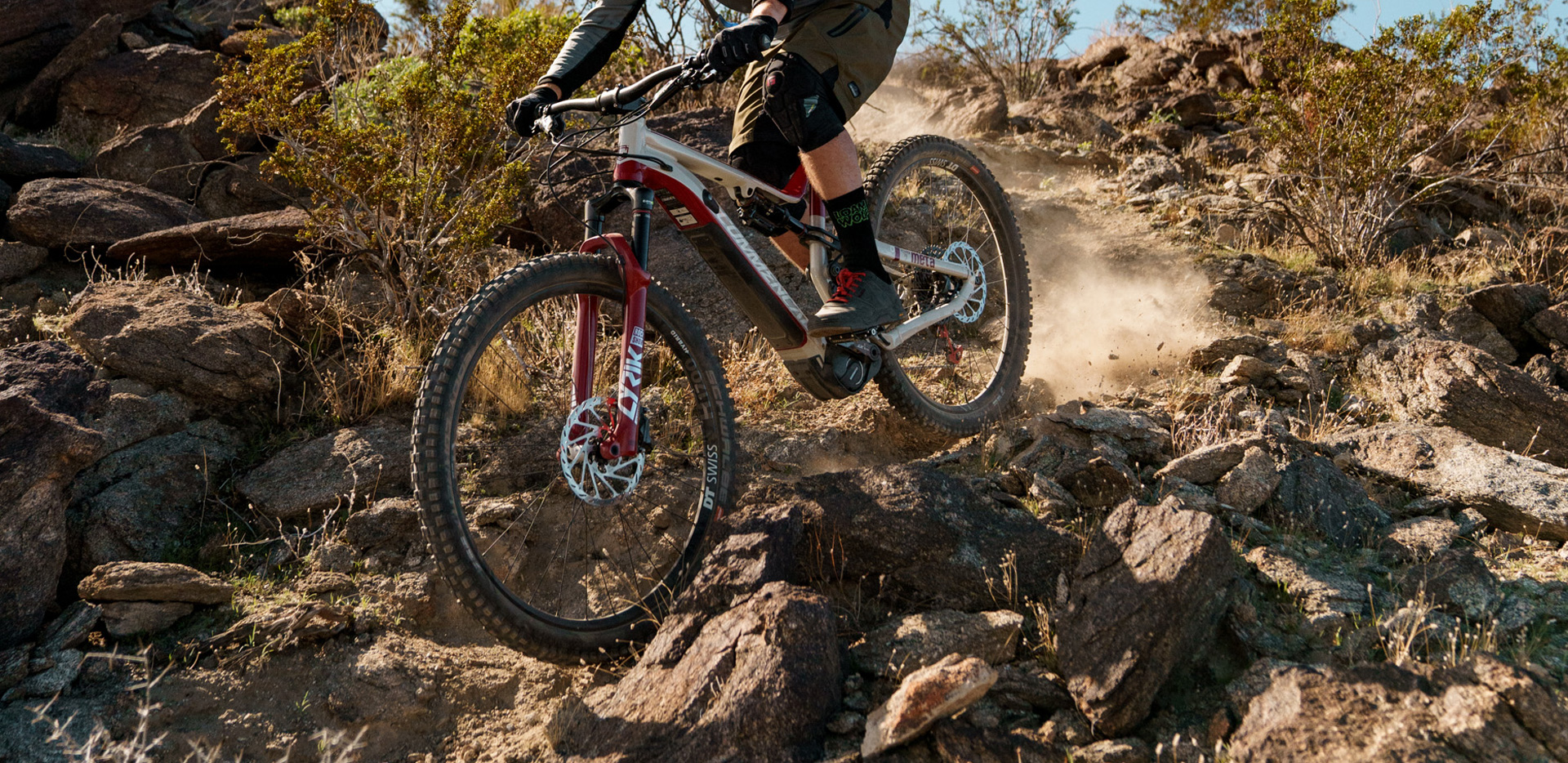 THE DIRT
On the trail the Commencal Meta Power 29 Team rode quite well. As we stated above, the fact that we could only get on an XL was a major factor in our tester's feedback as it greatly influenced the bike's maneuverability, playfulness and overall fun-factor. Moving on from our sizing critique we'll focus on where the bike excelled and what we felt could be a bit better.
First up is the value of the bike. It has a pretty impressive spec with high quality components from SRAM, however we're aware that a majority of riders prefer carbon and when you look at bikes like the YT Decoy that comes with similar or slightly better specs and a carbon frame for only $300, we start asking does this bike ride that much better than the Decoy that we're willing to pay for it? Some may think so, however we're split on that one.
Beyond the value and 54-pound weight of the bike, we really don't have too much to criticize. We're very confident that judging this bike's performance and looking at the geometry numbers of the size large, this bike is one we'd certainly recommend to people looking for a 160/170mm ebike. The Commencal Meta Power 29 is very stable, it's fast as hell and really comes alive on the descents. It isn't a twitchy jackrabbit, but if you're looking for something to plow some gnarly chunder on, this bike will make you smile run after run.
Our testers all enjoyed the planted and sensitive ride the Meta Power provided. Some of our riders wanted to ride the bike with the Fox Factory spec while others liked the somewhat firmer, deliberate feel of the Rock Shox suspension. The rear shock does a good job of remaining active under all conditions and keeps the back tire on the ground when you need it to. Even though it's a bit heavy, if you've got a decent lip in your path, the Commencal Meta Power 29 will get airborne and fly. It's not going to bunny hop over big obstacles quite as easily as some lighter bikes out there, but it'll soar just fine when you give it some pre-load off a lip.
Pedaling comfort and climbing performance are both respectable on the Meta. Again, the length made it a bit long for the tighter trails, but a size large would have done just fine. The suspension is comfortable for long seated pedals and offers good climbing traction without being overly bouncy or bobbing under hard efforts. The Shimano Steps E8000 system was probably the most popular at the roundup and while it's not a dazzling display of technology like Bosch's new system, it's reliable, simple and does the job. Power delivery is natural in most situations and the range of the 500Wh battery is on par with other similarly sized battery bikes. It is under-sized compared to bikes from Specialized, Norco and Orbea however.
The Wolf's Last Word
Commencal is offering a fine machine in their Meta Power 29 Team. Saavy online shoppers may find a hard time justifying an alloy frame purchase when carbon alternatives with similar specs can be had around the same price. While that's a bit of a personal preference, we're impressed with how the Commencal Meta Power 29 rides and certainly wouldn't base our purchase around frame material.
Other than our critiques around perceived value, there are no red flags or major flaws when it comes to this bike. It does everything well and some things better than well. Its strengths are most definitely enjoyed when the trails point down, preferably on steep pitches and with lots of chunky obstacles in the way. The Meta Power is a great long travel all-around 29er eMTB, it is equally at home getting rowdy or just cruising fire roads. Ultimately though, even though this bike impressed our testers, the competition is stiff these days and without any major standout ride characteristics or financial advantage, the Commencal Meta Power 29 just didn't quite do anything to really wow us enough for a coveted spot on the podium this year.

CHASSIS
Frame: 2020 Meta Power 29 (Integrated Battery), 6066-Aluminum, 160mm
Fork: Rock Shox Lyrik Ultimate RC2 170mm
Shock: Rock Shox Super Deluxe Ultimate
POWERPLANT
Battery: Shimano 504Wh
Drive Unit: Shimano E8000
COCKPIT
Brakes: SRAM Code RSC; 200mm
Handlebar: Ride Alpha, 780mm, 20mm Rise
Headset: Acros Alloy ZS44/ZS56
Saddle: Fabric Scoop Flat Elite
Seatpost: KS Lev Integra Dropper, 175mm
Shifter: SRAM GX Eagle, Single Click
Stem: Ride Alpha Freeride, 50mm
WHEELS
Hubs: DT Swiss H1700
Rims: DT Swiss H1700
Tires: Schwalbe Magic Mary SG, Soft Compound, 29×2.35″
DRIVETRAIN
Cassette: SRAM GX-Eagle 10-50t 12spd
Chain: SRAM GX Eagle
Cranks: Shimano XT Hollowtech, 165mm
Derailleur: SRAM X01 Eagle, 12spd
We Dig
Looks Sick
Fast Descender
Loves the Rowdy Stuff
Comfortable All-Around Ride
Good Spec
Rear Suspension
We Don't
Weight
Value
Location of Power Button
500Wh Battery
Leave A Comment & Win Free Schwag
Want to win some free schwag? Leave a comment and vote up the most thoughtful comments and each month we'll pick a winner. The person with the smartest and most helpful replies will earn some sweet new gear. Join the Pack and get the latest news and read the latest reviews on the top mountain and electric mountain bikes.