FIRST RIDE
TRP'S NEW TR12 DRIVETRAIN
Words by Cole Gregg | Photos by Full Pull MTB
Having eyed TRP's G-Spec DH7 system for a long time, wishing I had a DH bike, I was over the moon when I heard TRP was launching a 12-speed drivetrain. It didn't take long for me to tear open the box containing the new TRP TR12 (G-Spec) components and get them mounted on my bike. It was time to hit the trails and begin the break-in process.
As my first test ride began, I noticed the spacing between the upshift and downshift trigger was tight. The upshift trigger was in a great location and is very easy to reach but I wanted to adjust the location of the downshift lever to better suit my hand position and thumb length. After just a couple minutes of tweaking the lever spacing, I was much happier and ready to continue my ride. Now after six rides it feels like home and I have come to enjoy how easy it is to transfer back and forth, making shifts very comfortable and natural.
The downshifts are super quiet, sharp and very pleasing from a tactile perspective. There is no lag and dang near no sound. The chain tension seems constant when downshifting and it slides right into gear. Even dumping gears from 4th to 10th while pedaling into the start of my favorite downhill trail went smoothly. No complaints there! There is no moment of wondering if you pressed the lever enough because there is a very nice motion and bottom out on the lever giving you the indication, you're ready for more speed. Despite the firm and crisp shifts, the lever actuation is pretty light, and definitely doesn't require a lot of energy.
There is a climb trail that starts just off the main path where I ride and it's a pretty quick transition from gravel to rooty, moderately steep single track. Usually, I would be pre-shifting as we hit the start. Instead, I figured what better way to ease this derailleur into life than power-shifting it as I grunted up the first incline. From that point on my new TRP TR12 derailleur knew it was my slave, not my friend.
After my initial torture test, I have started to treat the TRP TR12 a bit more nicely and am still happy with how it performs. The upshifts are not as smooth as the downs, but the system does not miss a beat going from 9th to 3rd in 3 powerful pedal strokes. Just like with the downshifts there is a nice, tactile feel for the shift indication and the derailleur always finds the right gear.
Generally speaking, I do my best to unload while shifting when climbing, I ride the bike hard when it's called for but when I can preserve the life of a part, I'll do my best. However, I realize some riders may, either knowingly or not, choose not to unload the drivetrain while shifting. So, as testers, we have to try and do whatever we think other riders may do to expedite wear and tear during our often-times, shorter test periods.
The robust system kept working without a hitch and I found myself unloading less and less over the period of a few rides. My previous XT set up was thrashed from a long PNW winter and it was on its last leg, grinding through what felt like every gear. I am curious how long these loaded upshifts will last, but I look forward to reporting back in a couple months with a longer-term update. I will say thus far, after 100 miles, lots of mud and a few wipeouts, I have yet to adjust anything.
THE WOLF'S FIRST IMPRESSIONS
Along with the crisp shifts and impressive durability, the TRP TR12 (G-Spec) packs some standout features like the Hall Lock, B-Knuckle Lock and their Ratcheting Clutch system. The features are truly impressive, and The Hall Lock really puts this system over the top. It's one of those things you don't realize you want until you try it. Have we said it yet? DANG THIS THING IS QUIET!
After taking a nice little digger on a pretty steep shoot I was worried I wrecked a brand-new derailleur literally 4 corners into the first ride. To my surprise and prayers, everything was A-ok. This wasn't an "Oh I lost my balance and tipped over" wreck, it was a "butt puckered heel clicker over the bars watching the bike cartwheel down a 20-foot chute" kinda wreck. Major facepalm.
There was a fair amount of dirt packed into every nook and cranny, but it was scratch free and didn't even miss a gear on the test pedal after I collected myself. Having fancy equipment is great but I really value how durable a product is. This passed the test. I really look forward to keeping this on the bike through the summer throwing some bike park days at it.
In the end TRP has really done something great with their TR12 shifter and derailleur. It truly stands out from the crowd. To top it off it really looks the part with gold graphics in all the right places. We're happy to say TRP don't sacrifice durability or performance for style-sake. The TRP TR12 is clean but not overdone. It's going to be hard to change back to any other system after having grown to love the TR12 in these first few weeks. I look forward to continuing to beat on this system over the next couple months before reporting back with a long-term review.
TRP
RIPPIN' TRAILS
TRP EXPANDS DRIVETRAIN CATEGORY
WITH TR12 SHIFTING COMPONENTS
Rippin`trails like there is no tomorrow. The new TRP TR12 drivetrain system brings World Cup downhill shifting technologies to the trails. TRP is expanding its product line with a new 12 speed shifter and derailleur.
The two TRP drivetrain systems, TR12 and DH7 are the result of an intimate development relationship with 5 x DH World Cup Overall Champion Aaron Gwin and his personal mechanic John Hall. Along with the input given from Team Intense, Scott DH, Commencal 100% and YT Mob. In 2019, the TRP DH7 had over 300 racing days. This extensive first season was crucial for providing additional development input for the new TRP TR12.
One key drivetrain feature that separates the new TRP TR12 derailleur from the cycling industries existing products is the Hall Lock, named after Aaron Gwin's mechanic, John Hall. The Hall Lock is a lever integrated into the derailleur mount, which locks the movement of the B-knuckle around the mounting bolt when closed. The Hall Lock can be opened to easily remove the rear wheel or closed to balance the stability and security of the system while deflecting impacts.
This key feature was born from an ongoing competition amongst the best mechanics on the Downhill World Cup circus – to build the quietest bike on the track. John Hall identified the movement of the derailleur around the B-knuckle as a key point of improvement for several reasons, which are punctuated by removing the noise caused by chain slap and increasing shifting accuracy. Features well appreciated for rough trail riding.
A second key TRP TR12 derailleur feature is an adjustable ratchet-style clutch. Depending on the suspension layout of the bike, there can be different amounts of chain growth. This is why the team designed adjustability into TRP's ratchet-style clutch. If a rider wants to free up the system, they can back off the clutch to balance pedal feedback with chain retention. This provides the ultimate personalized feel as the drivetrain works in unison with the suspension set-up and riding style.
"Take a chance on it, it is pretty cool how the product grows and becomes yours – you'll be blown away."
-John Hall.
Why does TRP only offer shifter and derailleur for 12 speed systems?
This is the first step to enter the drivetrain category and TRP feels there is already a well- established range of cassettes and chains available. Riders will have the chance to build their preferred package around TR12.
TR12 DERAILLEUR
The new TRP TR12 rear derailleur is able to provide a quiet and accurate ride over the roughest trails. The key feature to this pursuit is the Hall Lock. During the Race season, lead mechanic for Intense Factory Racing, John Hall, noticed excessive movement around the b-knuckle when riding over rough rock gardens and in tracked out corners. This was leading to more chain skipping and slapping creating possible variances in shifting. This inspired John's idea to lock the B-knuckle to the bike's derailleur hanger. TRP engineers worked closely with Hall to create this feature, The Hall Lock. The function is integrated into the derailleur. When working on the derailleur or changing the wheel, the Hall Lock is opened. Closed while riding, the derailleur is locked to the frame and thus stabilized in the roughest conditions. This feature maintains accuracy in shifting and superb chain retention by not allowing the derailleur to rotate excessively away from the cassette. Its clamping force can be adjusted to balance stability and security while the derailleur deflects impact.
A second "ride-control" feature is an adjustable Ratchet Style Clutch, keeping tension on the chain through the movement of a bikes travel. With many different frame and suspension options, there has never been a greater need for a component's adaptability. The clutch has integrated adjustability, effectively providing the individual balance between pedal feedback and chain retention for your bikes chain growth.
FEATURES AND BENEFITS
Hall Lock | G-Spec Ratchet Clutch | G-Spec finishing touches:
– Carbon fiber cage & Upper link
– Extra-wide parallelogram pivot
– Sealed cartridge bearings pulleys
TRP TR12 SHIFTER
Ergonomics are key to Aaron, which is why he wanted something a little different. As a result, TRP engineers looked at the cable release lever's ergonomics and devised a system to move it in a linear path to mimic the motion of a rider's thumb, rather than rotating it away. This unique positioning allows for a more consistent contact patch providing overall better grip and shifting performance when the trail gets rowdy.
FEATURES AND BENEFITS
• Shift levers designed and located for optimum performance by Aaron Gwin
• New linear actuation for improved ergonomics and consistent thumb contact
• Enhanced grip & tactile feel built into lever paddles: embossed grooves on advance and release lever
• Rider adjustable home position of lower lever with a 40-degree range
• Carbon fiber upper housing & advance lever
• Tool-free straight lace cable changes
• Ball bearing equipped
• 12 speed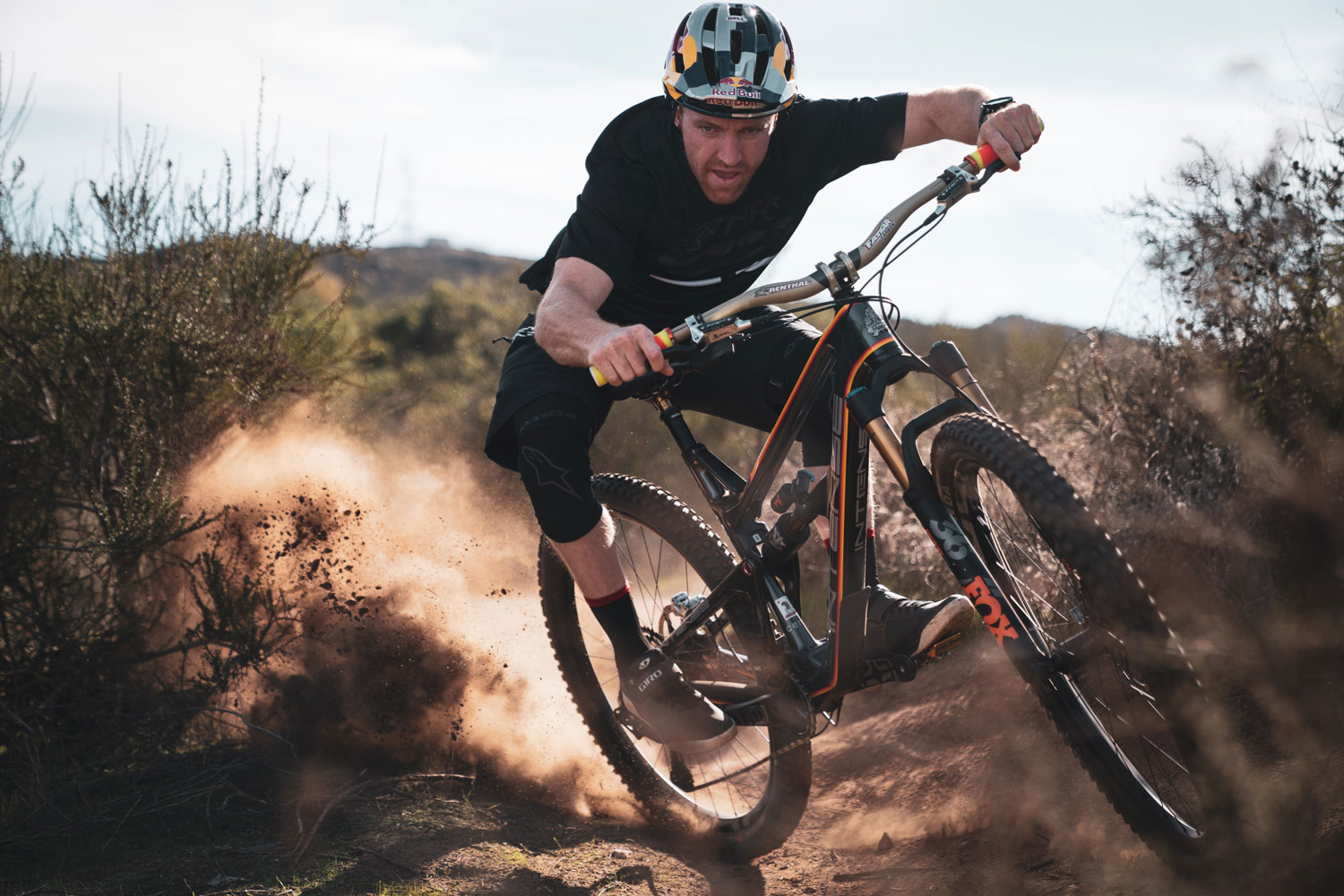 ABOUT TRP
In 1986, three friends Gary Chen, Leo Chen and Aver Tsai founded TEKTRO with 20 employees in Changhua, Taiwan. The first factory was about the size of a basketball court. Their business values drove their success: custom solutions, reliability, and production automation for the highest level of quality. In 1999, TEKTRO launched its first hydraulic disc brake, which is still the companies most successful and important product. Today, TEKTRO has production facilities in Taiwan and China with over 1,600 employees to provides sales and service in Taiwan, China, Europe, and the USA. TRP was founded in 2006 and stands for TEKTRO Racing Products. TRP focuses on stepping into smaller categories, like time-trial, cyclo-cross, and downhill mountain bike racing. This has created multiple product success stories and numerous race wins. The TRP Quadiem brakes have won the UCI Downhill overall Worldcup twice 2016/17 with Aaron Gwin. www.tektro.com // www.trpcycling.com