Thule RoundTrip Bike Duffel Review
Words & Photos by Drew Rohde
Thule may not be a company you think about when it comes to luggage or packs, but the new Thule RoundTrip Duffel bag may have you thinking twice. It makes sense that the brand many trust with transporting their bikes to and from the trail, now have a container that will transport your bike gear to and from the trail. The RoundTrip 55L Duffel take organization to a new level and even makes slobs like us neat and tidy creatures.
THE LAB
A purpose-built 55-liter duffel built for the everyday cyclist, traveler and maybe even photographers too. The duffel is capable of holding enough kit and accessories for three to five days of shredding. The RoundTrip, when packed to the brim, has a size of 26.4 x 14.2 x 11.8-inches, which unfortunately is slightly larger than most airlines acceptable carry-on size. Speaking of carrying, Thule Roundtrip Duffle can be hauled around in three ways; with a single hand carrying off the handle on the lid, with both hands thanks to pockets on both ends or the easy way with a removable shoulder strap that is mounted in a cross-body configuration.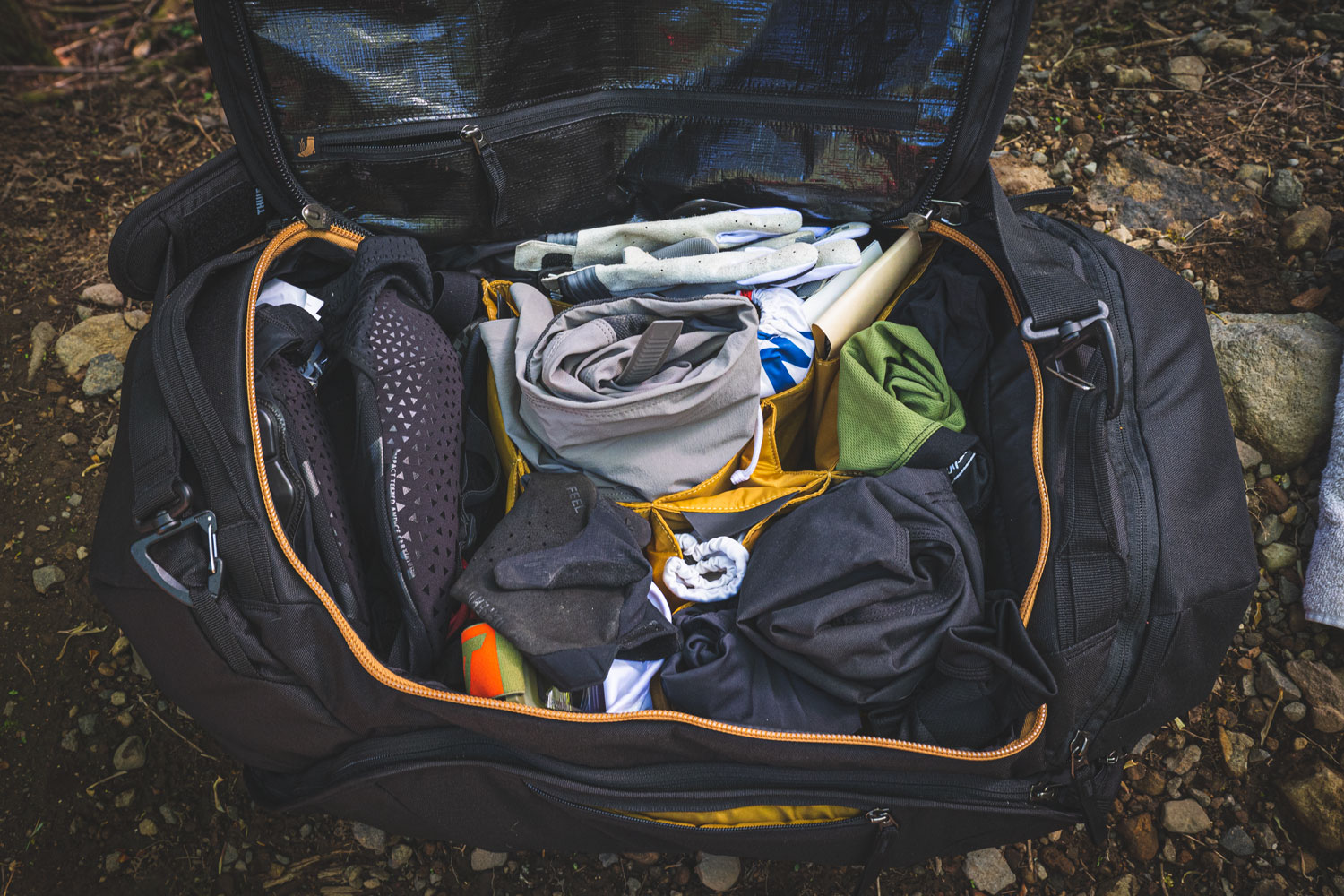 What makes the RoundTrip so unique, is Thule's incorporation of special "features" for each of its compartments. The body of the duffel is split into two sections. There is a dedicated space for your favorite half shell helmet and next to that is the partitioned gear compartment. The gear compartment consists of over a dozen cells, allowing for coordinated organization. The cells are flexible in shape until you stuff a rolled-up piece of gear inside and they form to whatever you stick in. There is also one padded, soft cell that is designed to house eyewear and keep them safe during your travels.
Just outside the body, there is a pocket specifically designed for most shoe types on the market. This pocket is lined with tarpaulin which allows for easy cleaning. The front outer pocket was designed to hold snacks, small tools and race supplies and the added elastic bands and mesh elastic pockets help keep the pocket from looking like a bomb went off.
Inside the lid is another tarpaulin-lined pocket which is great for packing your wet, stinky gear home in.
THE DIRT
It didn't take us long to fall in love with the Thule RoundTrip Bike Duffel. We have lots of bags and have a bit of a problem…Yes we admit it, we have more bags than the women in our life, but when they're as useful and cool as this, how can we say no?
The two major complaints we have are that we can't fit a full face, even a pedal-friendly enduro lid and high-top shoes are a tight fit, and we only wear a size 10 shoe. It would be nice to see just a bit more space as we expect more riders will be pedaling in full faces as that niche and technology continue to improve.
Highlights of the bag are many. The organization cells make it easy to stuff your day or trip's essentials in an easy to view way. And they're very easily accessible too. We rolled up jerseys, stuffed gloves, tossed in GoPros and mounting accessories, inner tubes, sealant bottles, rain shells and chamois into the compartments with no issues. The optics cell can hold glasses or goggles, which is a definite plus in our opinion.
The tool and parts organizer on the outside of the bag is also a sweet deal as it allowed us to put a few key items that always roll around in a stable place that we could easily access them.
The Wolf's Last Word
Even with the few critiques we have about this bag, it's a pretty solid accessory and an item we're stoked to have in the garage. We'd love to see a slightly larger helmet area for enduro/all mountain full face helmets and think that the shoe garage should be a little bit bigger for high-tops or riders with big feet.
The Thule RoundTrip Bike Duffel makes packing for day trips or weekends a lot easier as we can see what's going in the bag and where. The tarpaulin lined shoe and lid pockets mean you can drive home with your wet and stinkies segregated from the rest of your gear, which is a definite plus. The outer storage pocket organizes tools, small parts and other accessories neatly and the internal dividers work well at keeping your gear neat and organized. Definitely a recommended item if you're in the market for a gear bag for your trail riding adventures.
Price: $119.95
Colors: Black, Dark Slate
Website: Thule.com

We Dig
Organization
Durable
Well Thought Out
Outer Tool/Parts Organizer
Tarpaulin Lined Shoe and Wet Gear Areas
We Don't
Doesn't Fit Full Face
Want a Larger Shoe Area
LEAVE A COMMENT, WIN FREE SWAG!
Want to win some free schwag? Leave a comment and vote up the most thoughtful comments and each month we'll pick a winner. The person with the smartest and most helpful replies will earn some sweet new gear. Join the Pack and get the latest news and read the latest reviews on the top mountain and electric mountain bikes.