Jamis Portal C1 Mountain Bike
A Portal to Next Level Confidence
Photos & Video by Brian Niles/Treeline Cinematics
SPONSORED CONTENT
When we pulled the new Jamis Portal C1 out of the box, we were instantly stoked! As part of our sponsored Dissected Series, we were excited to work with Jamis's brand manager, marketing team and the suspension designer behind 3VO to learn more about the brand and their new bikes. Jamis has a history rich in racing and some amazing podium victories, yet over the last couple of years their image and brand visibility wasn't quite on where they believed it should be. They are looking to change that up with their impressive new line of bikes and unique 3VO suspension platform. The Portal C1 that we used to create this story is still in our possession and will be getting a full-length, detailed review in the coming weeks, but for now, enjoy this detailed introduction to the Jamis Portal's technology and features.
Progression is a concept often discussed by riders. It's a term that describes the amount of skill that can be extracted from the many hours spent riding. Progression is what happens to any rider as they grow into the sport and learn those innate and intrinsic little motions that make riding a bike easier, more fluid, and more fun. As your skills progress, so too should your equipment.
Three Variable Optimized (3VO for short), is a from-the-ground-up suspension platform that is a big progression and totally new to the market. The design seeks to create a new image for the Jamis mountain bike line. It's featured on two of Jamis' trailbikes, the 130mm travel Portal and the 160mm Hardline.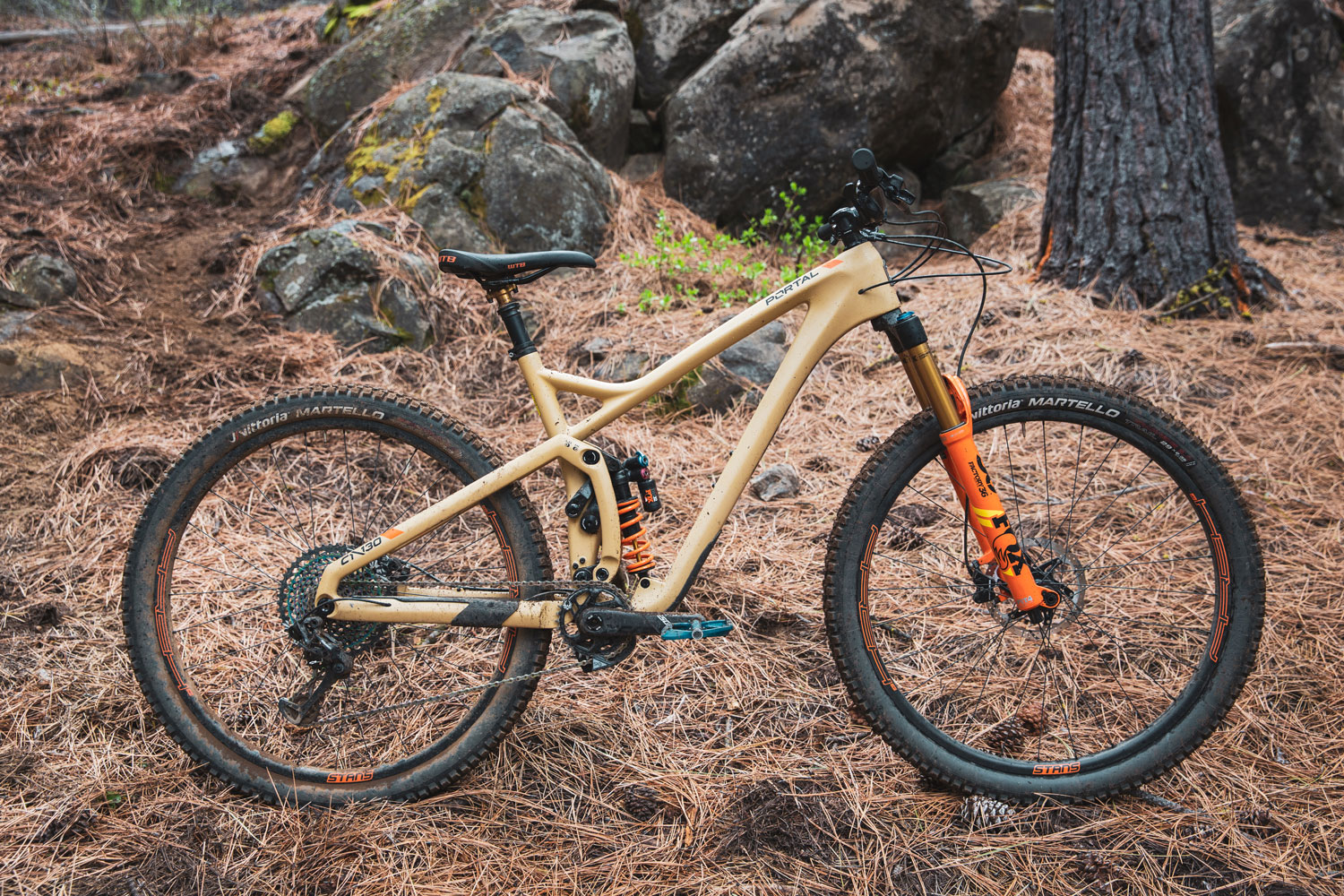 3VO HISTORY
The original design goals for 3VO suspension go all the way back to when the first 29er full suspension bikes began to appear. Back then, manufacturers were essentially working with designs that were fine for the existing 26ers on the market but had yet to figure out how to make 29er geometry work right.
In 2005, a designer named Chris Currie had a concept for how he felt the axle path needed to move to work with the larger wheels. Chris built a model to prove the theory and has been tinkering ever since. Development began, and a suspension patent was granted in 2010. There are currently about fifteen prototypes floating around from this design time, and all of them are predecessors to the new Jamis lineup.
Jamis began prototyping the first iterations of the original 3VO bikes in 2015, which Currie had already been working on for several years. It was at that time that they started building and test riding some "Proof of concept" frames, which immediately made clear that because of this design's incredible efficiency and ability to remain active at the same time, that this platform can be as efficient whether it's on a cross country rocket or a downhill sled.
Around that same time, Jamis began to notice that several other suspension design patents that were becoming "open" to use in the North American market. While those had already been accepted, tested, proven and were tempting to adopt, Jamis saw the designs not without their own unique compromises, and none that could boast the features and benefits of 3VO. Choosing to stick to their own guns, Jamis and Chris Currie began development of the all new suspension platform and built bikes with different travel offerings and wheel size options to suit the needs of nearly any trail rider.
3VO DISSECTED
3VO suspension works somewhat like other unique virtual pivot systems. It allows Jamis to build bikes with a wide range of intended uses and ride characteristics, but all with a similar overall feel. The unique feature of the new 3V0 design is its wheel path. Jamis claims 3VO bikes maintain constant alignment with the chainline no matter what point of the travel the bike is in, or whether the bike is accelerating or decelerating. Those automatic "anti-squat" and "anti-rise" characteristics mean that the suspension is going to remain active and absorbing bumps no matter what the terrain is throwing at it. It also means that the rider's pedaling input is driving you forward, and not being sapped by shock movement.
If you look at spring rate and progression curves–how much firmer the suspension gets as it compresses–a 3VO bike can have a 35% progression curve, a linear curve, or a slightly falling curve. Literally, different strokes for different folks. According to Jamis, the Portal and Hardline use fairly linear curves overall, but with a progression curve in the middle. This gets pretty nerdy, but basically they start off soft, ramp up to be firmer at the sag point and into the midrange, and then remain soft and ready to cushion hits throughout the rest of the terrain.
THE PORTAL OFFERINGS
The Portal is a 130-millimeter trailbike with 29-inch wheels and a variety of build kits and frame materials to hit a range of price points. The C series frames feature a high modulus carbon construction with all the modern accouterments you would expect, including Boost axle spacing, internal cable routing for the shifting and dropper post, and Enduro Max sealed bearings. Jamis also offer the Portal C1 as a frameset for $2,799.
The A series bikes feature a triple-butted aluminum frame with the same geometry and features as the carbon version, at a lower price. The top-tier carbon Portal C1 sells for $8,499, and the more affordable C2 and C3 versions sell for 6,499 and $4,699 respectively. The baseline Portal A2 comes with the same geometry and many of the same features for an entry level price of $2,999.
That balanced ride feel that the Portal offers takes more to produce than just a fancy suspension design. With a capable geometry that can handle everything from six-day epic races to long cross-country missions, rowdier backcountry trails, to even some skill building days at mellower lift accessed shuttle parks, Jamis builds the Portal to do it all. If you are in the habit of shuttling trails, visiting bike parks or riding rough and chunky terrain, the Jamis Hardline could be the better 3VO option for you. During the course of our Dissected video shoots and initial rides, we took this bike out on a lot of trails to find its limits and see where it excels.
GEO & BUILD
Geometry on the C1 is slightly different compared to other Portals because of the 10mm longer travel fork. Our size large sports a 67- to 67.5-degreee head tube angle, 74- to 74.5-degree seat tube angle and 461mm reach. The stack height sits at 625mm with 17.2-inch chainstays and an overall wheelbase of 1,198mm.
If you couldn't tell by the stance and coil-sprung rear end, the Portal C1 is Jamis' more aggressive offering for riders looking to eek just a bit more shred out of their new trail machine. It comes with a 140mm fork whereas the rest of the Portal line specs a 130mm of travel, front and rear. The stout Fox Factory 36mm fork gave us the confidence to push this bike hard and the Fox Factory DHX2 rear shock controlled the rear end.
Drivetrain spec on the C1 features some of the best in the biz. SRAM XX1 Eagle drivetrain in the fancy oil slick color pops nicely against the desert storm and orange accents. Truvativ Descendant cranks with a 32t ring, TRP G-Spec Trail SL-4 brakes and Race Face cockpit round out the stop and go bits. Other favorites of the build include Stan's Arch CB7 Carbon wheels with Neo hubs and Sapim Race spokes. The wheels are stiff, efficient and look great, we really liked them and found the Vittoria Martello tires to be fast rolling and sufficient, but could be an area more aggressive riders would seek to customize for their local terrain.
After some initial rides and film sessions we reached out to Jamis in hopes of having them answer a few of our questions about the new Portal. Here's what they had to say:
The Loam Wolf: Do you see compromises in performance with a bike that's advertised as capable to race everything from XC to light enduro? Or do those "compromises" actually get you a perfect do-it-all trail bike?
Jamis: Because the bikes tend to pedal freakishly well and be comfortable at speed, we have been able to blur the lines between XC and Enduro a bit, and I think that, too, is part of building a bike that makes the average rider even better. Super XC Racer Person is going to make descending and stability compromises in order to get a lighter bike. Hardcore Enduro Dude is going to beef it up and stiffen and token out the suspension. In between those extremes are a whole lot of people who just want to ride better whenever they get a chance to ride.
TLW: Building a bike with a suspension platform designed for riders instead of racers makes perfect sense as there are way more leisurely riders on the trails than racers. But what gives this bike the right feel? Is it specifically tuned to work better while not at race speeds?
Jamis: 3VO suspension is a construction method, not a strict set of numbers, meaning you can use it to make bikes with a pretty huge range of ride characteristics, but they'll all pedal and descend well. If you look at progression curves, the Jamis Portal and Hardline use fairly linear curves overall, but with a progression curve in the middle. What kind of rider does that work for? The one who has a section of trail they've never been able to make it through and want their new bike to make that happen.
Our goal was that, "It has to make that average rider better."
In order to do that we also designed these bikes so you don't need an engineering degree to set up the suspension. Most riders want the bike to pedal and descend great right out of the garage, then fine tune from there. That's a big part of what we wanted. Where I think Jamis kicked ass on this is execution and layering the geometry over top of that. The bikes strike a really nice balance between composed on the descents, but still able to claw up steep stuff well, and that involves more than the suspension. The Portal is built to be one of those "Make you better" bikes.
FIRST RIDE IMPRESSIONS
So, how does the new Jamis Portal ride? Pretty dang well to be honest. We had some initial concerns as the burly 36mm fork and coil shock had us taking the bike into areas that we probably wouldn't have taken other 130mm bikes. This led us to finding the limits of the slightly falling rate suspension towards the end of travel and more conversations with Jamis. We ended up also getting a Fox Float DPS rear shock, like the one found on the C2, so that we could test the bike with some volume reducers to increase progessivity and see how it affected the sensitivity of the bike's suspension off the top.
We did notice some small changes at both ends of the travel but have since returned to the coil sprung shock to finalize our long term review before we report back on the bike in greater detail. As of now, our riders have been pleased with the capabilities of the bike. The crowd-pleasing geometry is going to be a strong factor helping make this bike a solid option for a majority of riders. With more and more bikes getting silly-slack with DH-bike headtube angles, and reach numbers, we found the Jamis Portal to be a refreshingly fun, snappy and playful bike to ride.
The 3VO suspension platform is undoubtedly efficient and lives up to the claims, yet some riders may notice they're reaching bottom frequently if they're riding areas like Sedona where hard drops to flatter landings are the norm. For the trails around Bend, Oregon, we were having a blast on jump trails, flowy terrain and steep loam tracks on the hidden slopes of the Cascade Mountains. We look forward to putting more time aboard the Portal, getting to know it more, and putting out our long term review on the bike's performance and how it stacks up against the highly competitive field of capable, short travel bikes