FIRST RIDE REPORT
ORBEA RISE eMTB
eBIKE LIGHT
Words & Stills by Drew Rohde | Action Photos by Zachary Heath
The new Orbea Rise is set to revolutionize the "eBike Light" category of lighter, minimally assisted eMTBs like the Specialized Turbo Levo SL. Like their non-assisted siblings have done for the last couple decades, brands are on task finding ways to make new models lighter and better performing than their predecessors. Orbea claims the new Rise eMTB is "Much more mountain bike and less E," than other competitors on the market and their partnership with Shimano has yielded a very unique, lightweight eMTB that offers an incredibly natural riding feel. We were lucky enough to ride with Orbea for a solid day of shredding in Boise, Idaho to see how the new Rise performed and what riders could expect from one of the lightest eMTBs on the market.
THE QUICK 'N' DIRTY
As much as we appreciated our ride day, we're excited to get our own long term test bike in the future to create a more detailed Dissected feature video on to dive deep into the tech Orbea and Shimano put into this bike.
Built around the new Shimano EP8 RS drive unit, the Rise is the embodiment of Orbea's Rider Synergy Concept. This concept enhances the joy of traditional riding with a more natural feeling support that removes that "being pushed from behind" sensation some eMTB motors provide. The goal was to give a sensation that is less "E" and more "bike". To begin, Shimano took great strides with the new EP8 unit and wanted to give a more natural feel where riders were in control of their rides, rather than being passengers to an overpowering motor. Orbea's Rider Synergy takes that to the next level and are the only brand so far to take advantage of Shimano's willingness to customize the EP8 unit to brand's specific needs and custom tailor power output and tunes for specific applications.
The new Shimano EP8 can deliver 85Nm of torque, however Orbea and Shimano's RS drive unit found in the Rise will give riders 60Nm of torque, nearly double the 35Nm found on the Specialized Turbo Levo SL, reviewed here. Again, unlike Orbea's Wild, the Rise is designed to offer riders a more natural and lighter feeling bike that still gives them the reward of earning their turns with those lactic acid creating climbs, just a little bit faster, and without the penalty of having a 50lb to ride back down the hill with.
Thanks to ever-improving battery technology, the Orbea Rise utilizes the new Tesla/ Panasonic 21700 battery cell for improved heat management and a reduced overall weight. The new battery tech combined with a lower overall bike weight and the more efficient EP8 motor mean that this 360Wh bike will give most riders all the vert they need. If you're looking for bigger backcountry adventures or live that Boost life like we do, then you'll definitely want to invest in the 252Wh battery extender, which adds about 3 pounds of weight to the bike and gives a total of 612Wh to the bike. Orbea claims that the increased efficiency means this 612Wh performs more like a 900Wh battery would on older systems. Based on our 18.5-mile ride with over 4,100 feet of climbing entirely in Boost mode, on the 362Wh internal battery, we'd say it's probably not too outlandish of a claim.
Starting at $6,499 for the M20 version and going up to $10,499 with the M-Limited, Orbea has four models available depending on your price range and preference. If you like to customize the colors and spec on your bikes, you'll enjoy the MyO customization option found on all models excluding the M20.
Depending on your model and build, the Orbea Rise can be set up as either a 140/140mm bike or a 36-equipped 150/140mm build. We ran the more aggressive 150/140mm setup for our ride and enjoyed the slightly slacker head tube angle and longer travel. We'd still like to see another half-degree taken out of the headtube for our preference, but the 66-degree front end will certainly make this bike a crowd pleaser for a large majority of riders and terrain.
After just one ride on moto trails in Boise, it was a bit tough to walk away with a real feeling of how this bike would perform on rootier and rockier singletrack, but we can definitively say this bike is damn fun and will revolutionize the eBike Light category. Shoot, it might even shake up the whole eMTB world as brands reevaluate what important, more range and power or lower weights and more playfulness. In the whooped out moto trails of Boise, we found the suspension to be a little bit soft and linear as the high-speed compressions back to back to back resulted in the bike getting a little squirmy and losing composure as we were constantly bouncing off the bottom of the travel. When we got onto the more natural, mountain bike-y trails down low, we actually felt more at home on the bike's feel and tune, although we're still thinking another volume reducer or two will be needed for heavier and more aggressive riders. It would allow us to retain the sensitivity off the top and keep the suppleness and traction without blowing through travel or having to air up to the point of having a rougher, more tiring ride.
Overall, the Orbea Rise has us very stoked on this new sub-category of eMTBs and where the future may be headed. We climbed over 4,000 feet in roughly 19 miles of riding on a 360Wh battery in Boost, something that would have eaten larger batteries on older, heavier bikes. This 35.5-pound bike is truly a blast and ride more like a mountain bike than the eBikes we've been riding lately. It is playful, light, poppy and takes rider input very well. As with anything there are some critiques that may or may not be relevant to other riders, but we'd love to see a longer travel dropper post, slightly slacker headtube angle and a more aggressive tire spec. Our list of positives is certainly a lot longer however and we really like Shimano's new EP8 system and the ability to switch between the two power profiles on the fly.
If you've been wanting to get a eMTB but didn't want to lose the workout element, natural feel of climbing and burning those thighs or dealing with a heavy, sluggish downhill experience, then this could be the peak of the new wave coming in. We are very excited to get this bike on our home trails and seeing how our times compare on both the ups and downs.
For more info visit, Orbea.com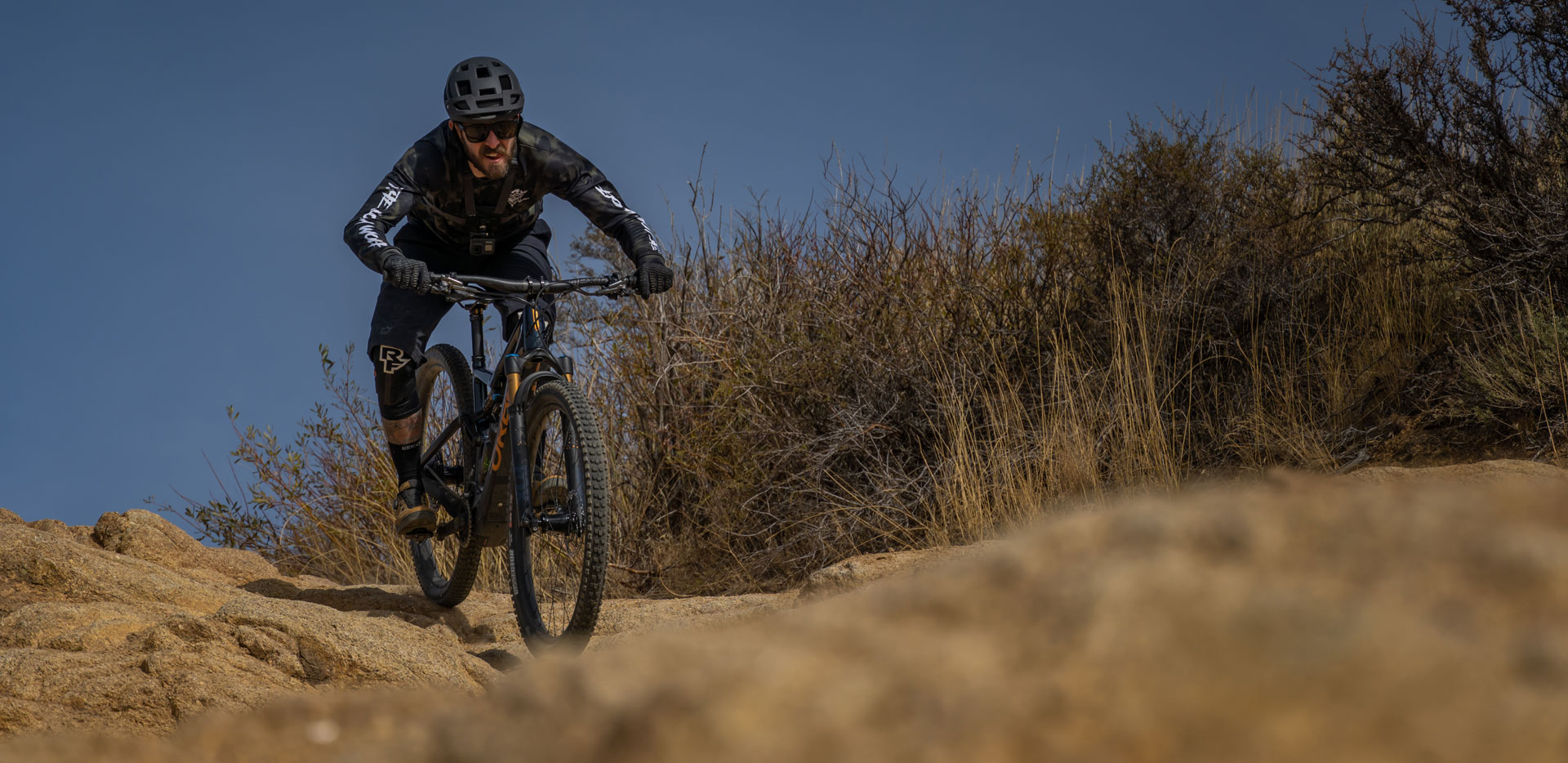 LEAVE A COMMENT, WIN FREE SWAG!
Want to win some free schwag? Leave a comment and vote up the most thoughtful comments and each month we'll pick a winner. The person with the smartest and most helpful replies will earn some sweet new gear. Join the Pack and get the latest news and read the latest reviews on the top mountain and electric mountain bikes.