KEVIN AIELLO
"THIS IS YOUR NEW ARM"
KEVIN AIELLO'S SURREAL RIDE
Interview & Photos by Ryan Cleek
As a boy growing up in Rancho Santa Margarita, California, Kevin Aiello took full advantage of his Orange County playground. Hearing him talk about his daily childhood adventures: skimboarding, surfing, dirt jumping, skateboarding, and kicking it at the beach with friends is enough to make anyone three wines deep at Thanksgiving dinner question their parents' audacity for raising them anywhere but a stone's throw from Kristin Cavallari's home turf. I digress.
For a decade, Aiello's been one of the fastest and most stylish American downhillers in the game. A career which began as a decorated junior national champion, he quickly grabbed the factory ride he'd dreamt about, and in-turn, was thrust into full-time international World Cup competition before he even graduated from high school. He would ultimately go on to win the USA's top downhill title, among numerous other racing accolades. Kevin began turning heads with his bike handling skills at just 15 years old, and today at 29, he's sharing stories behind a series of improbable racing circumstances and how some truly unimaginable injuries sidetracked his long-term competitive goals. Through it all, Aiello remains positive, and his transition to the next stage of his riding career is promising for more riders than just himself.
GROWING UP NEAR THE BEACH IN ORANGE COUNTY MUST'VE BEEN SPECIAL? NOT MANY PEOPLE GET TO EXPERIENCE THAT TYPE OF CHILDHOOD.
It's just incredible here, and I can't imagine living anywhere else. Growing up, we had an awesome neighborhood full of kids, and one of the local moms would take us around surfing, skimboarding, hit dirt jumps, skateparks, and all those types of things. My friends and I would find a new hobby and go all-out for a few weeks until we were burned out and then we'd hang it up and go onto the next sport.
My family was really into sports, and in my younger years, I was heavily involved in football and baseball, which I played until my sophomore year in high school. Around that time is when I started to put 100-percent of my focus into mountain biking.
YOU BEGAN TO MAKE A NAME FOR YOURSELF AS A JUNIOR EXPERT RACER ON THE NATIONAL CIRCUIT. DID SUCCESS IN THOSE EVENTS AT A YOUNG AGE BRING OPPORTUNITIES YOUR WAY?
Winning races definitely gets you attention, and my first real sponsors came my way when I was 15 years old. My friend, Rich Houseman, was racing pro DH full-time back then and also did some team manager stuff for Yeti. I approached him because I liked his style, and also loved Yetis in those days. As I recall, at the races he had resumes on-hand and ready to be filled out on the back of his truck, so he must've been approached quite a bit. One time at a local race, I filled out one of his resumes, and maybe six or nine months later he contacted me and said Yeti was going to start a SoCal satellite team, which would consist of Aaron Gwin and myself. Aaron is a few years older than me, so we had slightly different programs. I was still racing in the junior expert category, and after some strong US National races Aaron was almost immediately bumped up to the Yeti National team and began traveling with those guys. Whereas, I had just gotten my driver's license and would take my mom's SUV and hit the road to races and sleep in the backseat to save money.
YOU RECEIVED YOUR DRIVER'S LICENSE AND SET OUT SOLO ON THE NATIONAL CIRCUIT?
Yeah, I traveled the majority of that summer alone staying in the car and did nearly all of the US National series on my own. Occasionally, I'd follow another team that was going to an event and hang out with them at the race, too. That year, I think I won every National dual slalom race, and every National downhill race I entered except for maybe two, where I crashed, but got up and still finished in second place. That same season, Aaron got a top-10 in his first World Cup race and was immediately bumped up to Yeti's World Cup program for the rest of the year. I guess that was a breakout season for both of us.
AFTER A NEARLY UNDEFEATED SEASON RACING AT THE HIGHEST LEVEL IN THE COUNTRY, DID THAT SHIFT YOUR LEVEL OF DEDICATION TO MOUNTAIN BIKING?
Toward the end of that season, I had been in talks to race for a new X-Fusion DH team that was possibly going to run GT frames. Being a SoCal kid, and GT then a SoCal brand, racing one of their bikes was a dream of mine. Unsure if that team was actually going to happen, I gave the GT marketing person at the time a call to introduce myself and talk about a potential spot on the rumored team. However, when I called, she said she'd been meaning to speak to me regarding a spot on the GT factory team and had a letter of intent ready for me to sign, which was a pretty easy decision. I was a senior in high school, and that opportunity with GT is what started a full-time racing career.
WHAT WAS IT LIKE RACING NATIONAL EVENTS AGAINST KIDS YOUR AGE, THEN IMMEDIATELY RACING A FULL WORLD CUP SCHEDULE THE FOLLOWING YEAR?
My first year on the World Cup was 2009; and back then, there wasn't a separate junior category like there is today. Pro and junior racers competed against each other to qualify for the fastest 80 spots in the finals. I'm 6'3", and my first-year racing for GT I had to ride a size medium frame of their first version of the carbon Fury downhill bike. Obviously, the bike was super small for me, so that made for some sketchy moments when I'm trying to go as fast as possible and always feeling unstable. That aside, my first year on the team was an awesome experience. I met my friend John Canepa, who was Eric Carter's mechanic at the time, and Mick Hannah. All those guys were really good to me and helped me out a lot.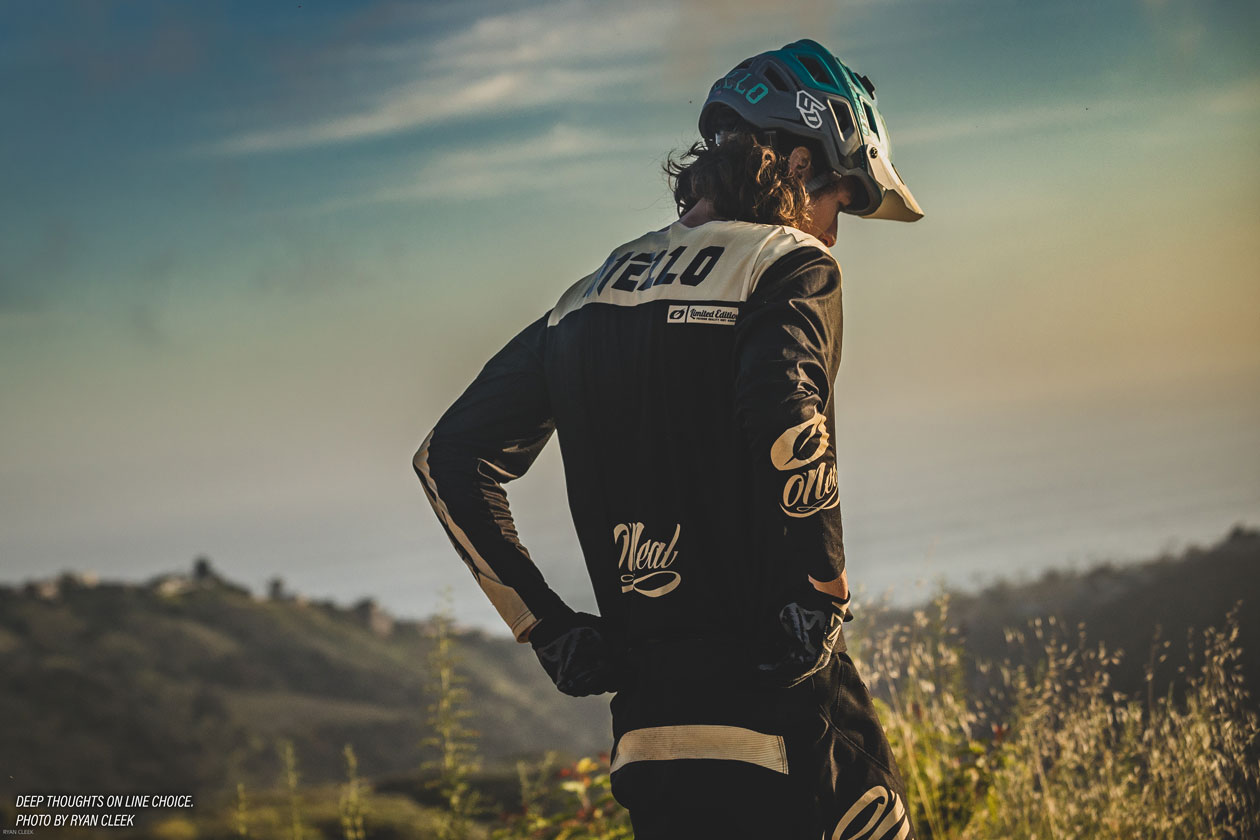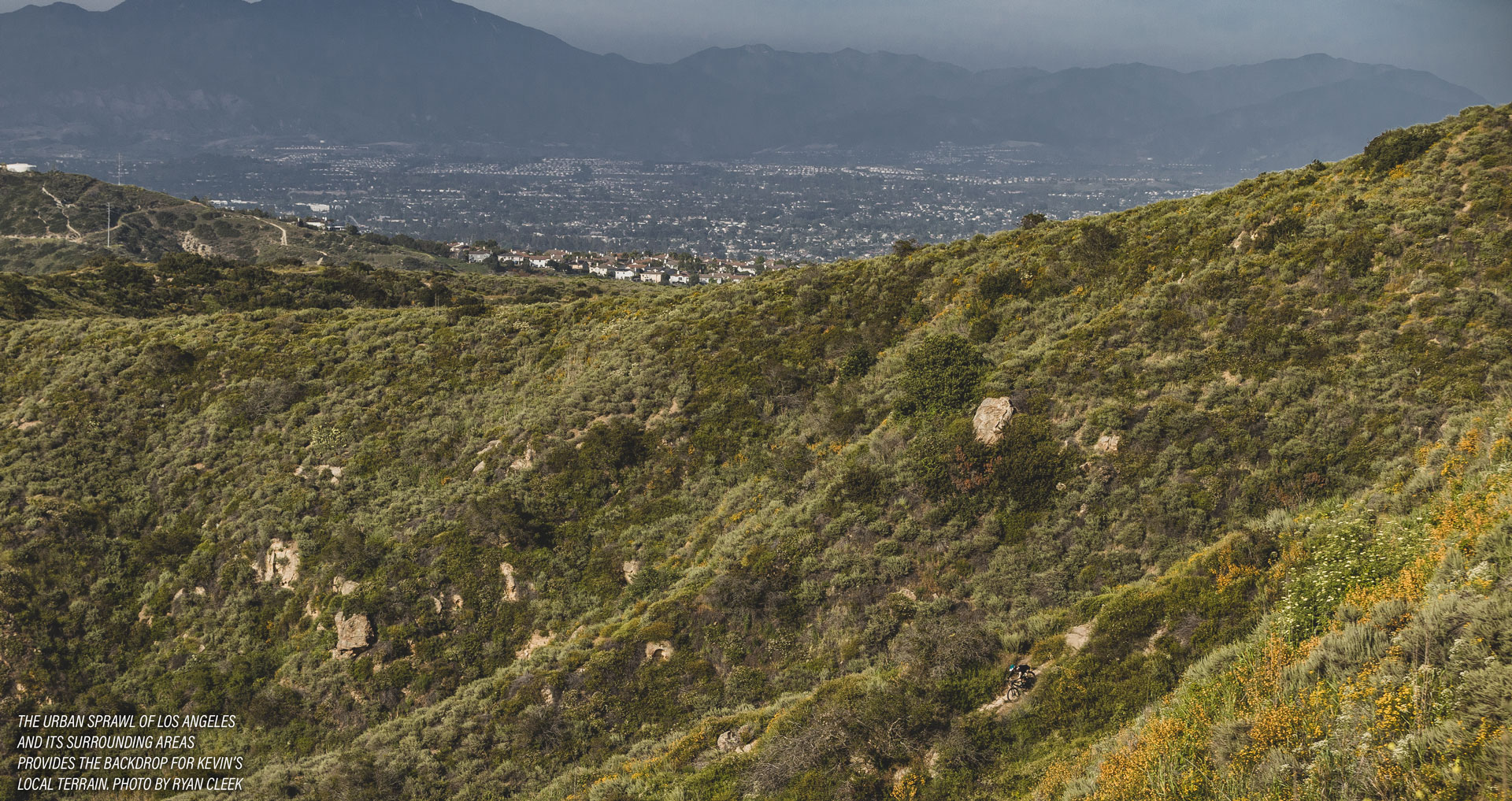 WITHIN A CALENDAR YEAR, YOU WENT FROM DRIVING YOURSELF TO RACES TO BEING A PART OF A FACTORY TEAM ON THE LARGEST RACING STAGE IN THE WORLD. WHAT WAS YOUR FIRST WORLD CUP EXPERIENCE LIKE?
My very first World Cup was in South Africa on my 18th birthday, and I believe I qualified 55th. I recall Danny Hart and I were a couple of the juniors among the elite riders in the finals. My race run was going great, but right before the finish line drop I slipped a pedal and rode off at full speed. I landed extremely hard on my seat with only one foot on the pedal. My seat broke off and my seatpost went through my shorts, and it resulted in a massive crash. I got up dazed and was basically out on my feet, but I somehow wobbled my way to the finish line. Of course, I didn't have a good result, but my teammate Mick Hannah had qualified first after taking a year off of racing, so I stuck around to see him come across the finish line. While I was cheering for him, I realized my leg felt cold and wet, and I didn't know what was going on. It seemed like water was running down my thigh, so I took a look. My left nut was hanging outside the skin and completely visible. I was so dazed from the crash I had no idea I had ripped my nut sack. Luckily, the injury ended up not being that big of a deal.
WHOA…YOU CAN ALWAYS SAY YOU WENT "BALLS OUT" AT YOUR FIRST WORLD CUP…
Ha! Yeah, I guess so. I remember being at the after party and taking my balls out to show Cedric [Gracia] and he was pointing and laughing at me. That entire week was a surreal experience. I'm racing World Cups and now hanging out with a legend like Cedric after the race, and oh yeah, I also ripped my sack open earlier today. I thought, "oh shit," this is real life.
WHERE DOES ONE GO MENTALLY AFTER A SERIES OF EVENTS LIKE THAT?
The next World Cup, I made the finals again. But I think I finished in the 40s or low 50s, so not great, but I was a kid and making the finals against the best racers in the world. The rest of the year I struggled to put together complete runs. I'd feel great in sections but would try too hard and end up cartwheeling through the air all too often. There were many sections where I was as fast as Marc [Beaumont] and Mick, but when it came to race runs, I just tried too hard and rode over my head too often. Looking back, I didn't have enough experience and didn't know how to find my limits, so I was always going as fast as I could everywhere on the track. I'm sure GT wasn't too stoked on a bunch of mid-pack finishes and crashes in my first year on the factory team, and that became obvious the next season, which would be my last year as a junior.
WHAT CHANGES TOOK PLACE FOR YOUR FINAL JUNIOR SEASON ON FACTORY GT?
The woman who originally signed me at GT told me not to worry about World Cup results my first year on the team, as it was a test year for me, and if I qualified for the finals that's great. She told me the next season, my final season as a junior, would be when I could shine. Well, by the following season, she was no longer with GT. After an inconsistent first World Cup year, GT told me to focus on the US races for my final season as a junior, which was a kick to the self-esteem.
Eventually, I realized this was a good opportunity, as I was finally on a large frame (yet, still way too small), and also took some time to relearn how to ride my bike. Meaning, I just slowed everything down and focused on my technique, instead of trying to go as hard as I could because of the pressure of the World Cup stage. I had a lot of fun hitting all of the nationals that season and shifted my focus to the World Championships in Canberra, Australia, and racing for the US team. That track was unusually pedaly and jumpy. I think my slalom background, plus the fact I was regularly winning the pro class in the highly competitive and very pedaly SoCal race series were the reasons why they put me on the USA Worlds team that year.
FOR NOT RACING ON THE INTERNATIONAL STAGE ALL YEAR, WHAT WAS YOUR MINDSET GOING INTO THE WORLD CHAMPIONSHIPS?
I was nervous; but I felt awesome in practice on that Canberra track and couldn't wait until race day. The GT mechanics had been testing a tubeless system that season, which was basically a small tube inside a tubeless tire setup to give you some tire pressure to keep you rolling and the tire on the rim in case you flatted. The World Championships was my first time on that system, so I didn't really know how it should feel, but figured being on a factory team that had used it all year gave me confidence in the setup.
All I remember from race day is being so incredibly pumped to drop in. Once I did, I gave it my all out of the gate, but almost instantly realized something was off. I pinged my rim very hard on the first rock on the course. A few corners later, my front end pushed, I ate shit hard, and that was the end of my World Championships.
Once back to the pits, we realized my front tire had been leaking air the entire way up to the start house and I dropped in riding only the small backup tube with about 15 psi inside the front wheel, which is why I pinged my rim on the first rock, and then the tire folded in a high-speed corner a bit further down the track. That's how my two years of racing for GT came to an end.
AFTER TWO UP-AND-DOWN SEASONS AS A JUNIOR, THE NEXT YEAR WOULD BE YOUR FIRST OFFICIALLY RACING IN THE PRO (ELITE) DIVISION. HOW DID YOU REGROUP FOR YOUR FIRST PRO SEASON?
After GT, I signed with the KHS downhill team. They had a strong presence at the National race scenes, and the year prior I was traveling with them to a lot of the races, because I had been dating the team manager's daughter. The atmosphere of the KHS team was pretty relaxed, and I started to flourish and ride a lot better and be more consistent with my results.
IT SEEMS LIKE ONCE YOU LANDED ON THE KHS TEAM YOU STARTED FINDING YOUR GROOVE.
Changing bikes and teams really put me in a different headspace. On GT, I was trying so hard all of the time; because I felt like I had to live up to this sudden pressure of filling a role on the World Cup team. Once I went to KHS, I was able to relax and really ride fast, but also have fun. I started to put together clean runs, and had my first pro US National Downhill win in 2012 at Northstar in Tahoe, followed by a handful more US National Downhill wins over the next few seasons.
The 2014 season started off with a big National in Port Angeles, Washington. I won the pro downhill, which was really cool, because that race tends to draw more talent than a typical US National, including some serious contenders from the World Cup circuit.
That Port Angeles win gave me the confidence I needed and set the tone for the whole year. With each race, I continued to ride at a consistent fast pace and the results spoke for themselves. The season culminated at the US National Championship Series finals at Mammoth Mountain, which was a part of their Kamikaze Bike Games festival.
AFTER A STRONG SEASON OF NATIONAL RESULTS, WERE YOU IN A POSITION FOR THE OVERALL DOWNHILL NATIONAL CHAMPIONSHIP?
Yes, and going into that event my focus was solely on that National title. I was so hungry and so motivated I really worked hard the few weeks prior to the event to be physically prepared for the high altitude, rough conditions, and long runs at Mammoth. I had a great week of practice in Mammoth and felt really good on the DH bike; but I overworked myself and ended up with mononucleosis. I just didn't give myself enough recovery time during training.
By the time I dropped into my race run, my legs stopped working. I couldn't stand on the bike. I had to seat-bounce myself up to my feet to get through any of the rock gardens, and I couldn't pedal at all. I knew something was wrong, and I was scared, but I didn't stop. I just wanted to get the championship. I came across the finish line in first place, dropped my bike, and literally crawled to the hot seat. I ended up in second place for the day but won the overall US National Downhill title. I was so thrilled to achieve my season-long goal of the DH title, and then topped it all off with a win the next day in the dual slalom. All of those results coming together after a hard year of focused training really set the bar for the 2016 season.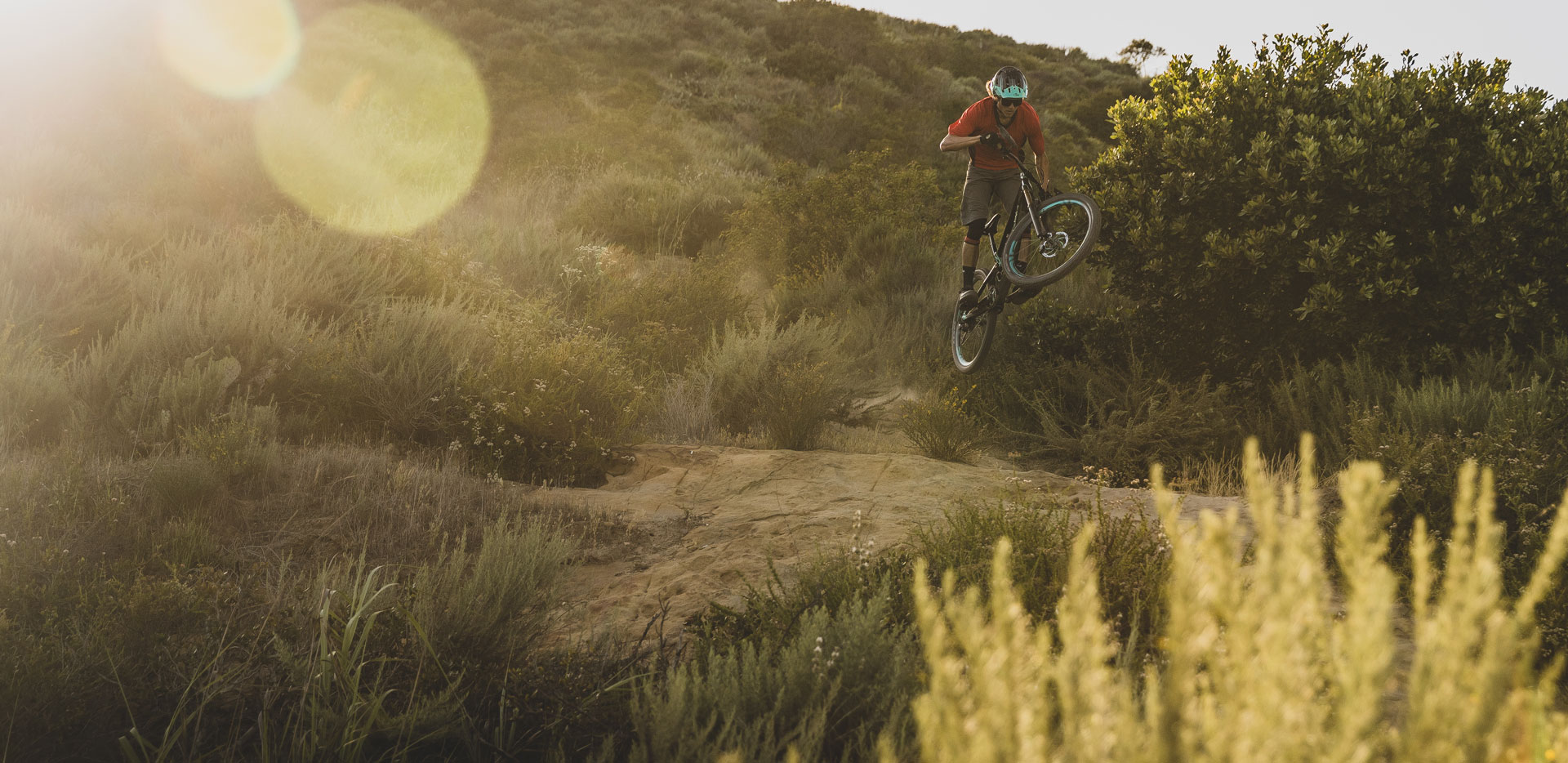 YOU'VE MENTIONED HOW BEING A TALL GUY GAVE YOU ISSUES WHEN TRYING TO GET FITTED ON A BIKE. DID THAT CONTINUE THROUGH THE KHS YEARS?
The following season, 2015, KHS revised the DH bike and made the suspension really good; however, for some reason the sizing was way off. I remember my XL prototype had a 17-inch reach, which at the time was basically most brands size medium frame. Although the new DH bike suspension worked well on rough terrain, the bikes were almost unrideable for a guy my height. This was a massive struggle for me. I went back and forth so many times with the KHS owner, who was very supportive of our racing, but just didn't understand how bike sizing in downhill was different from bike sizing in BMX. He would say, "If a size medium was good enough for Olympic BMX champion Māris Štrombergs, it's good enough for downhill mountain biking" …Well, this is not BMX. We're hitting massive, massive holes and jumps at 35 mph, so frame length and equipment does matter.
[KHS produces BMX bikes under the Free Agent brand, which sponsored Štrombergs at the time of his Olympic Gold-winning campaigns.]
HOW DID YOU EVENTUALLY ADDRESS THE FRAME SIZE ISSUE OF YOUR NEW DH RACE BIKE?
I ended up sending a few of my frames to Ventana, and luckily he was willing to cut them up for me. He added a piece to stretch the whole front end out, chopped all four bars of the rear end, welded it back together, and re-heat-treated it with massive gussets holding the whole thing together. The goal was to make the bike with a 17-inch reach now have a 20.5-inch reach. However, the first one came back to me with a 23-inch reach, which I guess is like an XXXXXXL and was quickly dubbed "the farm gate" by guys on the circuit.
DID THE "FARM GATE" SEE RACE ACTION?
Oh yeah. I actually built that bike up in my hotel room the night before qualifying at the Mont Ste Anne World Cup that year. Although the bike was so long I couldn't get the front wheel off of the ground, for the first time in my career I had a bike I could move around front to back and side to side and still be stable and in control. I qualified, and ended up 42nd in finals; which isn't amazing, but I felt like I was riding well and on a franken-bike I hadn't ridden until my qualification run that day.
FROM 2012 THROUGH 2015 YOU LANDED A NATIONAL CHAMPIONSHIP TITLE, PLUS SEVERAL NATIONAL SERIES WINS AND PODIUMS. ENTERING 2016, YOU MUST'VE HAD BIG PLANS?
Living in SoCal my whole life, year-round racing is one of the things I always enjoyed. The winter downhill series at Fontana used to have a really fun scene, and it was always a good time hanging out with friends and with so many people from the industry at those winter races. Nothing else is going on in the sport that time of year, so it was a fun way to stay sharp and competitive.
In January of 2016, I went to the first of the six winter races at Fontana. Anyone who's been there or seen videos of the place understands most of the DH tracks are pretty rocky at the top, but then have a ton of flat-ground pedaling to get to the finish line. Since it was so pedally, I'd been racing my 160-mm-travel bike with DH tires. For that first race, I also switched my shock from a Fox Float X to the Fox Float X2 air version on race morning.
Out of the gate, the track had a really rough section which I would power-wheelie over and let a huge rock at the end of it kick my back wheel up so I could air over the entire following rock garden. The X2 had a lot more compression than the shock I removed, and I didn't expect the bike to handle differently in my race than it did in practice; but when pushing at race speed I guess it did. My rear wheel hit the rock to gap the following section as planned, but I got bucked forward at full-speed. I rode my front wheel for about 20 feet and was heading for a 5-foot drop on the course. In practice, everyone was hitting the brakes before that drop, so a big hole had developed. My front wheel fell into that hole with all of my weight on the front end, which then rebounded and launched me forward off the front of my bike and sent me free falling down to the bottom of the drop. It felt like I jumped off a diving board head first into an empty concrete swimming pool.
I hit my head hard and I was pretty rattled, but immediately knew something was wrong with my arm. Once I got off of the track, when I moved my elbow it was super painful and I could feel things grinding, popping, and just felt out of place, so I knew I blew something up.
At the hospital, the doctors said I had broken the radial head, which is the top of the forearm, and it impacted with the humerus bone in my arm so hard it split the radial head and broke chunks off of it. There were several pieces of bone floating inside my elbow they were going to leave in there. However, when I was eventually sent home from the hospital, I was instructed to keep moving my arm so it didn't stiffen up and develop more scar tissue.
WAIT, YOU HAVE A SEVERELY BROKEN ELBOW, AND THE DOCTOR TELLS YOU TO GO HOME AND MOVE IT AROUND?
Yeah, they said they wanted me to be moving the arm so it didn't freeze up, and keep using it within the limits of my pain threshold. Well, we didn't clarify what that meant in the office—so I went riding.
I put a brace on my elbow to limit the range of motion and headed to the Laguna downhill trails with Charlie Harrison and a few other guys. Not only did I have the arm brace which limited my range of motion, I was trying out a prototype 2.6-inch Maxxis tire on the front of my downhill bike, which was not the rubber compound or tire width I had been used to. Anyone who's ridden the downhill trails in Laguna likely knows this high-speed, off-camber, freeway section that leads into a left-hand corner. That spot has been photographed a ton over the years and I knew I had a good inside line through the section. When I dove inside my front end pushed, and I don't know if it was partly because I wasn't used to the volume of a 2.6-inch front tire, or the harder, unfamiliar rubber compound, or what; but my front end came out from under me faster than I knew what to do. As I started to crash, I held my right arm in the elbow brace up high and out of the way to prevent further injury, which made the chin bar of my helmet and my left shoulder take all of the high-speed impact. As I was sliding across the ground at speed, my shoulder hit a rain rut in the trail and that cracked my left shoulder blade completely down the center. After the crash, a piece of the shoulder blade was displaced and only 5mm from my heart, so that ended up being a major surgery and a pretty dangerous scenario.
NOW YOU HAVE A SHATTERED ELBOW AND A BROKEN SCAPULA IN A MATTER OF WEEKS?
Unfortunately, yes. A trauma surgeon in LA did the shoulder repair, and the recovery was supposed to be six months, but after just three months I felt good enough to get back on the bike. However, the elbow fracture from a few months earlier was still so painful, I couldn't extend my arm, let alone hold onto a handlebar.
IT HAD BEEN A FEW MONTHS SINCE THE BROKEN ELBOW. THERE WASN'T ANY PROGRESS?
For months, I had been going to therapy twice a week for my elbow, but I had lost so much range of motion in my arm I didn't know what to do. I remember the therapist telling me despite my insurance covering a few more therapy sessions, he was going to discharge me, because there's nothing more he can do for my arm. He said he was confident that was as good as my right arm would ever work again. At the time, I didn't know what he meant. I thought I was still in a recovery mode and my arm would eventually return to normal. I'm right handed, and that arm was now a couple of inches shorter than my left. I was in so much pain I couldn't even use it to open a car door. At the end of my visit the therapist said, "this is your new arm." I thought he meant it would still get better, but he said, "no, this is as good as it will ever function again, and you need to get used to it."
I didn't really know whether to believe him or not, because by this point it's 2017, and it seems there are good fixes for many orthopedic sports injuries. But, I was wrong. For peace of mind, I went to the first surgeon who first worked on my elbow and he said the same thing as the therapist. "This is your new arm, get used to it."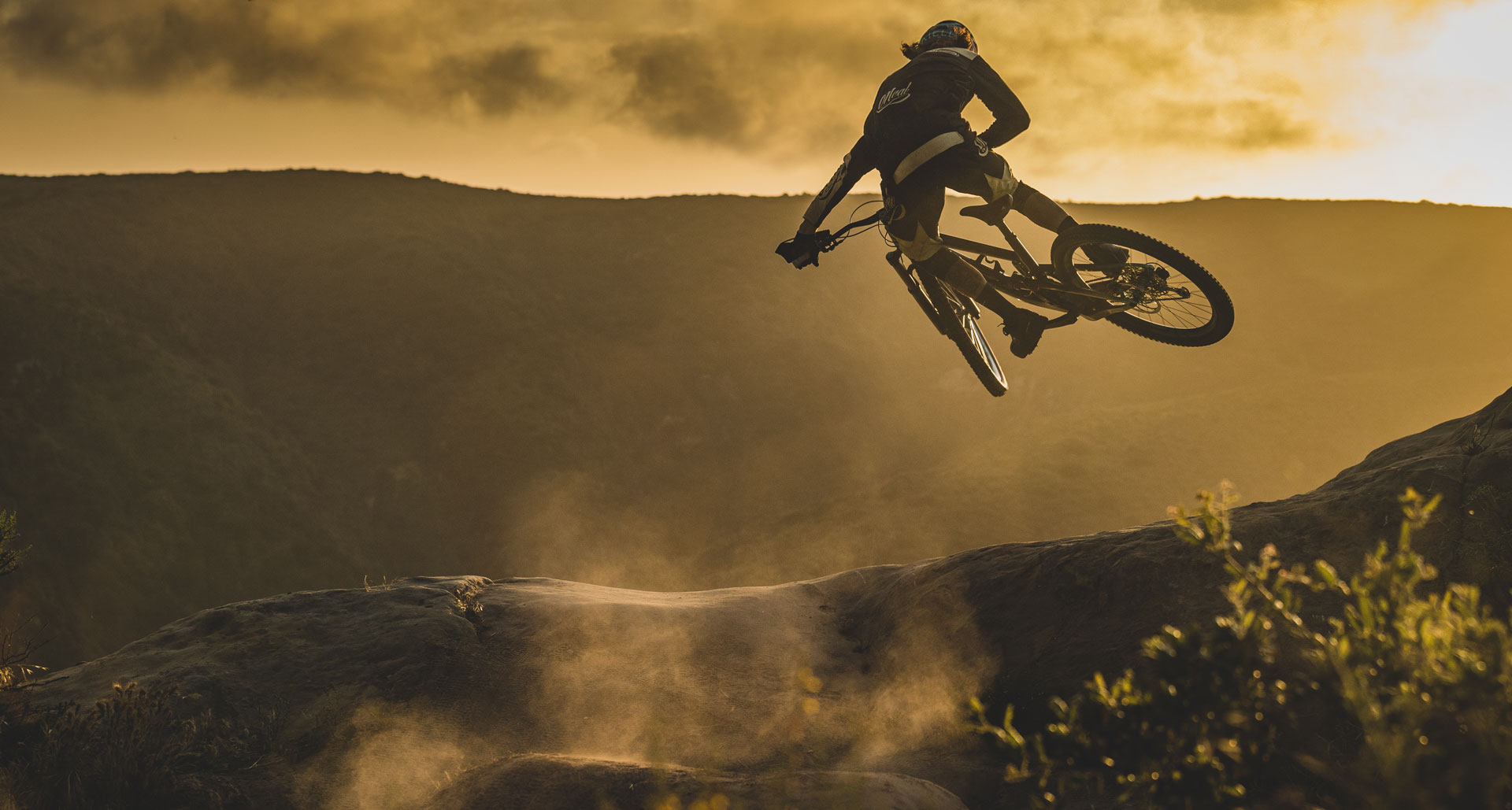 THAT HAD TO BE A TOUGH PILL TO SWALLOW. HOW DID YOU HANDLE THAT INFORMATION?
It's very weird, but I don't really have a choice other than to get used to it. It's been three-and-a-half years now, and I'm getting by. When I ride, I now have to turn my bars slightly to the right to compensate for the arm being significantly shorter than the other.
I can still ride well, however after a bunch of punishment, like spending two weeks in Whistler, my elbow just starts to collapse and I can't hold myself up. It's taken a long time for me to relearn how to use my arm and what I can and cannot do. Through it all, I'm just glad I can still ride, dig, and do most of the things that make me happy.
THAT'S A HEAVY SITUATION. THROUGH IT ALL, WERE YOU HOPEFULLY TO RETURN TO FORM?
Yeah, good times, huh. I tried to continue racing and had a chance with the brand Hyper. They were cool to let me run a pretty chill schedule to focus on filming and then race when I wanted to race. Ultimately, there were a lot of issues with the Hyper situation, plus I wasn't able to ride my best; so during that year with them it started to sink in that racing is probably not going to be my job anymore.
That realization was tough. I hadn't prepared myself for anything else, because I'd been focusing on racing since I was a teenager. I figured I had a few more years in the tank, and then I'd focus on what I would do after racing. Injuries are a part of racing, and sometimes there are serious ones which change things entirely.
NOT TO DWELL ON THE NEGATIVE, BUT YOUR RUN-IN WITH SERIOUS INJURIES DIDN'T STOP WITH THE SHOULDER, DID IT?
Oh, no. There was a little window where for a few months I was kinda floating by and not knowing what to do, because I couldn't race or ride to my potential with the elbow, yet I was still riding and filming a lot. I built up a new dirt jumper and went out to jumps with Charlie Harrison and Nik Nesteroff. These were big, steep, BMX-style jumps. I rolled through the sets a few times clean, and the second jump was a huge, very steep, double where the landing was steeper than the lip. I hiked back up and said to Charlie, "I don't want to get bucked on the second one and get thrown over the bars, because I can't really put my arms out. My elbow is killing me and my shoulder is still recovering." I didn't really think too much about it at the time, and dropped in.
I'd been going a little long on the big second jump, so instead I decided to pop it and go straight up to the moon. So I blasted it and went much higher, but I also went much further. About 15 feet out from the landing there's a 2-foot tall roller before the next jump. I went so far past the landing, I nosed into that roller, but the first thing to hit the ground was my forehead. Looking back, I screwed up. I pushed into the lip way too hard and that threw me too far forward, but I had no idea what caused me not to react. I had plenty of time to throw my bike, but I froze. I didn't even take my hands off the handlebars before my head hit the ground.
I landed pretty much on top of my head. My chin hit my sternum so hard it cracked my sternum, I bit through my tongue and my tongue probably saved all of my teeth, and I broke seven vertebrae in my neck and back.
WAS SURGERY REQUIRED TO REPAIR YOUR BROKEN NECK AND BACK?
Thankfully, I didn't need surgery on the vertebrae. The doctors said it was a one in a million situation and they hadn't seen anyone get this lucky. I had a half-shell helmet on, and landed directly on it. Shout out to 6D helmets and Bob Weber. I know my legs work because I had that helmet on. It has about three-quarters of an inch of travel, or basically a bit of suspension, before the traditional styrofoam protective layer is even impacted. I cracked right through the entire thing, but it did its job. I was unconscious for over 20 minutes and I wasn't speaking after I woke up. That was definitely a crazy circumstance that could've changed my life forever.
AFTER ENDURING SO MUCH BY YOUR MID-TWENTIES, HAVE YOU BEEN ABLE TO TURN THOSE SITUATIONS INTO A POSITIVE OUTCOME?
I've always been big into trail building, so I try to do my part in keeping those in the area running, yet without getting myself in trouble. That's where I got my start, so I definitely want to give back where I can.
These days, I'm also doing riding clinics to help people get more comfortable on their bikes and have more fun riding. I've been very focused on not only the technique of my own riding, but of all of the top guys. I'd dig into what body position worked and bike setup, and so much more. So, I like being able to share that knowledge and almost instantly see people get better on the bike and enjoy the experience so much more. One of the coolest parts is I actually learn a lot from helping people, because it forces me to examine my own technique, but also look at what I'm asking them to do related to the different terrain we're riding each time.
I'm super lucky to be able to be doing something I enjoy, and the clients seem to really dig it, too. The classes reach riders from San Diego to LA, and everywhere in between, so I'm excited to see how it evolves in the future.
WHERE CAN RIDERS LEARN MORE ABOUT YOUR COACHING AND CONNECT WITH YOU?
The best place to get more info on the coaching clinics is www.socalspeedclinics.com, and you can find me on Instagram @kevinaiello7.