GREG WATTS
"MY FREE TIME IS LUCKILY
PUT INTO MY PASSION."
CATCHING UP WITH GREG WATTS
AT HIS IMPRESSIVE BACKYARD
DIRT JUMP COMPOUND
Interview & Photos by Ryan Cleek
GREG WATTS
"MY FREE TIME IS LUCKILY
PUT INTO MY PASSION."
CATCHING UP WITH GREG WATTS
AT HIS IMPRESSIVE BACKYARD
DIRT JUMP COMPOUND
Interview & Photos by Ryan Cleek
Over the past 12 years, pro freerider Greg Watts has carved out an impressive niche for himself in the mountain bike world. At 33 years old, he is no stranger to high-level freeride competition, and has maintained a perennial podium presence throughout his career. Those with an ear to the ground in mountain biking may recall his 2009 Crankworx Slopestyle title, however the Santa Cruz, California, native has a gang of riding accolades many fans of the sport may not be privy to. Watts is said to be the first rider to land both a double backflip and a flip-whip on a mountain bike, plus he's won about a dozen of Best Trick awards at comps around the world; and, according to Greg he has, "probably a dozen more world-first tricks on a mountain bike."
I caught up with Mr. Watts at his home in Carson City, Nevada, to chat about the contest season that didn't happen, his burgeoning Youtube series, "Watts Happening," and the evolution of his impressive backyard dirt jump and slalom track playground.
AS A CALIFORNIA NATIVE, HOW'S THE MOVE TO NEVADA TREATING YOU?
Santa Cruz was a super-cool scene to grow up in, but it's just not really possible to have any kind of property unless you're a doctor, or some other career like that. There are also a lot of environmental restrictions which caused our jump spots to get shut down. After seeing the cost of land go through the roof, I moved to Reno a few years ago, and have now been in Carson City for two years. I couldn't be happier out here. It's much different than California, because I can just go out into the middle of nowhere and dig jumps or do whatever I feel like. It's also very scenic and is just definitely more of my style of living.
I got lucky when I found my current property, because not only does it have the perfect slope for jumps and a slalom track, my wife is a teacher in the Carson City school district and now works just down the street from our house.
FOR MEDIUM-SIZED CITIES WITH RELATIVELY MODEST POPULATIONS, THERE SEEMS TO BE A LOT OF MOUNTAIN BIKING TALENT BETWEEN RENO AND CARSON CITY.
It's pretty crazy, because within the half-hour drive between Reno and Carson we have five Crankworx Slopestyle titles in our area. Cam Zink has two, Paul Basagoita has two, and I won it once in 2009. I guess the only other location on earth with maybe as many slopestyle titles in one place could be inside Semenuk's house!
WITH YOUR PRO COMPETITION BACKGROUND PRIMARILY IN DIRT JUMPING AND SLOPESTYLE, WHAT TYPE OF EVENTS WERE ON YOUR RADAR FOR 2020?
I'm focusing on the three Crankworx events. Rotura happened earlier this spring, however I wasn't able to make it to the Innsbruck event due to the covid virus, and Crankworx Whistler was ultimately cancelled because of it, as well.
HOW DID THE WORLD LOCKDOWN SITUATION AFFECT YOUR RIDING SEASON?
Honestly, there wasn't really a riding season. I got second place in Speed & Style at the Crankworx event in Rotorua, New Zealand in March, which ended up being the last mountain bike event in which I was able to compete. I was in a good spot for that Crankworx title, but unfortunately, I wasn't able to get to the Innsbruck event, and of course Whistler didn't happen.
The season was very weird, to say the least. Because, I've always had goals and events to work toward, but since nothing was happening as planned, I felt like I was on my own. I had nothing to focus on, nothing to train for, it just felt strange.
I also had a lot of film trips cancelled. In April, I was supposed to be in Chile for a project, and later in the summer Barcelona, but as with most of the contests, those trips didn't happen, either. On top of the riding and filming trips basically being cancelled, I also do some digging for local bike parks. All of the funding for those projects disappeared, too. Thankfully Mongoose, my frame sponsor, has been supportive and stuck by my side through it all.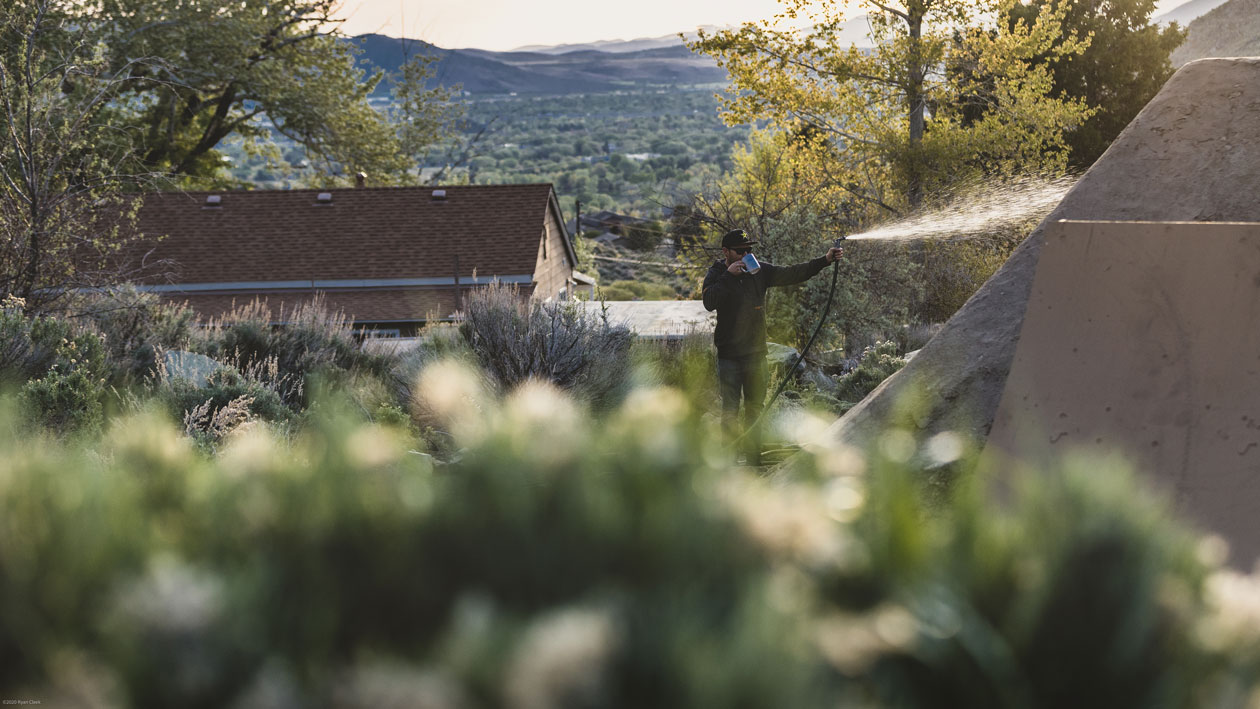 Watts tends to his backyard creation while approaching a sufficient level of caffeination for a morning session. Photo by Ryan Cleek
---
IT'S UNDERSTANDABLE HOW THE PANDEMIC HAS AFFECTED LARGE RIDING EVENTS. HOW ELSE HAS IT INTERFERED WITH YOUR CAREER?
Events being cancelled or postponed is one thing, but a lot of companies are hurting now or even going bankrupt. It's always a bit scary being a sponsored rider, because, if a company has a bad year the first thing to get cut the next year is the marketing budget. I've never been more scared.
IS IT POSSIBLE TO SEE A SILVER LINING FOR 2020?
Generally, I'm on the road for weeks at a time during the riding season. So, one positive aspect is I've been able to be home and spend a lot of time with my family. I've also been getting a lot of projects done around the house and had time to work on my jumps, but I'm really hoping to get back to a "regular" riding season in 2021.
SPEAKING OF YOUR FAMILY, I SAW SOME TINY SHOES AND A TRICYCLE IN YOUR GARAGE.
Yep, those are my daughter's. She's two years old and was born when we lived in Reno, and she really loves our home in Carson. Her favorite things are playing in the dirt around my jumps and seeing all of the wild animals that stroll into our yard from the mountains which border our property. She especially loves to see the deer trample through my jumps every morning.
With a two-year old daughter, these days Greg's backyard is home to more than just dirt jumps. Photo: Ryan Cleek
---
YOU HAVE AN IMPRESSIVE BACKYARD COMPOUND. HOW HAS IT EVOLVED OVER THE PAST COUPLE OF YEARS?
I've been building jumps and trails my whole life, so I'm always looking at the surrounding landscapes while driving down the road and thinking about what I could build in a certain area. That's really how it all started. The post office jumps in Santa Cruz were illegal initially, as were all of the jump spots where we learned all of our skills. So, it's really cool to be able to build stuff in my backyard and not be chased out of places.
It's basically been a two-year work in progress. The first year, the season was just getting started and I got the slalom course running and piled up the dirt for the jumps, but the dirt was too dry to really pack in. It just took a long time for it to settle and get good. Last year, I was traveling a lot, so I'd leave, and the jumps would be in good condition, but when I returned, they'd be dried out and super loose. So, for a while I was shoveling in between every run. The dirt here is pretty mediocre, because there are a lot of rocks in it so it took a ton of time to pack it in. But, once they were built, the jumps have just gotten better and better, and I'm loving it these days. I think the jumps sitting all winter helps a lot, because they really got saturated. These days, I have a lot of time on my hands, as we all do, so I've been able to really dial them in.
The jumps are an ever-evolving project, which will never be finished. There will always be tweaks and refinements, but I'm really happy with the layout right now. The jump line is running really well, and the slalom course is running great, too. I'm super happy with how they're flowing right now. I don't really want to add more, because that's just more work, and anyone who has kids understands there's not much free time. All of my free time is luckily put into my passion, which is also my job. Although, it would be cool to one day do an on-off-box from the roof of my house.
YOU MENTIONED YOU'RE ON THE THIRD SEASON OF YOUR YOUTUBE SHOW, "WATTS HAPPENING." HOW HAS THAT SERIES EVOLVED?
The whole idea behind the show came from me traveling the world for the last 12 years competing, and so many riders would always say, "Hey, you need to come check out my spot next time you're in town. We have awesome trails and a lot of good, up-and-coming riders."
Once I stepped back from doing the full competition circuit, I thought it would be a good time to pursue those kinds of travel opportunities and meet up with other riders on their home trails, whether that's riding with Andreau Lacondeguy in Spain or meeting up with Ethan Nell and DJ Brandt in Virgin, Utah. The videos we've already done have a really fun road trip vibe, and there's no pressure from contests and stuff like that.
The first year, we did it on our own with a small budget provided by my sponsors, and Lone Wolf Productions did the shooting. The initial idea was for me to travel to all of these riding locations with my RV trailer, which turned out to be quite a hassle. For the second year, we partnered with Outside TV, which increased the budget so we could fly places and ditch the RV.
This third year, we were lined up with a lot of cool things with several high-profile riders, but now those trips and episodes were greatly affected by the pandemic and travel restrictions.
ARE YOU ABLE TO TALK ABOUT SOME OF THE SHOOTS WHICH HAVE BEEN DELAYED OR CANCELLED?
We had plans to go to Bali, and also hit a dirt jump spot I like in Chile. We were also going to Barcelona to ride with Andreau Lacondeguy and Adolf Silva, and then hit Park City, Utah to ride with Mitch Ropelato. We also had plans to do an episode at Crankworx in Whistler. But the lockdown situation caused us to lose some funding, so once we are able to restart shooting, we will likely have to modify the number of episodes and also look for some new destinations and concepts.
WITH TIME COMES PERSPECTIVE. HOW HAS YOUR OUTLOOK ON RIDING EVOLVED FROM EARLIER IN YOUR CAREER?
Over the last few years, I've kind of slowed down my riding style. Year after year it was injury after injury, which takes a toll mentally. Recently, I took a whole year where I just rode for fun and didn't take the chances necessary to go for that first-place spot at contests. At the end of that season I thought, wow, I'm an able-bodied human for once and don't walk around in pain, this is cool. So, I've changed my mentality a bit to increase my longevity in the sport. Between this mindset and having a great set or jumps to train on in my backyard, things really seem to be coming together. Unfortunately, the only thing missing these days is the riding season!
Greg is sponsored by Mongoose Bicycles, Rockstar Energy, Deity, Giro, Sombrio, RST Suspension, Gamut, Shimano, Ride Concepts and Sensus.
Follow Greg on Social:
Instagram
Massive accomplishments deliver huge checks, including his Crankworx Slopestyle title in 2009. Photo: Ryan Cleek
---