O'NEAL LOAM JACK SHIRT REVIEW
Review by Robert Johnston
Photos by Adam Lievesley
Since way back in 1970, O'Neal has been supplying the Moto market with innovative apparel to allow riders to perform as best as possible on their bikes. A natural progression in the 80's was the addition of a line of slimmed down MX gear for pedal-based activities with their dedicated cycling range. Since then, they have continued to supply downhillers and freeriders with moto style gear, with the recent addition of more enduro and trail riding focused kit to cater to their differing needs.
O'Neal sent us a bunch of their gear that unfortunately is not included in their North American catalog, as they consider it to be more appropriate for the European market. This included a selection of Wet Riding gear, which will be reviewed in an upcoming feature. Read on here to find out how I fared with their Loam Jack technical riding shirt.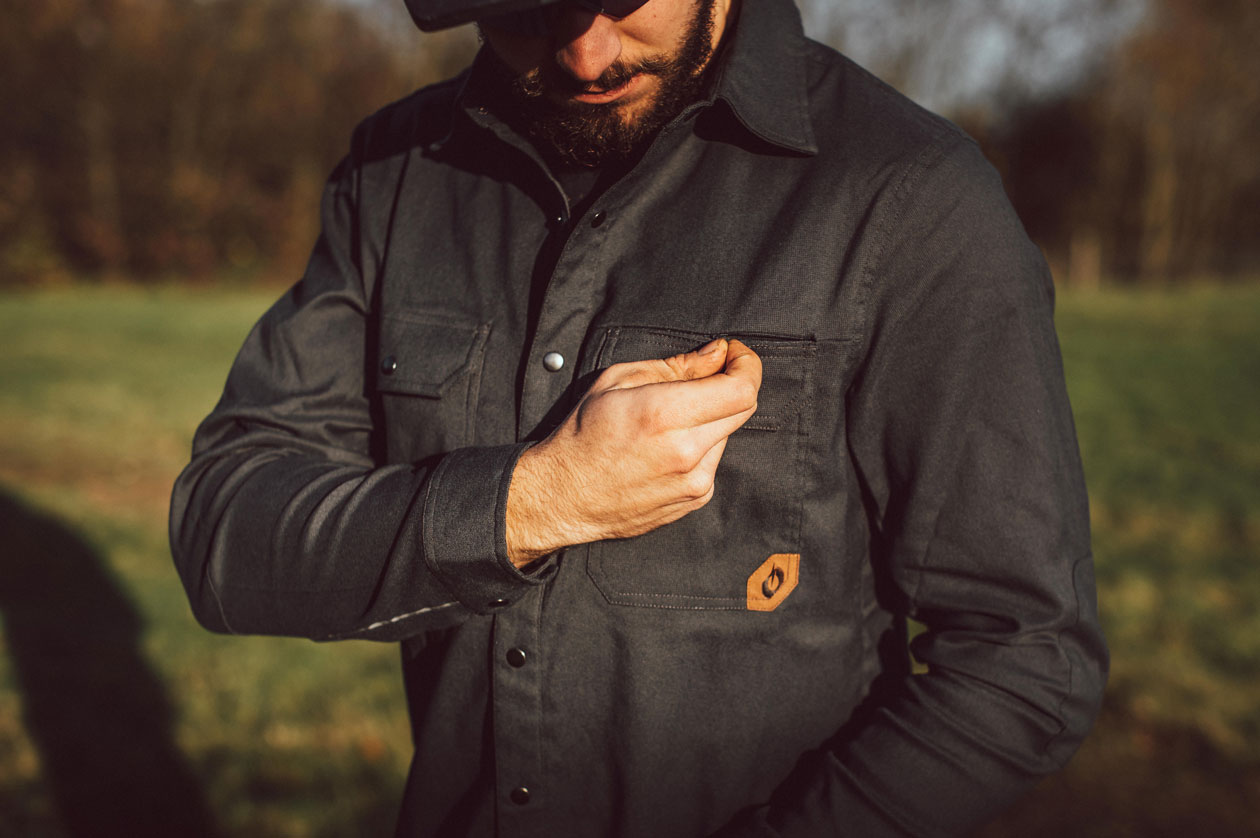 THE LAB
The Loam Jack shirt is a button-up shirt designed to offer a blend of casual looks and riding functionality. Featuring a hard-wearing material that is comfortable enough to wear all day but does not heat up like your typical flannel, it is targeted at those who are as excited for the after-ride beers as the ride itself. Separating it from your typical flannel shirt, there are mesh inserts under the arms for ventilation; panels on the elbows for protection; reflective stripes on the sleeves to help you be seen; a bike-friendly elongated back; two zipper pockets and an integrated cloth for keeping eyewear clean. A relatively relaxed fit allows the slightly stretchy material to remain riding friendly and helps to maintain its casual appearance when bikes are not involved.  At €59.99, the Loam Jack costs the same as your typical branded flannel, which may make it good value if you are regularly wishing your shirts were more riding friendly.
THE DIRT
The Loam Jack shirt is unremarkable, but in quite a good way. Taking it for its first spin in the office before heading out after work, the shirt flew under the radar and received no abuse from my colleagues. Once I had pointed out the reinforced elbow panels and reflective strips on the sleeves, the consensus was that it was an item that would happily blend into an office or pub environment, with its understated flat grey color being undoubtedly smart-casual. Out on the trails, the long sleeves, dropped back and mid-weight material make for a comfortable item for a general ride. It is not an item I would reach for if I knew I would be pushing hard on the pedals, with a more technical fabric being my preference for a riding jersey, but it is perfectly capable as a general riding top and manages to deal relatively well with heat for a mid-weight fabric. The zipped pockets and goggle wipe are somewhat easy to forget about since it is so uncommon for a shirt to have such features, but they are certainly nice to have when you do remember about them. I have not managed to test the effectiveness of the "padded" elbows (which are more reinforced than padded per se), but it is safe to suggest that they will only be helpful should you take a tumble.
The Loam Jack shirt would be a welcome addition to any Mountain Bikers wardrobe, offering a useful option for those hybrid days that combine some casual bike riding with some non-bike activities. 
We Dig
Understated looks
Ride Friendly Fit
We Don't
Doesn't breathe like a riding jersey
LEAVE A COMMENT, WIN FREE SWAG!
Want to win some free schwag? Leave a comment and vote up the most thoughtful comments and each month we'll pick a winner. The person with the smartest and most helpful replies will earn some sweet new gear. Join the Pack and get the latest news and read the latest reviews on the top mountain and electric mountain bikes.