WHAT IS UPDURO?
BRAYDON BRINGHURST INTERVIEW
LW: TELL US A LITTLE BIT ABOUT THIS PROJECT. WHAT IS UPDURO AND WHAT WAS THE LIGHTSWITCH MOMENT FOR THIS PROJECT?
Braydon: I have been inspired from the movie Rad since I was probably 7-8 years old. I am 32 now. It is one of the reasons I am continuing to ride my bike with the passion and love that I do today. Making these mountain bike edits is something I am being supported by these companies for and so I felt like this was my chance to make a timeless work of art to tribute and look back on for years to come. 
Upduro… haha in my first edit called "Transcend" one of the top comments was something like "You've heard of downcountry… but have you heard of upduro?" So, I guess that just came from the beginning with my approach to climbing my mountain bike. 
LW: WHERE DID YOU FILM THIS EDIT AND WHY DID YOU PICK THAT LOCATION?
Braydon: I have seen videos of people showcasing Bentonville and one of my first thoughts from the videos was that it looked like one of the places the movie Rad took place at. When I went there to scout the location in March, I knew that Bentonville was the place to shoot this tribute. It is a trail bike Disneyland. It is pretty wild, and they are doing a lot to make it its own little utopia like riding place.
LW: WHAT WERE YOUR BIGGEST CHALLENGES FOR THIS PROJECT?
Braydon: There were a lot. We wanted to have this project complete by June but COVID kept pushing it out. Then, I dislocated and broke my ankle shooting a ZIPP edit in July. I got fortunate with the break and then worked as hard as I could to be in shape to do respectable riding. We shot this edit in October. It then proceeded to rain 3 of the 5 days we shot in Bentonville, but we stayed positive and it worked out. I had two other big features I wanted to do but I will just have to save those for another edit. 
LW: WE KNOW YOU WORK CLOSELY WITH YOUR WIFE, WHO'S USUALLY BEHIND THE LENS WHILE YOU'RE FILMING. AS YOUR VIDEOS PROGRESS IN ALL WAYS, HOW DOES THAT RELATIONSHIP PLAY A ROLL?
Braydon: Yeah, my wife Nicole is amazing. Shooting a project can be pretty mental. She keeps me calm, encourages me, tells me to chill out if I get heated. The chemistry is huge between the filmer and rider. I know that our edits turn out pretty genuine because of that.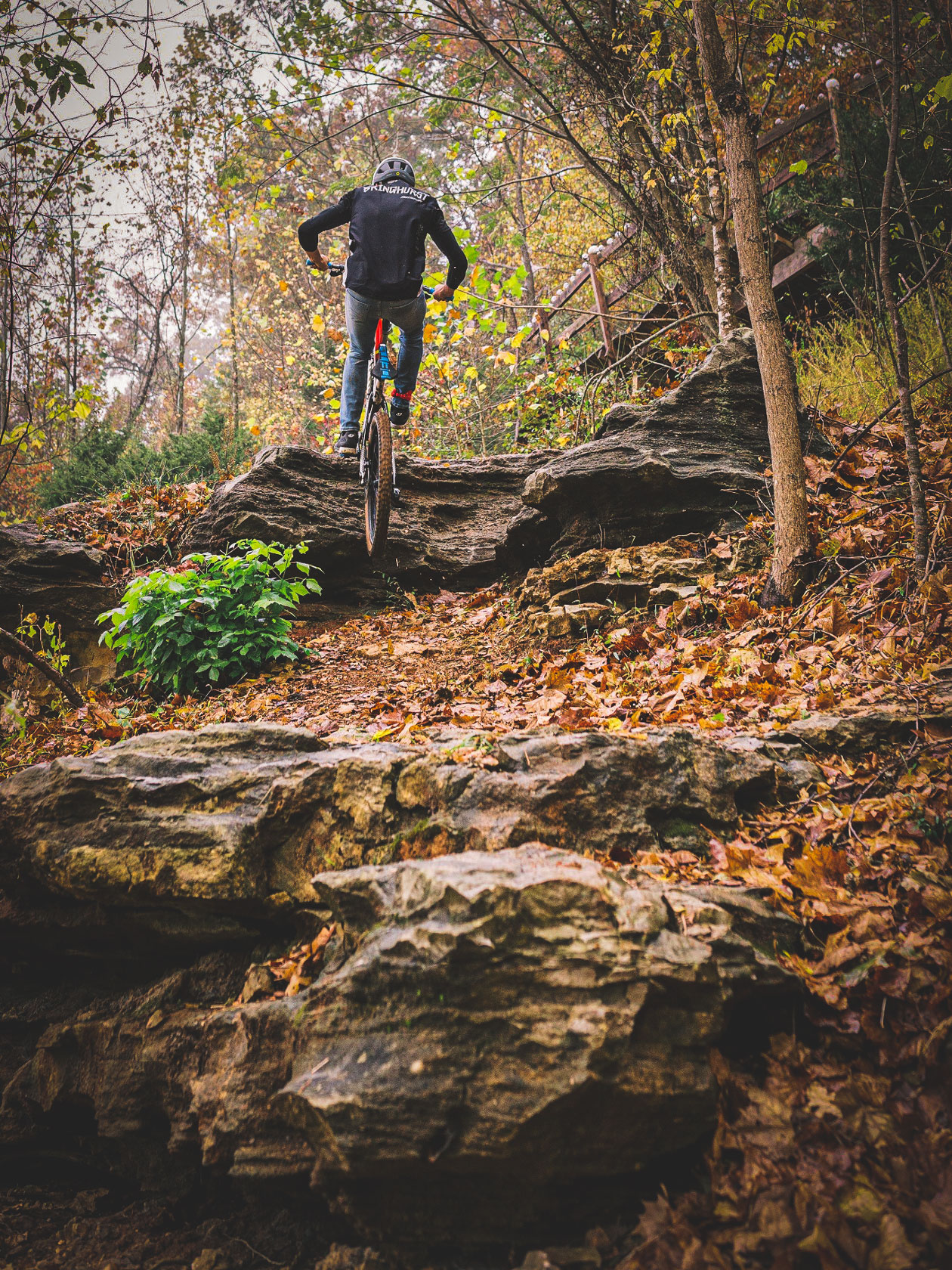 LW: OBVIOUSLY THE MOVIE RAD WAS AN INSPIRATION FOR THIS BIKE'S PAINT SCHEME. HOW MANY TIMES WOULD YOU GUESS YOU'VE WATCHED THE MOVIE AND WHAT IS YOUR FAVORITE PART OF THE FILM?
Braydon: Yeah… Canyon made that bike because they are passionate people wanting to do cool things. When I proposed the project all I asked for originally was the red and black alloy Spectral. I was absolutely blown away with Canyon supporting me on this project like they did. Also, SRAM, Rockshox, and Zipp. Deity and Maxxis. It was all just next level and is a bike I will hold dear for the rest of my life. 
And I have probably watched the movie a couple hundred times throughout my life. My favorite part is the qualifying race when Cru Jones is trying to qualify for Helltrack… that is the ethos of this tribute. The music, intensity, the riding…. gets me stoked!
LW: WHAT IS UPDURO TO YOU?
Braydon: I would say climbing your mtn bike up those short punchy and technical climbs. I really like to keep the wheels turning and avoid hopping. One thing I like about riding is how everyone has a different style. Some people do it more trialsy… I, with my flowy BMX roots and my track and field athletic career want to combine the two and keep the climb moving. It is crazy how much line choice, pedal position, and modulating power plays a role in keeping the wheels rolling throughout a climb. It is what it is…. and I weirdly enjoy it. lol 
LW: COMING OUT OF A CRAZY YEAR THAT WAS PROBABLY YOUR MOST SUCCESSFUL IN TERMS OF YOUR RELATIVELY NEW "MOUNTAIN BIKE CAREER" WHAT CHALLENGES WERE PRESENTED AND WHAT ARE YOU THANKFUL FOR AS 2021 BEGINS AND 2020 IS IN THE REAR VIEW?
Braydon: 2020 was a hard one for sure. The last thing I want to do is be some jolly fella always riding my bike making people envious. I want to inspire people to go out and improve and feel the excitement about being in nature and on two wheels. I tried to do that… hopefully I did ok. It was honestly just really hard to stay positive. Seeing the state of the world and the heartache I cannot help but feel discouraged. I just tried to be a force for good and focus on what I could control. Getting the invite to Kyle and Rachel Straits house for the dual slalom race was absolutely one of my biggest highlights. I know I have a lot more to give, so moving into 2021 I am excited to see what more I can do to be involved in building this great sport. 
LW: WHAT HAS BEEN YOUR FAVORITE PLACE TO RIDE SO FAR?
Braydon: I have a strange realm of riding styles… I love chunky up and down, flow, big jumps, small jumps, raw, steep, more natural terrain. I think the place that I can get all of that is southern Utah. Either Moab or St. George I feel like I am at an MTB buffet getting endless amounts of all of that. Where I live in Boise it is getting better every day. Give Boise 5 years and it is going to be an absolute mountain biking mecca.
LW: WHAT ARE YOU MOST EXCITED ABOUT IN 2021? GIVE US A HINT…WE KNOW IT'S BIG.
Braydon: I am nervous to say but I will do it. I am planning out and training to do the biggest climb I will have ever done. Not only in pure vert and distance but the most technical of all the climbs I have done. I will not say the exact name, but it is somewhere between 25-30 miles and 8,000 vertical feet. Oh, and it ends around 11,000 feet. I am making it a two-part short doc style film series that will be hosted by Canyon and collabed with all my other sponsors. So excited and nervous. 
I am also thrilled to have put together a dual slalom schedule to see how well I can do. I believe I can be at the top of the field, but we will see. Racing is second to my film projects. 
LW: HOW CAN PEOPLE RIDE MORE LIKE BRAYDON?
Braydon: Ride the way you want to ride. Obsess about personal progression. Compete against yourself. And remember, it is only riding a bike.
To keep up with Braydon's two-wheeled Upduro antics, follow him on social: