ROUND-UP
COLD WEATHER GLOVE GROUP REVIEW
Cold weather riding gloves can make or break your day on the trail. There are few things worse than throbbing, painfully cold hands as you struggle to navigate challenging terrain or hold on during high speed descents. As a rider who suffers from poor hand circulation, finding winter riding gloves to keep my hands warm is a personal mission. I've tried lots of options from thick to thin over the years and have assembled this list of current offerings from a number of brands that range from pretty good to highly recommend.
When it comes to winter bike gloves, options range from thin wind protectors to full blown waterproof mittens. Finding the balance is key and we hope this video will give you some ideas on gloves to wear and pack for your cold days on the trail.
Disclosure: Our team selects all of the products we review and do so with honesty and objectivity in mind. Some of the products we receive come directly from Competitive Cyclist, who also value our readers and have offered them a 15% discount (exclusions apply) on their first purchase by using LOAMWOLF15. Through this program we may also receive a small commission at no cost to you. Thanks for your support, TLW.
SPECIALIZED NEOSHELL THERMAL GLOVE
Price: $45
Sizes: S – XXL
Wind-resistant Polartec® Neoshell® upper staves off wind and chilly weather.
Hydrophobic Ax Suede fit palm ensures a confident grip with the bars.
Wiretap™ touchscreen-compatible for easy use of smartphones.
Velcro cuff allows for micro-adjustments in fit.
Reflective details enhance your visibility in low-light conditions.
DIGS
Semi Snug Fit
Polartec Keeps hands warm
Great off the bike
Velcro Cuff
Long Cuff
DON'TS
Touchscreen compatibility is terrible
Don't work well below 40*
LEATT MTB 2.0 SUBZERO GLOVE
Price: $39.99
Sizes: S – XL
SubZero upper hand insulation for harsh weather conditions
FormFit finger stitching for superior fit and handlebar feel
MicronGrip palm Super slim with superior handlebar feel
Silicone grip print
Touch Screen compatible
Pre-curved seamless palm
DIGS
Micron Grip Palm
Snug Fit
Warmth
Soft outer material / Thumb Wipe
Work well with touchscreen
DON'TS
Loose Cuff
Tight around the Knuckles on the bars
7IDP CHILL GLOVES
Price: $34.99
Sizes: S – XXL
Clarino palm
Silicone grip on index, middle finger and thumb
Reflective graphics on back of hand
Pre-curved for the perfect fit
Micro suede thumb wipe panel
Touch screen compatible fingertips
Adjustable closure cuff
DIGS
Warm
Good Bar Feel
Wind Protection
Velcro Cuff
Solid fit (True-to-Size)
DON'TS
Touchscreen Compatibility Doesn't work
Stitching and Panel feel
100% HYDROMATIC GLOVE
Price: $39.50
Sizes: S – XXL
Single-layer PU palm for weather protection
Laminated mock-mesh top of hand fabric
Waterproof-breathable insert secured to outer layer for optimal gripping
Silicone printed palm graphic
Extended waterproof neoprene pull-on cuff
Conductive index finger & thumb
DIGS
Warm
Comfortable
High Cuff
Dry
Touchscreen Compatibility works well
DON'TS
Not the best bar feel / inner liner slip
Run a little on the small side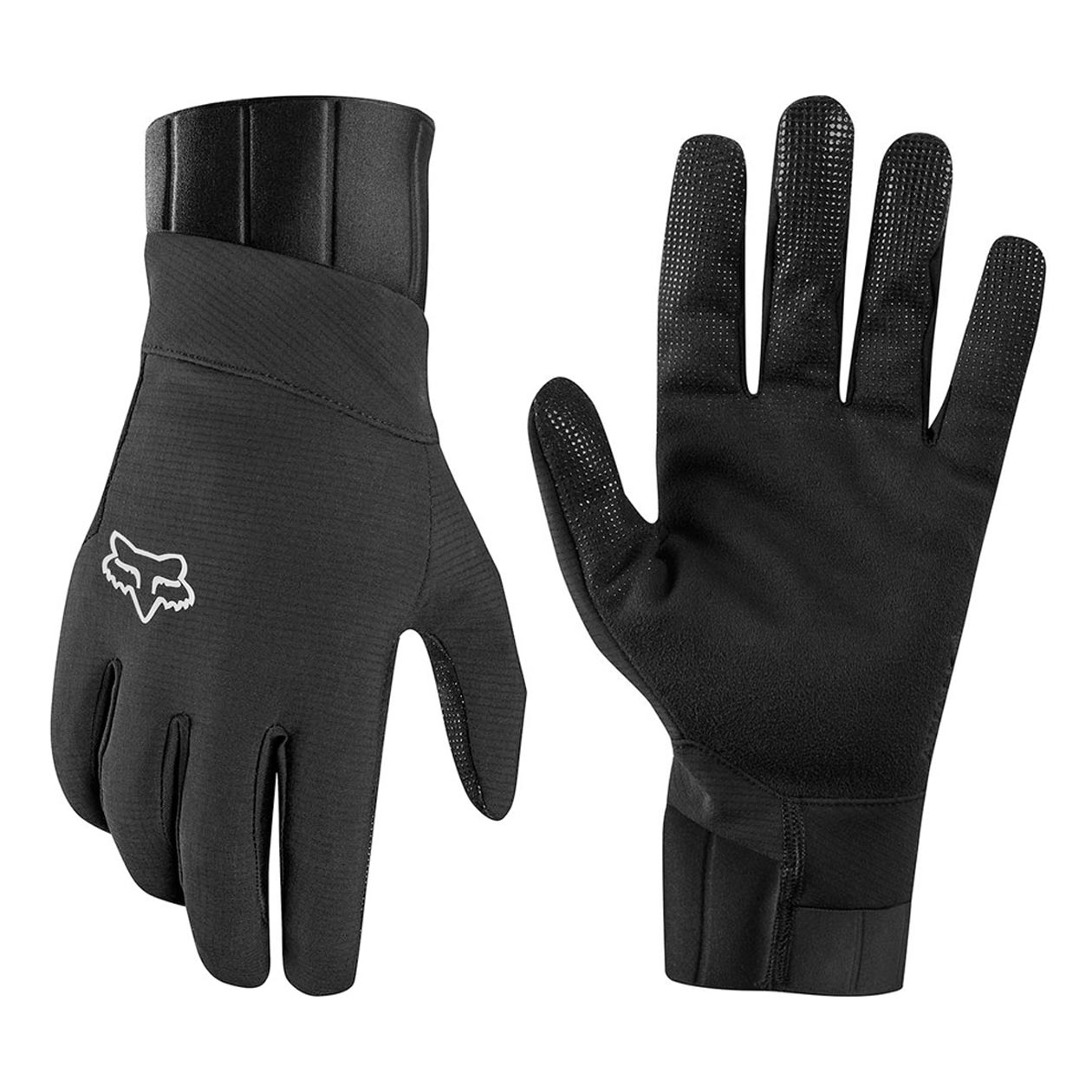 FOX RACING DEFEND PRO FIRE GLOVE
Price: $69.95
Sizes: S – XXL
Axe Suede™ slim fleece waterproof palm to keep your hands dry and warm
DWR finish sheds moisture, dirt, and debris
Longer compression molded cuff for a secure fit that keeps the elements out
Conductive thread at index finger and thumb for touchscreen compatibility
3-layer softshell fabric to protect against the toughest elements
Slip-on glove style
DIGS
DWR Treatment
Long Cuff
Thick without feeling thick
DON'TS
Bar Feel isnt great
Expensive
Loose Cuff
Touchscreen sensitivity is Meh
FOX RACING RANGER WATER GLOVE
Price: $44.95
Sizes: S – XXL
Slim and toasty gloves for water-logged rides
Waterproof fabric is topped with DWR treatment to shed wet
Ax Suede waterproof palm provides tactile feel of bars, shifters
Slip-on design is fuss free and easy to get off and on
Conductive thread at index and thumb enable touchscreen use
DIGS
Snug, Slim Fit
Feel like a normal glove
Great Windblock & Light Moisture
Tightcuff
Soft Material
DON'TS
Not a super cold weather glove
Not touchscreen friendly
Lack of thumb wiper
LEAVE A COMMENT, WIN FREE SWAG!
Want to win some free schwag? Leave a comment and vote up the most thoughtful comments and each month we'll pick a winner. The person with the smartest and most helpful replies will earn some sweet new gear. Join the Pack and get the latest news and read the latest reviews on the top mountain and electric mountain bikes.