CONTINENTAL
Continental announces all-new MTB Gravity Range
pushing the limits of grip in any conditions
'Rider first' engineering approach delivers a cutting edge portfolio of Downhill, Enduro and Trail tires for unprecedented performance on every surface
Mountain bikers of all levels will be able to push their performance to new limits from today, as Continental announces its all-new Gravity Range of MTB tires. With a wide-ranging portfolio engineered from the ground up to meet the demands of every rider, the range is designed to instil maximum confidence on every type of trail.
Three years of development by Continental's category-leading R&D team has led to the creation of five unique tread patterns designed to suit dry hardpack, loose terrain, mud, and everything in between. To complement these five new tread patterns, Continental has developed three casing and three compound options across four sizes to offer riders a bespoke, no-compromise set-up tailored to their riding style.
As part of the rigorous development process, each tire was tested and refined in punishing conditions by leading professional DH, Enduro and Trail riders across the world including the Continental Atherton, Continental Nukeproof, Pinkbike Racing and Pivot Factory Racing teams. All prototype test riders provided unique rider-focused, real-world feedback to fine-tune the finished products to meet the needs of professionals, committed amateurs and new riders alike.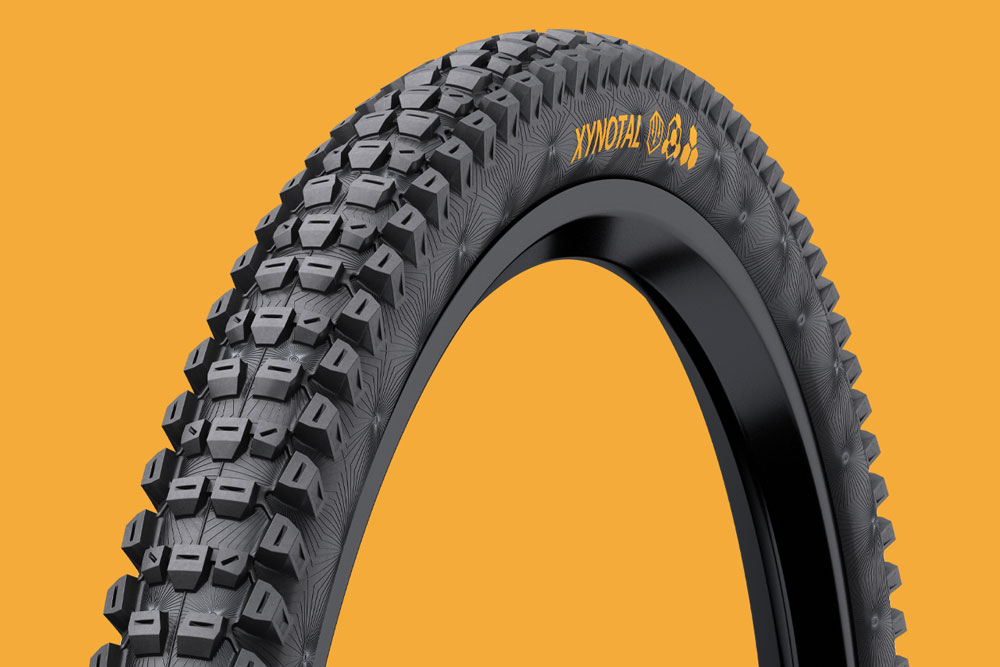 XYNOTAL
For Hardpack and Dry Conditions
Optimized for the most demanding dry and / or rocky trails, Xynotal's tread pattern features angled in-line shoulder studs for predictable cornering. Combining a pronounced positive profile with a large number of contact areas, it maximizes grip on both hard and slightly loose surfaces when moisture is not a factor. Pronounced ramps in the direction of rotation ensure low rolling resistance without compromising traction under load.
ARGOTAL
For Loose Terrain
Supported in-line shoulder studs and a highly supportive structure result in Argotal offering maximum mechanical grip and cornering stability on loose dirt. The open tread pattern design and pronounced studs with steep ramps generate the best possible interaction with a loose surface whilst supporting self-cleaning, to inspire confidence at every stage of the trail.
HYDROTAL
For Wet and Muddy Conditions
Tapered and supported stud elements paired with an open tread pattern design supports maximum grip on wet and muddy terrain. With a self-cleaning capability critical to riding in the sloppiest conditions, in-line shoulder studs and an optimized support structure ensure grip when cornering aggressively in low grip situations.
KRYPTOTAL FR & RE
For Mixed Terrain
Available in distinct front and rear optimized versions, Kryptotal's tread pattern features a balance of positive profile and open areas designed for the best performance in complex terrains or trails that feature multiple surfaces. The use of steep and shallow ramps offer riders a sweet spot of grip, self-cleaning and low rolling resistance. Whilst the tread pattern for Kryptotal Fr is optimized for front-end grip and cornering stability, Kryptotal Re is optimized for the rear wheel demands of braking and rear-end stability.
Casing & Compound options for every rider
Continental has engineered three different tubeless-ready casing options: Trail Casing, Enduro Casing and Downhill Casing – with each offering a varying balance of performance characteristics between rolling resistance, weight and durability. Whilst the Trail Casing features three layers of carcass material under the tread – ideal for trail bikes and trail centre usage – the Enduro Casing takes robustness up a notch with the addition of an apex under the carcass for increased durability and protection against snakebite punctures. The DH and freeride-optimised Downhill Casing provides maximum durability for the most extreme riding, with six layers of carcass material, additional carcass reinforcement and a protective apex.
Three specialised rubber compounds are also available: Endurance Compound, Soft Compound and SuperSoft Compound. Whilst Endurance Compound  is designed for maximum longevity for trail bike use, Soft Compound offers an ideal balance of grip and rolling resistance for descent orientated Enduro rider. Finally, SuperSoft Compound offers maximum grip at the highest speeds on the most extreme downhill trails, particularly for the rear tire.
Engineered in Germany, harnessing 150 years of Continental's scientific tire development technology and encompassing its 'Gripology' philosophy for MTB, the Gravity Range has already been proven at top international racing level by the brand's increasingly diverse mix of sponsored pro teams. Continental Atherton Racing, Pivot Factory Racing, Pinkbike Racing, Continental Nukeproof and Team 31 will all be using the range and supporting the development of new products throughout the 2022 season.
Commenting on the launch of the Gravity Range, Oliver Anhuth, Head of Marketing TwoWheel Tires, Continental said: "We knew that we had to place the needs of the rider at the centre of the Gravity Range, and that those needs vary wildly depending on the conditions. Our focus was to enable our customers to select a tire package specifically optimised for their type of riding without compromising on any aspect of performance. Compound and Tread is important, but we knew that adding the right Casing would give the best riding experience. By putting our leading R&D engineers together with elite teams, top racers, and prototype testers around the world to develop the range in every environment, we now have the most complete range of gravity tires on the market. This means that everyone from amateur trail riders to the world's top downhill racers can truly push their limits."
To learn more, visit Conti-bicycletires.com
THE WOLF'S FIRST IMPRESSION
We were lucky to put a few days of riding on board an Atherton Bikes A150 at Dyfi Bike Park and the surrounding gnarly, natural enduro trails a couple weeks back(stay tuned for the first ride report and Dyfi Bike Park spot check coming to the site soon). The A150 was equipped with Continental's new Kryptotal Fr and Re, with the Downhill Casing and SuperSoft compound on both ends. Aired up to 25psi out front and 27psi in the rear, it was to be a testing few days of full-bore enduro and bikepark attack that would put my life in the hands of the Conti rubber.
Over the course of the three days of riding, the tires were faced with nearly every terrain type and condition imaginable, with thick layers of loose over hard; hardpack groomed bikepark berms; natural sharp rock; and even some rich and loamy damp dirt to contend with. It was fitting that we were to test the all-rounder Kryptotal front and rear combination that's deemed best for "mixed terrain", as this was about as mixed as you could get.
Out the gate the weight of the burly downhill carcass and relatively sticky rubber was evident, as the Kryptotal-equipped A150 wasn't overly eager to get up to speed. Once up to pace though, rolling speeds were acceptable and the Kryptotals avoided the dreaded hyper-tacky, over damped and somewhat "numb" feeling that can prevail from the stickiest rubbers. Though conditions were dry, the moisture on the ground that remained from the wet and wild British Winter produced some slick rock and root edges to navigate, and much like the rolling was not exceptionally slow, the climbing grip did not feel exceptionally high and Velcro-like.
On the way down, grip was not a concern save for the most polished off camber roots and rocks. Braking traction was stellar, with a quick push through the feet while on the anchors allowing for speed to be scrubbed off as quick and surefootedly as the best of them. Pushing the bike hard through the countless berms in the bikepark, there was a reassuring lack of knob or casing flex that ensured there was no doubt about what was happening on the ground. The open zone in the transition from center to sideknobs on the Kryptotal Re allowed for the rear end to be snapped into a turn, with grip being caught with a quick lean over to engage the side knobs. On the front, the absence of such channel kept things predictable and hooking up regardless of the lean angle, with a particularly reassuring feeling on the off-camber high-lines on the entry to corners, where you're often quite upright as you wait to initiate the turn into the approaching corner.
All said, on an unfamiliar bike and riding unfamiliar trails, there was a lot to take in and no time to test swap out to competitive rubber to confirm the initial impressions. But through three days of punishment I was left with nothing but feelings of reassurance and predictability, and save for some cross-hatching on the sidewalls that confirms that they were pushed suitably hard, there's little wear or damage to show for it. I'm excited to get a set fitted onto a long-term test rig to assess the Kryptotal pairing across more trail conditions and assess their wear rate properly, so stay tuned for that in the coming months.
PC: Dan Griffiths | @moonhead_media
LEAVE A COMMENT, WIN FREE SWAG!
Want to win some free schwag? Leave a comment and vote up the most thoughtful comments and each month we'll pick a winner. The person with the smartest and most helpful replies will earn some sweet new gear. Join the Pack and get the latest news and read the latest reviews on the top mountain and electric mountain bikes.