MANITOU MEZZER EXPERT FORK REVIEW
Review by Dario DiGiulio
Manitou was once a household name in the suspension game, but the recent dominance of the two big suspension houses have taken nearly all the limelight from the smaller players. With their most recent lineup of forks and shocks, Manitou aims to take back some of the room in the suspension aftermarket, but have they hit their mark?
THE LAB
Manitou has taken a novel approach to a lot of the standard procedures in the suspension world, but you wouldn't know it by looking at the Mezzer Expert. On face value, the only standout feature is their classic Reverse Arch, which is sure to attract comments on the trail, usually along the lines of "your fork is backwards, dude." Snark aside, it's what's inside the fork that counts, and that's where the Mezzer gets interesting.
The VTT semi-bath damper features a 6-position compression adjustment, which sweeps smoothly from a plush full-open to a rock-hard lockout. On the bottom is a simple rebound dial to control the speed of return. This damper can be re-shimmed internally to adjust the compression tune to suit the needs of each individual rider, and Manitou offers a tuning guide for those inclined to dive into the tech. The Expert air spring features their IVA Incremental volume adjustment system, which allows the arrangement of the self-contained volume spacers to be modified internally without risk of losing or adding too many spacers. The Mezzer has a strong look to it, sizing up the competition with some beefy 37mm stanchions and a clean graphics set. Around back, you'll find two small bolts in the lowers that can be removed to bleed off built up casting pressure and add small volumes of oil between service intervals.
Weighing in at 2030 grams, the Mezzer Expert is an impressively light fork in the enduro market, one that is only bested by its pricier brother, the Mezzer Pro. Weight isn't the only differentiating factor between these two models, as the Pro also gets the more tunable MC2 damper and full Dorado air spring, which features one of Manitou's signature pieces of tech, the IRT. The IRT is a 3rd air chamber that replaces the IVA system found in the Expert air spring, allowing for finer control of the progression without opening up the fork, and can be purchased separately for $55 for riders looking to add some tunability to their Mezzer Expert.
The 29" variant of the Mezzer is available in a 44mm offset as tested, or in a more traditional 51mm offset, and a 27.5" option is available in 37mm or 44mm offset options. All options have easily adjustable travel numbers from 140mm to 180mm, with only the removal of the lowers and air spring needed to access the travel spacers. That process only takes around 15 minutes, and can be done without losing any oil or consumable parts – something which cannot be said for many other forks on the market.
Other unique features include Manitou's Hexlock SL2 bolted axle, another novel design, and the Mezzer-specific bolt on fender, which uses 3 small bolts on the back of the fork to secure in place. You can fit a 3" tire with no fuss, and can work on your stoppies with anything from a 180mm to a 223 mm rotor with the appropriate adapter on the 180 post mount.
At $849, the Mezzer Expert sits firmly in the "budget performance" category, undercutting the price of the top tier offerings by a considerable margin. But how does the performance stack up? We were stoked to get one mounted up and hit the trails.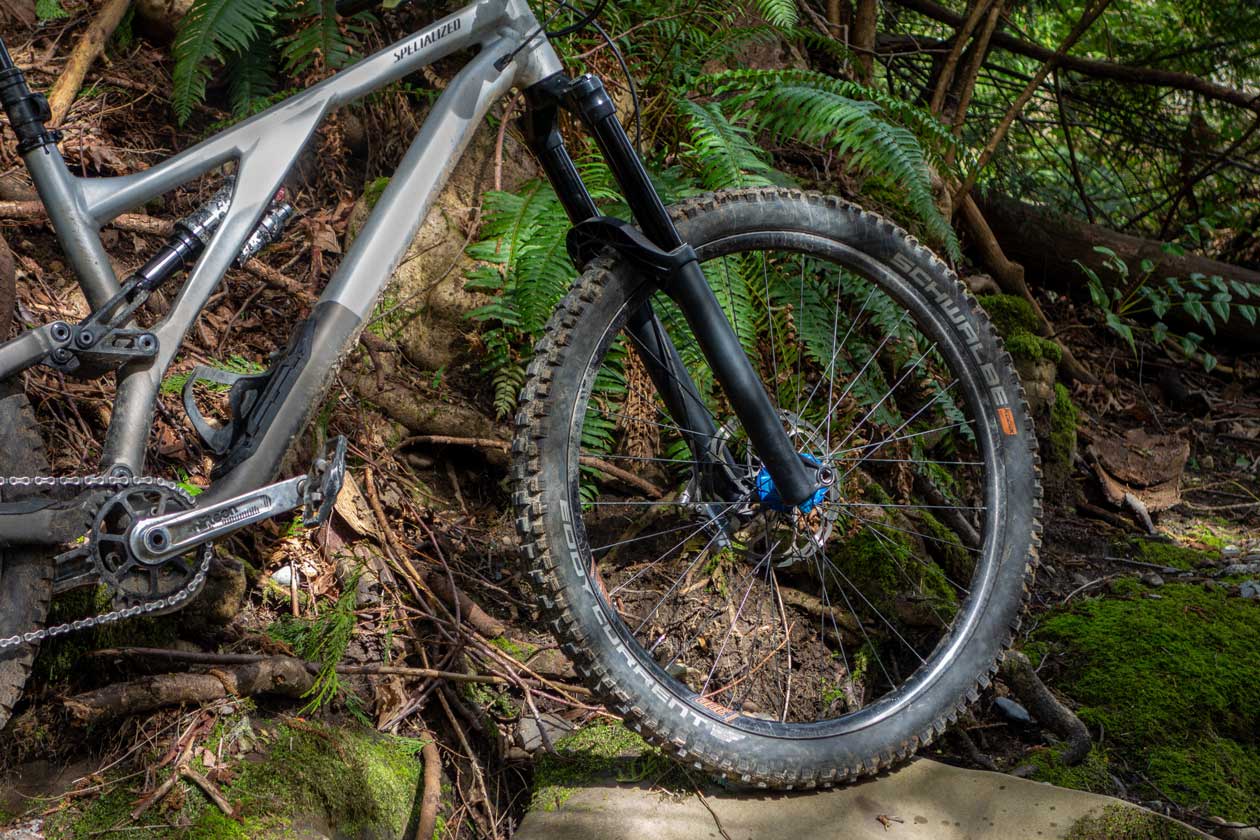 THE DIRT
Testing took place on a Transition Sentinel, a Pole Taival, and a Forbidden Druid, mostly in San Luis Obispo, CA – known for it's chundery rocky trails – and in Bellingham, WA – home of some of the steepest and deepest riding there is.
Out of the box, Manitou's Mezzer Expert is a satisfyingly simple fork, with nothing but a single pressure setting and a sweeping compression dial. The Hexlock SL2 axle is not the easiest system to mount on the market but works well once you figure out how to line it up. In the stock configuration, the fork feels nice and composed on most terrain, with few standouts aside from the chassis stiffness and quiet operation. I left things in this stock configuration for only a couple rides, because it's the IRT cartridge that can really make this fork shine. As stated above, the IRT is only stock on the Pro model, but is available aftermarket to level up the Expert. Installation is as easy as adding tokens to a traditional fork, but setup is then a little trickier.
The IRT-equipped air spring's 3-chambered design (positive, negative, and IRT), mean that subtle tuning shifts make a remarkable difference. Essentially, you are using the ratio between positive air pressure and IRT air pressure to tweak the feel and support of the fork. When done correctly, I am convinced that this is the most supportive fork on the market, with excellent midstroke feel and consistency no matter the terrain. Manitou suggests a roughly 1:1.5 ratio (pos:IRT), but you will certainly have to tweak your settings to get the desired result. Luckily, the Mezzer owner community is about as nerdy as it gets, and one helpful user made a handy calculator that gets you to a pretty good starting point.
This triple chamber approach is slowly gaining traction amongst a variety of suspension manufacturers, with similar solutions being used by Ohlins with their newest enduro fork offerings, as well as by EXT in their new Era. Smaller tuning houses like Diaz Suspension Designs have come up with drop-in products that mimic this design in Fox and RockShox products.
Support is critical to a fork's overall performance, but it has to work in concert with a few other factors. One area where the Mezzer Expert is slightly lacking is in small bump sensitivity, or the first 20mm or so of travel that lets you track over the chattery trail noise. As soon as speed and bump frequency starts to pick up, the fork transmits a lot of feedback to the hands, and it can be a hard sensation to push through when you're really charging. In slow, picky, technical sections, the fork feels incredible, but the rebound circuit and damping characteristics don't translate well to higher speed situations. Ultimately this just results in a bit more hesitance when hammering through fast bits of rough trail. On big, heavy compressions, the Mezzer stays composed and quickly returns to a high riding position, which is great for successive hits in gnarly terrain. Unlike some other offerings in the fork market, it's hard to get the Mezzer to pack into its travel, which is helped considerably by the IRT upgrade.
Servicing is satisfyingly easy on this fork, and only requires a couple semi-proprietary tools that can easily be purchased from Manitou or assembled from your existing toolkit. Thanks to the very large oil volume in the semi-bath damper, performance was consistent well beyond the service hours of many other forks, and could be quickly refreshed with new fluids and seals. After about a year of use, however, significant bushing play started to show up, but Manitou was quick to alleviate the issue with a fresh set of lowers and a factory service. Compared to similar products from Fox and RockShox, the fit and finish of smaller components within the fork are lacking, which is by no means a dealbreaker, but can be frustrating if you find yourself tinkering with the internals often. That being said, whenever an issue did arise, the Hayes Group (Manitou's parent company) gave excellent customer service and was able to help me through whatever needed to be done.
As a final small complaint, I have to call out the fender that comes with the fork. It is made of a strangely flexible plastic that is so gummy, it came in contact with my tire while riding and tore completely off the fork. Luckily this didn't throw me off my line, but needless to say that was the last time I ran Manitou's stock fender. It's easy enough to modify a standard zip tie fender to fit the Reverse Arch, so my suggestion is to do so from the get go!
The Wolf's Last Word
All in all, the Manitou Mezzer Expert is a standout product amongst aftermarket suspension manufacturers. Excellent support makes for easy work of slow, steep technical sections of trail, and the stiff chassis helps keep the front end of the bike composed in hard cornering and off-camber sections. The small bump falls behind many of the more nuanced dampers in other forks, but if you prioritize consistent feel throughout travel over all-out speed, then this fork is for you. One could make the argument that the lighter weight and broader range of adjustment of the Pro model makes it worth the jump in price, but for the min-max minded, the Expert with an IRT upgrade hits a sweet spot of price and performance.
Price: $849 (+$55 IRT upgrade)
Weight: 2,030 g
Website: Hayesbicycle.com
We Dig
Chassis composure
Good value
IRT upgrade!
Supportive ride
Servicing ease
We Don't
Integrated fender is flimsy
Small bump sensitivity
Bushing play in lowers
LEAVE A COMMENT, WIN FREE SWAG!
Want to win some free schwag? Leave a comment and vote up the most thoughtful comments and each month we'll pick a winner. The person with the smartest and most helpful replies will earn some sweet new gear. Join the Pack and get the latest news and read the latest reviews on the top mountain and electric mountain bikes.