Hardtails occupy a unique corner of the mountain bike market. For a lot of people, they're seen as either the budget-friendly entry into the sport, or as a standby extra bike for certain trails or certain seasons. But for a smaller niche of riders, a hardtail might just be the best tool for the job, assuming you have the trails and/or skills to back it up. As one of the smaller players in the industry, albeit with a very strong following, Knolly wasn't going to come to market with just any old hardtail. The Tyaughton is promised to be a high-end take on the genre, geared either towards those hardtail-everything riders, or the folks who take their N+1 game very seriously. After beating on this frame for a few months now, I've developed a fairly good sense of the bike, who it's for, and some exciting shortcomings I've learned to love.
QUICK HITS
HARDTAIL!!!

HTA 64.5°

STA 75°

REACH 495 (Large)
Price: $3,099 – $4,499
Website: Knollybikes.com
THE LAB
Key geometry number: 0mm rear travel. It's important to keep that in mind when comparing hardtails to the full suspension rigs most of us ride, as so many of the variables act a lot different when riding. The head angle only gets steeper, the rear end is always the same length, and the landings are always very, very firm.
Now for the details that make the Knolly unique. As a brand that prides themselves in the little design elements of their bikes, the Tyaughton is no exception. Built from a custom drawn air hardened steel tube set, with variable tapers and weights to cater towards each point in the size range, the beautifully welded frame of this bike is a testament to their build quality. Backing the quality up is an ED anti-corrosion coating to ensure the frame stands the test of time in the worst conditions. It wouldn't be a Knolly if there weren't some quirks and tricks up its sleeve. First is the 157Trail (a.k.a Superboost 157) rear hub spacing – still somewhat rare in the bike world, and pretty much unheard of in the hardtail market. This allows for a tire size up to a 29×2.6", that still clears a 36-tooth chainring. Moving 427mm forward to the other end of the chainstays, you have a replaceable ISCG05 mount attached to a nice, low 323mm bottom bracket height, which only gets lower once the fork sags. On the size large I've been testing, the stack height is 640mm, which gives a very roomy front end when combined with the stretched out static reach of 495mm. The 75 degree effective seat tube angle doesn't eat into this reach much, giving a stretched out seated position, and the head angle sits at 64.5 degrees and steepens once the rider is on the bike.
All frames are built with a unique head tube shape that allows you to run fork travel within a max range of 130-180mm. The Tyaughton is designed around a 150mm fork, with a recommended range of 140-160mm, but can go longer or shorter if desired. There are three build kits to choose from, with prices starting at $3100 for the NX option, which comes with a slew of entry level components, a solid Marzocchi Z1 fork, and a good wheelset. Next is the GX kit at $3900, which gets you a RockShox Lyrik Ultimate and Magura MT5 brakes, alongside SRAM's 12-speed drivetrain. The priciest package is the XT, which is an all-Shimano affair, save for the Fox Factory 36 up front. Each of the three tiers comes with the same Spank Oozy wheelset, as well as an SDG Tellis dropper. I've been riding the GX bike, but with one difference: due to supply issues it's currently shipping with a 36 instead of a Lyrik, but that should change come October when the stock is replenished.
THE DIRT
Straight away, I want to talk about a couple ways in which this bike rides differently from other modern "hardcore" hardtails, and why I've become a fan of those traits. One element of the Tyaughton that took me a moment to adjust to was the slightly older-school feel of it's balance point; on the fast and steep trails around Bellingham, this bike prefers to go fast with the rider perched a little off the back and with most of the weight on the rear wheel. Part of this comes down to the very short chainstays, which can feel unstable unless you're using them as more of a pivot point than part of an arcing pair. Adding to this effect is the high stack, low bottom bracket and moderate head angle, which give you something to almost tuck behind as you hurdle down the trail. I felt like I was in a speed tuck in all the best moments of riding this bike, coiled up and ready to slap into a turn. Speaking of turns, the short rear end of the frame does well in squared-off corners, where you need to cut in at the last minute to make the exit. This isn't necessarily the fastest or smartest way to ride, but it sure is fun – and the Tyaughton makes it feel like second nature. Thanks in part to the extra-wide super boost rear end, the back of the bike feels very stiff, and holds up to hard corners impressively well – there's no tire rub or unwanted flex to be found. You often see statements made about the "supple ride" of a steel frame, and I call BS on that claim for anything intended to go down mountain bike trails in anger. In order to hold up to that kind of abuse, there is little to no material flex allowed in the system, and certainly less on a triangulated hardtail than on some of the more noodly full-suspension designs out there.
In most other ways, the geometry of the Knolly lends itself to varied terrain, where you're traversing and pumping for speed as much as you're on the brakes or hitting features. As many of their employees have mentioned to me, it was a bike made for long days where you're riding through diverse styles of trail, not just one laser-focused objective. Part of this equation was their choice to implement a fairly conservative seat angle of 75 degrees (keep in mind things always steepen up a bit when the fork sags on a hardtail), which makes for a better pedaling characteristic on flatter terrain. I understand this 'averages of all terrain' logic for many situations, but personally just prefer the feel of steeper seat angles, so I eventually ended up with the saddle slammed forward to get a more upright fit. Part of this is the fact that I live in a place with almost no flat riding, so the steep climbs necessitate the kind of fit that prioritizes front wheel weighting over a more stretched out seated position.
Speaking of steep terrain, that was one area where the Tyaughton was a little more engaging compared to some of the other hardtails on test. With a head angle of 64.5 degrees, the steepening effect caused by fork compression was a bit more pronounced on this bike than on others with slacker front ends. Coupled with the very short chainstays, your ideal pocket is a little smaller on the Knolly than on more balanced geometries fore and aft. This didn't keep me from riding all sorts of steep, chunky, spicy terrain, it just required a bit more finesse due to the more sensitive steering when your weight is all pressed forward. That tall stack helps out here, as you don't feel like you're deep in a pushup when things get steep, you can still maintain a decently balanced body position to react to whatever comes up. If the bike came with the Lyrik Ultimate that was intended for this build kit, I think that upright feel would be enhanced even more, as I've found that fork to have much better support than the 36 in both slow heavy braking, and when packing in on successive hits. That being said, Knolly was able to procure one of the rare Fox 36s that has had no issues with a creaking CSU or any other general quality control issues, despite the fact that Fox seems to be plagued by those problems at the moment.
On other build kit notes, I've been blown away by how good the Magura MT5 brakes have been on this bike. I've had plenty of time on a set of MT7s, and was always a bit irritated by how finicky they were to set up and maintain, despite the fact that they are probably the most powerful and easily-controlled brakes I've used to date. For some reason, these MT5s seem to have none of the pad clearance problems that Magura has become known for without giving up that awesome power, and so far there have been no issues with the levers leaking due to their plastic construction. It may seem odd to have such massively powerful brakes on a hardtail, but my opinion is that every bike should have the biggest brakes you can get on there, especially if it's meant to go downhill fast. The confidence that a good set of stoppers can instill is worth their extra weight in gold…even if it's only a few grams.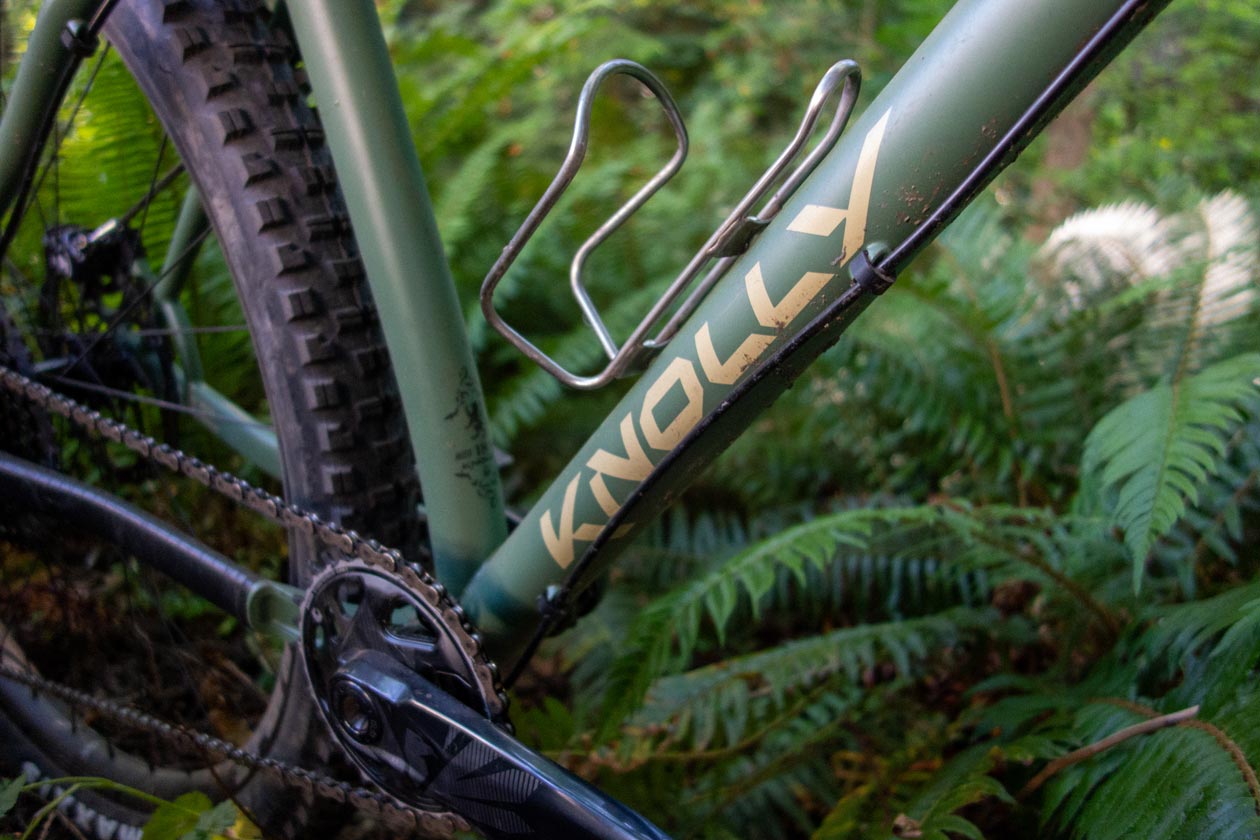 While you're hurdling downhill on this speedy green steed, the wheelset is taking quite a bit of abuse, thanks to the punishing nature of the hardtail. Luckily, Knolly specced a great wheelset in their choice of the Spank Oozys, and they've held up impressively well to a few months of hard riding. This is thanks in part to their relatively deep rim profile, as well as the super boost rear spacing, which gives the whole wheel a better bracing angle for spoke tension.
One piece of the spec list that really falls flat is the choice of EXO tires front and rear across the range. Not only are they far more prone to puncture, but they simply can't hold up to hard cornering unless you're running them rock hard. With an insert, things are improved, but I think any capable hardtail should come with an EXO+ equivalent in the rear at the very least. Given the creative parts spec elsewhere on the bike, there's definitely room for improvement when it comes to rubber, but thankfully that's an easy swap-out.
The Wolf's Last Word
Middle of the road in the best way, the Knolly Tyaughton is a unique and adaptable bike for riding modern terrain. The geometry is slightly behind the curve in terms of aggression, but that conservative approach is what makes this bike so flexible, and plays a big part in the fun factor. Rounded out with a killer build spec, it's a fantastic one-bike for hardtail fiends, or a great addition to those who want only the finest additions to their garage.
Price: $3,899.99
Weight: 31 lbs (claimed)
Website: Knollybikes.com
SPECIFICATIONS
CHASSIS
Frame: Air hardened Steel with custom size-specific tubeset
Fork: Fox Float 36 Grip2 Factory 150mm, 44mm offset
COCKPIT
Brakes: Magura MT5, 203F/180R Storm HC rotors
Handlebar: Raceface Next R | 35mm| 800mm| 20mm Rise
Stem: Spank 35mm | 40mm Length
Headset: FSA Orbit ZS44/56
Seatpost: SDG Tellis 170mm, 31.6mm
Saddle: SDG Bel-Air V3
WHEELS
Wheelset: Spank Oozy Trail 345 HEX 32h J-Bend, 110/157
Front tire: Maxxis DHF 29″ 2.5″ 3C Maxx Terra EXO
Rear tire: Maxxis DHR2 29″ 2.3″ 3C Maxx Terra EXO
DRIVETRAIN
Bottom Bracket: SRAM DUB BSA SB+
Cassette: SRAM XG 1275; 10-52T
Cranks: SRAM GX Eagle 170mm, 32T Ring
Shifter: SRAM GX Eagle; 12s
Derailleur: SRAM GX Eagle; 12s
We Dig
Keeps trails fun and exciting
Excellent build kit
Unique handling
Very high-quality frame
We Don't
Not for those looking for extreme geo
EXO tires
Stretched-out seated position
Short chainstays
LEAVE A COMMENT | WIN FREE STUFF
Want to win some free schwag? Leave a comment and vote up the most thoughtful comments and each month we'll pick a winner. The person with the smartest and most helpful replies will earn some sweet new gear. Join the Pack and get the latest news and read the latest reviews on the top mountain and electric mountain bikes.