SHIMANO REVO SHORTS REVIEW
Words by Robert Johnston  |  Photos by Adam Lievesley
Shimano has been building out their cycling apparel line for the last few seasons, adding ride wear to their shoe collection to suit a range of riders both on and off the road. Most of their offerings are function-first in classic Shimano style, however they decided to take a different approach with their Revo short model, opting to use recycled Airbags as the base material to produce the short, giving a unique look and reducing the amount of material going to landfill. We were intrigued to find out how they would feel on the trail and came away pleasantly surprised.
THE LAB
Shimano's Revo MTB shorts are designed to give a high-performance baggy short for the everyday trail rider. The front panel of the shorts is made with Upcycled Airbag material, giving your legs protection from bushwhack thanks to the tough and hard-wearing materials. This Airbag material is obtained from German scrap yards and automotive security system manufacturers and processed and dyed to form part of the shorts – a move that led them to being awarded with an iF Design award. The remainder of the short is made from a soft and durable recycled material with a high degree of stretch, ensuring the Revo shorts move with you as you pedal.
The Revo shorts are given a durable water-repellent finish to keep the rider dry from puddle splashes and resist mud buildup. The waistband features Velcro closures to tailor the fit, and a silicone lining on the inside to help keep things in place. On the front are a button and zipper combo to keep them securely fastened. There are two zipped side pockets that extend towards the rear of the leg, keeping the contents in place to avoid obstruction when pedaling. The Shimano Revo shorts are offered in a choice of black or four different colors, in men's sizes S-3XL (28"-40") and a women's fit in XS-XL (24"-34"), with a retail price of £129.99/€149.95.
THE DIRT

I had never considered the sheer volume of airbags that are out there. Take the US alone, where they have been in use since the 1980's. Since many modern cars are now equipped with ten or more airbags, if we assume that there's been a conservative average of two per vehicle then there's at least 1.2 billion airbags in existence in America alone. That's a whole load of potentially useful material going to landfill when the car is decommissioned. Shimano's move to make use of this material is still an interesting one though – the needs of an airbag and performance riding apparel are quite different. I was intrigued to see how they would feel.
Pulling them out the packaging, I was immediately concerned. The airbag material is heavily textured and rough in appearance, and with a complete lack of stretch I had immediately dismissed them as being gimmicky for recyclability's sake. Thankfully, it was a different story when wearing them. That's not to say that they're an ultra-airy, super lightweight trail short, instead the front portion is reminiscent of the thick moto-derived materials we used to consider normal. Shimano has been clever with the design of the Revo though, where they have retained an adequate level of flexibility and limited the overall bulk by using a lightweight and stretchy material elsewhere in the short. The material has a unique look, with the green color changing slightly as the light hits it, making for a good looking short in my eyes.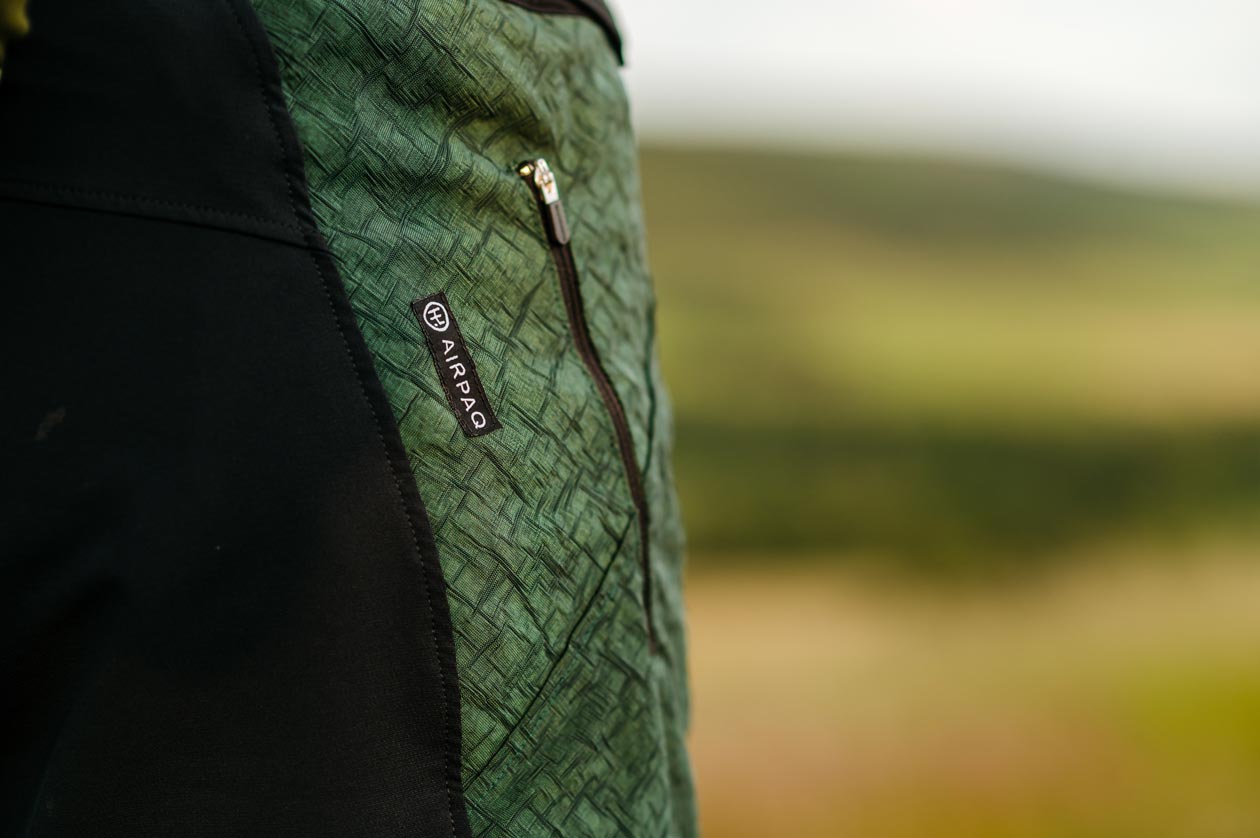 The fit on my Large/34" pair was quite average overall, with the waist sitting at a true 34" and the legs offering enough room to fit my relatively bulky thighs comfortably. Unfortunately, the waist band proved to be ineffective at cinching the shorts down tight enough to stay firmly put on my 33" waist, with too much length and stretch to give any tension on the shorts before the Velcro was maxed out. I ended up folding and stitching the straps to take up some excess length and make them fit for purpose, which did the trick nicely. Though I understand the theory of the rearward facing pockets, which make items theoretically easier to access when in the saddle, I found that items were still relatively awkward to locate and remove from the pocket when on the bike, and even more so when off it. This was perhaps a factor of the relatively small zipper openings rather than how items sit, and I'd suggest items are more susceptible to crash damage further around the back of the leg too. Regardless, they hold items just fine and the dual zippers are much appreciated to keep items safe and secure.
The materials add up to a short that is comfortable enough to pedal in up to temperatures around the 15 Celsius mark (59F). Above this, the lack of breathability of the front panel begins to feel hot on the leg, and I found them wetting through with sweat pretty quick in harder efforts. The DWR finish on my set wasn't the most effective, only shedding some very light drizzle before it would start to soak in, so they never felt like a great cold and wet conditions short either. Thankfully where that material does come into its own is when the foliage starts to line the trail, where its resilience keeps you free from pain and charging in comfort. Similarly, I'd imagine it would do a fairly good job at protecting your skin if you were to go for a classic face slide on the dirt, but I didn't put this to the test thankfully. The Revo shorts have stood up to a good number of trail miles across a range of conditions without showing any concerning wear, so you could imagine they're in it for the long haul. You'd hope so with that eye-watering price tag, though.
The Wolf's Last Word
You've got to give kudos to Shimano for some innovative thinking with their Revo short, which has resulted in an eco-conscious offering that performs better than you might expect. That said, it's not the world's most breathable nor most weatherproof model, so may not quite hit the highest highs of performance to match that lofty price tag. If you want something protective against bushwhack and with a unique look, the Revo shorts should serve you well.
Price: £129.99/€149.95
Website: MTB.Shimano.com
We Dig
Eco-motives
Resilient Airbag material
Unique looks
We Don't
Not the airiest
Pricey
LEAVE A COMMENT, WIN FREE SWAG!
Want to win some free schwag? Leave a comment and vote up the most thoughtful comments and each month we'll pick a winner. The person with the smartest and most helpful replies will earn some sweet new gear. Join the Pack and get the latest news and read the latest reviews on the top mountain and electric mountain bikes.