2023 EMTB SHOOTOUT
FEZZARI TIMP PEAK REVIEW
BPERFORMANCE FAR BEYOND THE PRICE TAG
Photos by Max Rhulen & Dusten Ryen
Video by Brian Niles / Treeline Cinematic
Before getting our long-term review Fezzari Timp Peak for the 2023 eMTB Shootout we had the opportunity to fly out to Utah to visit Fezzari's HQ, meet with their entire team and learn about this new enduro-ready eMountain Bike for a recent Dissected episode. Making a huge departure from Fezzari's Wire Peak, which we've reviewed in previous year's eBike Shootouts, Fezzari's new Timp Peak is a major step forward. Fezzari Bicycles seem to just keep releasing better bikes year after year. Packing 170mm of travel on both ends, the Timp Peak has many competitively priced models and is one of the few electric mountain bikes that is available as a frameset. With complete bikes starting at $5,999 and some very impressive builds in the $6,999-$7,499 range, we had high hopes this bike could be a solid bang for buck recommendation this year. Let's dive in and see how the new Fezzari Timp Peak performs when pitted against some of the best eMTBs on the market.
2023 EMTB SHOOTOUT SERIES – This bike was one of 13 that our staff thoroughly tested with absolute objectivity in mind. From different types of riders to terrain, our goal is to present the best and most honest information possible to help you make your best decision. Of course, we'd love to thank Fox Racing and Schwalbe Tires for being invaluable partners to this series and making it happen.
QUICK HITS
• 170mm Tetralink Suspension
• 29" Wheels
• Shimano EP8 Motor
• 635Wh Battery
• 2-pos GA Link Flip Chip
• HTA 63.5
• STA 77.5 (effective)
• REACH 485 (Large)
Price: $5,999 (Comp) – $9,999 (Team)
Website: Fezzari.com
FRAME AND FEATURES
Built with a CleanCast carbon fiber frame (including the rocker link), Fezzari's TetraLink suspension platform controls 170mm of rear wheel travel. It is an efficient and stiffer feeling platform than some would expect from a Horst Link setup. Some riders noted it felt like a mix between a DW-Link and a VPP platform off the top, while pedaling, and on square-edge hits. Customers can choose between dual 29" wheels as tested or opt for the smaller 27.5" in the rear if a mulleted eMTB is desired.
Boasting a lifetime warranty, the Timp Peak is a burly and stiff eMountain Bike that Fezzari feels so confident in that they've approved use with a dual-crown fork. So, if you're not just looking for an enduro eMTB but a self-shuttling DH-ready eBike, this could be your jam. The massive headtube wraps around a straight 1.5" headset, making angle or reach adjustable headsets easy to use thanks to their ZS56 compatibility. That beefy headtube does result in a very stiff-riding front end, which we'll get into later.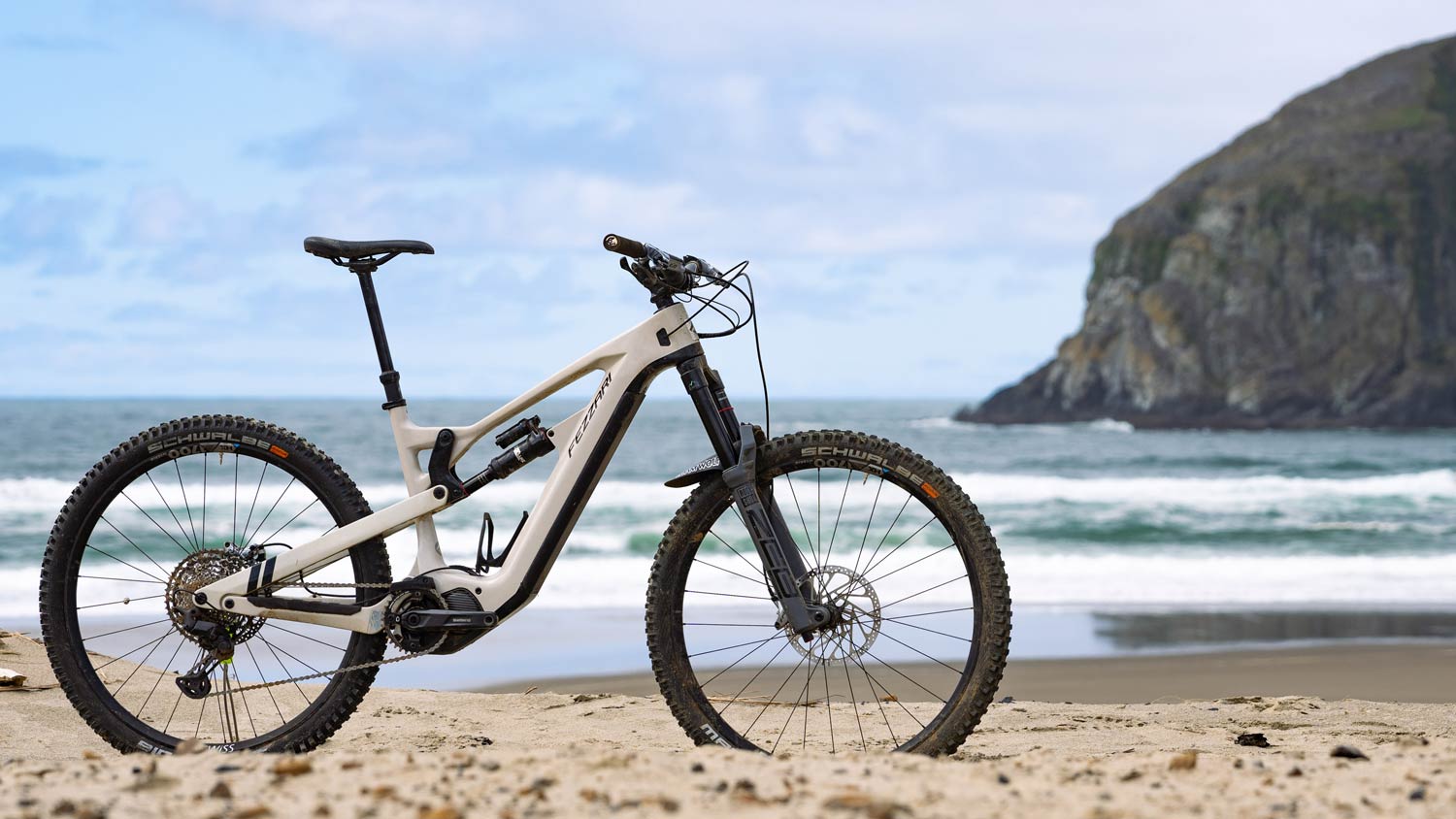 DRIVE UNIT AND ELECTRONICS
Inside the carbon frame sits an 85Nm Shimano EP8 drive unit powered by either a 504Wh or 635Wh battery depending on your preference or model selected. While Shimano's E-TUBE app does allow for further tuning, Fezzari have already done some tuning and collaboration with Shimano to give the Timp Peak a desired power delivery and tune to deliver the climbing performance, range and rider experience that Fezzari considers optimal.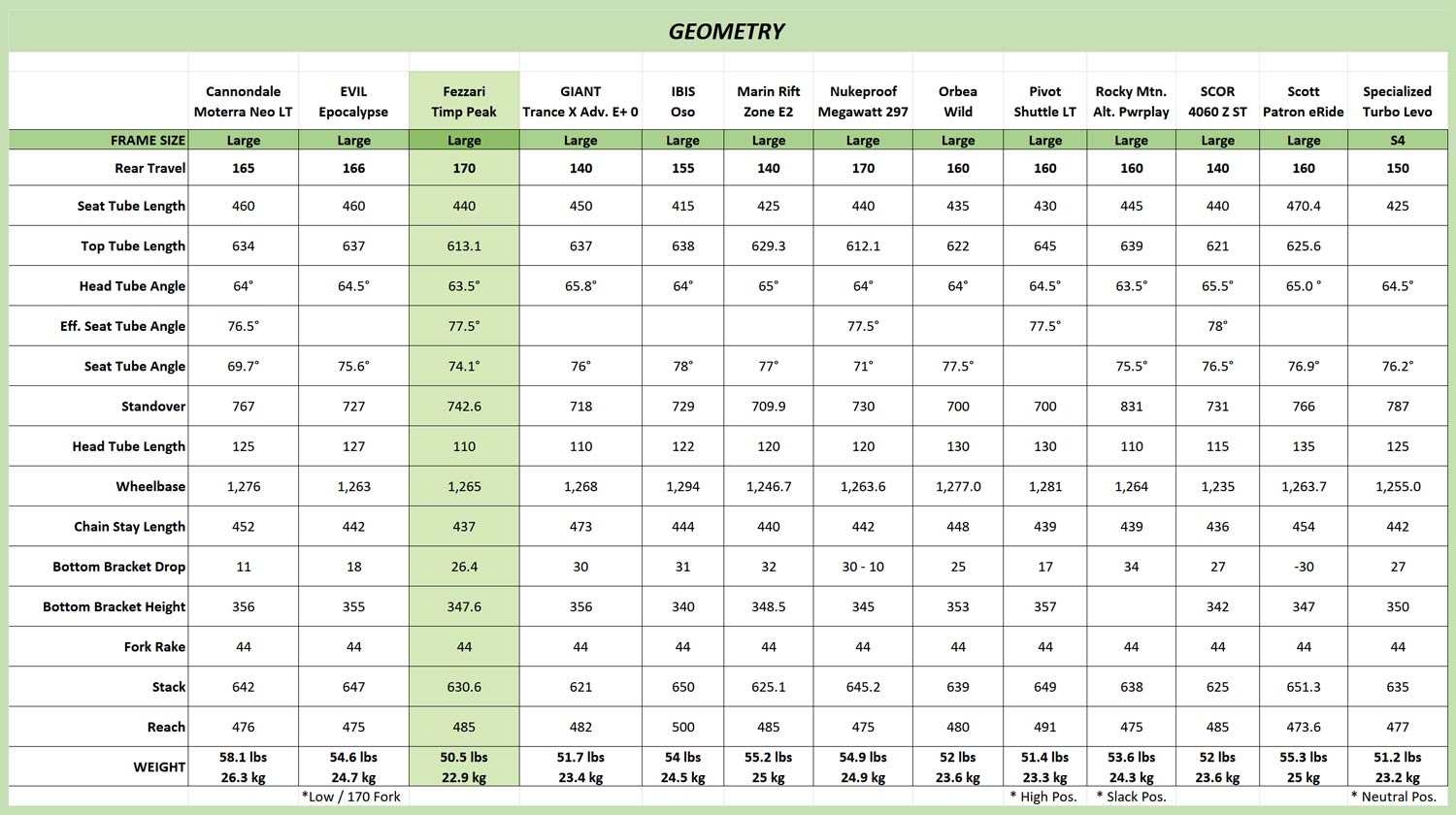 GEOMETRY
The Timp Peak features a GA Link which offers riders the ability to select a High or Low setting for the ride ahead. The Fezzari has generally purposeful geometry, with some stand-out numbers. The rear end was second shortest on test, and considerably shorter than most of the longer travel bikes; and the head tube angle was the slackest on test, equal to the Rocky Mountain.
BUILD SPECS
Fezzari offers the Timp Peak in five builds starting at $5,999 and topping out at $9,499. We've got a Pro (ish) build that retails for roughly $7,800. Fezzari has a 23-Point size, fit and customization program, which allows riders to pick and choose some aspects of their build. It's a feature we really like and can help save you time and money from having to select and swap out parts on your own. As standard they spec a 160mm crank, keeping us happy here to reduce the chance of pedal strikes and make a faster cadence easier to maintain.
A standard Pro – Launch Edition build retails for $7,499 and comes with a RockShox ZEB Ultimate RC2 Charger fork, Super Deluxe Ultimate RC2T rear shock, SRAM GX AXS drivetrain, TRP DHR-EVO brakes and DT Swiss HX1700 wheels. Although we'd always love to see bikes be more affordable, it's a rather competitive deal compared to many bikes on the market. This is no doubt in part thanks to their direct-to-consumer business model. At 50.7lbs for the build tested, the Timp Peak was the lightest bike on test – quite impressive for a dual crown-rated 170mm travel machine.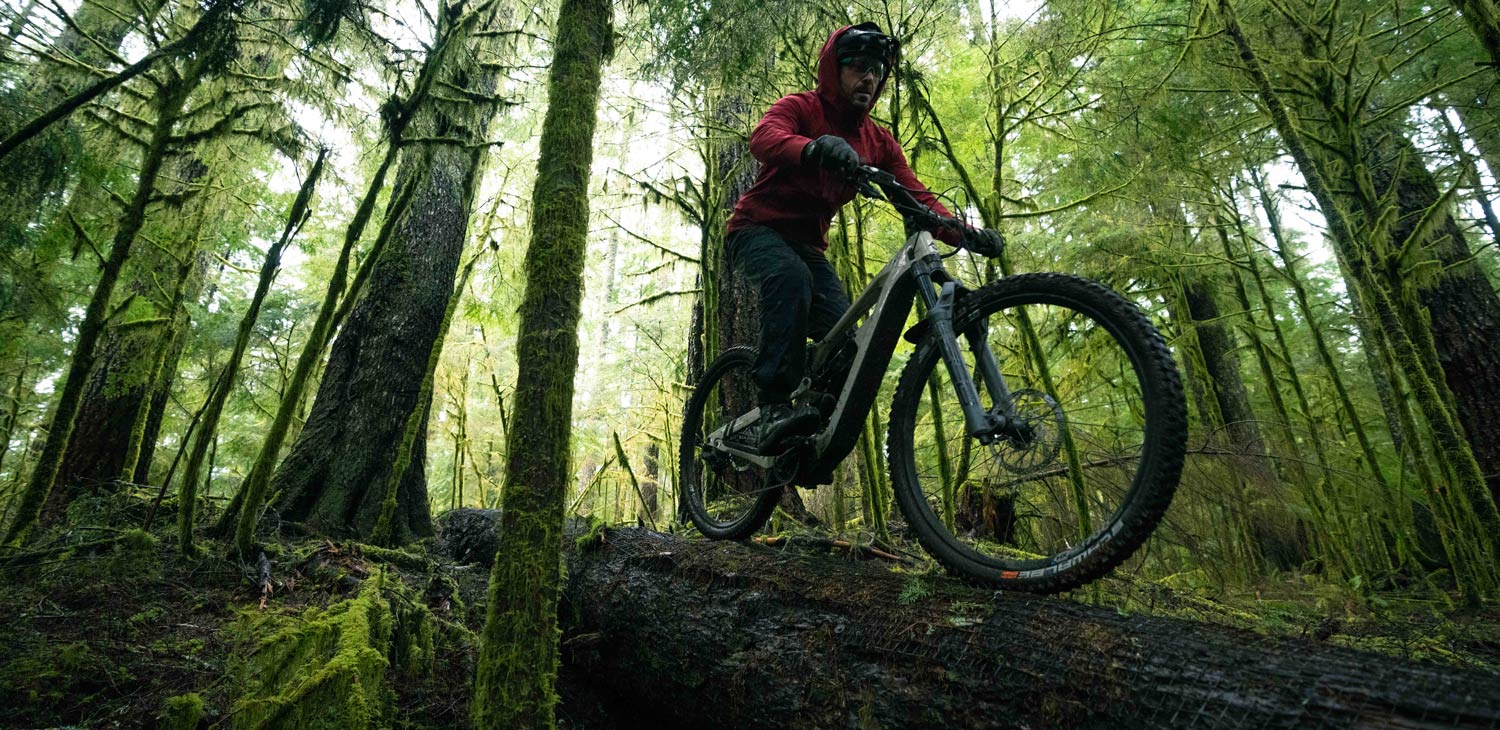 THE DIRT
SETUP | Following some promising first impressions as well as some questions left unanswered during the short riding period when producing the Dissected feature, the crew was excited to log some more miles on the Timp Peak as part of the 2023 eMTB Shootout. Setup was easy, with the sag indicator which is easy to see on the RockShox shock shaft, so we were ready to roll in no time.
ELECTRONICS & INTEGRATION | As Shimano EP8-equipped bikes go, it's on par in terms of integration, but falls behind the likes of the new Bosch system on the Orbea or the Rocky Mountain or Specialized systems.
CLIMBING | Climbing on the Timp Peak is pleasant thanks to a nicely centered seated position and plentiful support from the TetraLink rear end, though it's not the most comfortable over square edges on the way up the hill and so favors a more active approach for line choice. When the gradient gets steep, the short rear end can allow the front end to lift, making it difficult to find the balance of front-end weighting and rear tire traction. Until then though, the Fezzari is a competent climber, aided by the low overall weight.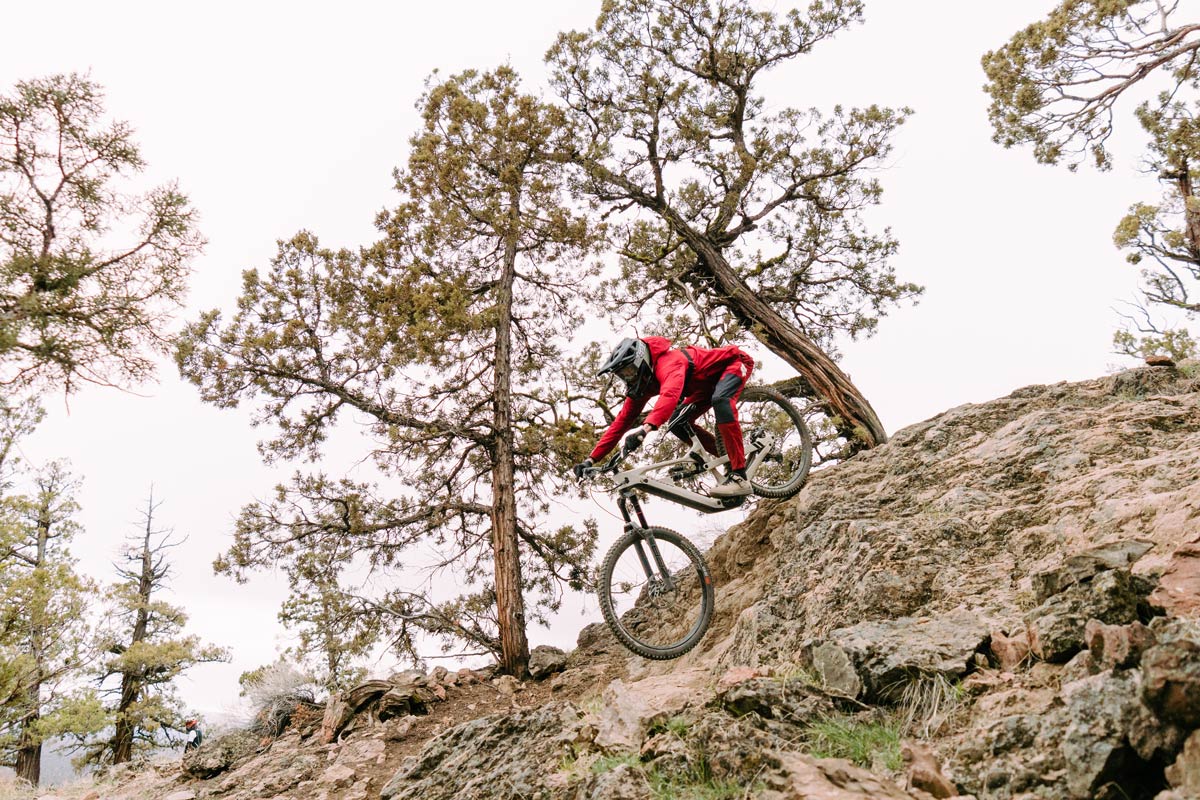 DESCENDING | On the way down the hill, the Timp Peak is a real blast to ride, with a great blend of stability thanks to that slack front, and snappiness thanks to the short and stout chainstays and surprisingly low weight. The square edged hang-ups from the way up the hill disappear into a smooth and sensitive rear end when pointed down, though the fairly stiff frame can transmit a little more feedback to the rider compared with some of the more damped competitors. This was only evident in the highest frequency bumps of the desert, whereas the softer soils of the coast really made the Fezzari come into its own and had us hooting and hollering every second. Speaking of hooting and hollering, the Timp Peak provided Robert with the confidence to hit the sketchiest and biggest send of the eBike shootout, during which he was thankful for the low weight as he had to hop as hard as he could to clear a sizable creek gap.
FINISH AND VALUE | Although $7,800 is by no means a small amount of money, the Fezzari Timp Peak represents some of the best value in the high performance eMTB world right now. There's nothing to suggest that the frame is of a lower quality than any of the much pricier alternatives, and the build spec far exceeds anything else on test at this price point. We had no complaints with anything fitted to our Timp Peak, which we can't say for all the other eBikes in the shootout. We have to tip our hats to Fezzari for achieving such an incredible bang for your buck with this 170mm travel ripper.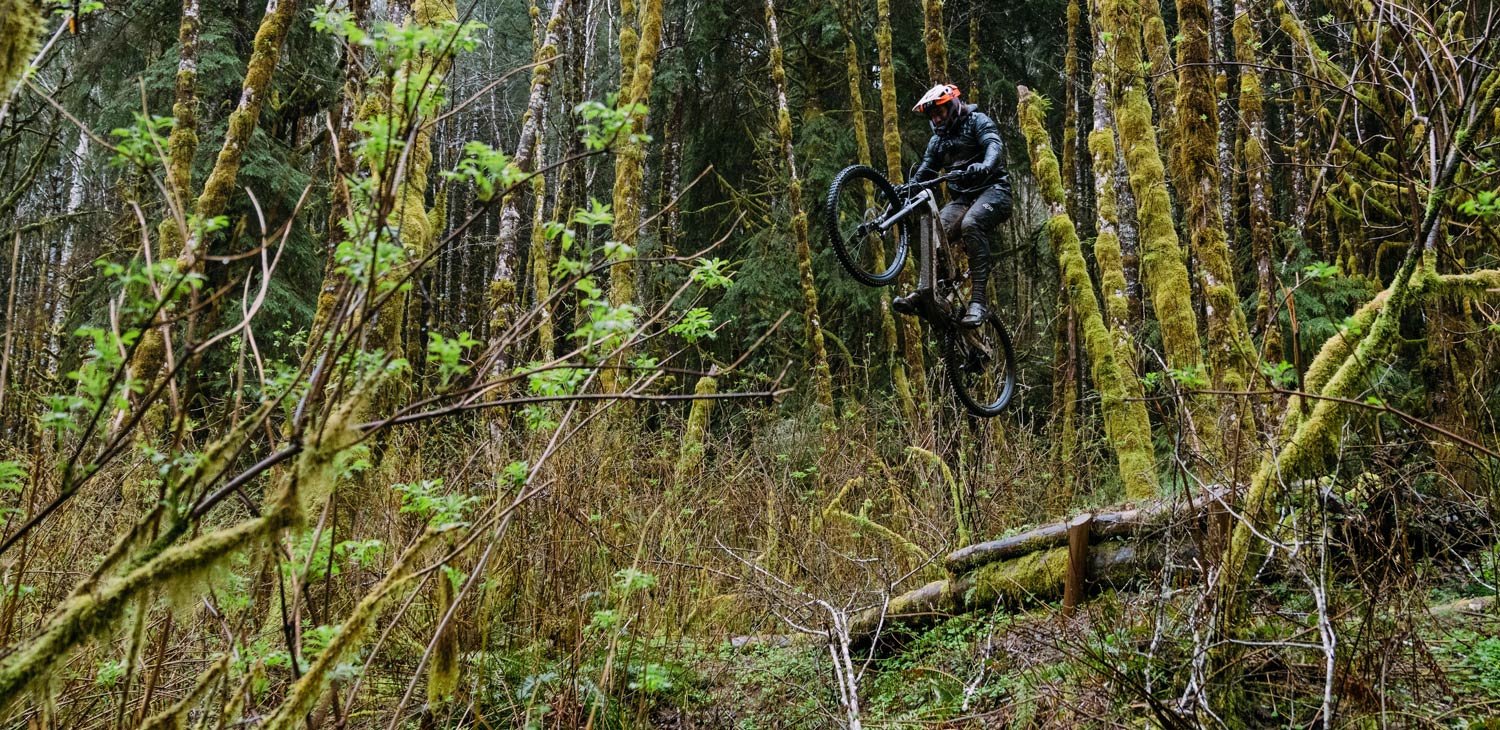 The Wolf's Last Word
With an excellent value proposition, comparatively, and performance to make all of our testers happy, it's safe to say we're impressed by what Fezzari has achieved with the Timp Peak. Not only as a commendable improvement over their Wire Peak that we've previously tested, but as a product that's now undoubtably one of the best eMTBs on the market with a value that has us wondering why we'd want to spend more.
WHO'S IT FOR?
We think there's a wide range of riders who will enjoy Fezzari's Timp Peak, especially with the part spec and performance you get for the money. The frame stiffness is high and so lighter riders riding rougher terrain may struggle a little with fatigue or finding traction, but for smoother terrain, heavier chargers or riders happy to run a more cushioned suspension setup, the Timp Peak is easy to recommend.
Price: $7,800 (approx)
Weight: 50.7lbs
Website: Fezzari.com
FEZZARI TIMP PEAK SPECS
CHASSIS
Frame: CleanCast Carbon Fiber | 170mm
Fork: Rockshox ZEB Ultimate RC2 | 170mm
Shock: RockShox Super Deluxe Ultimate RC2T
ELECTRONICS
Motor: Shimano EP8 | 85nm
Battery: Shimano Removable | 635WH
Display: Shimano E8000
COCKPIT
Brakes: TRP DH-R EVO | 203 / 203mm Rotors
Handlebar: One-Up Carbon E-Bar
Stem: Fezzari FRD Charger35
Grips: Ergon GA20
Headset: Cane Creek 40 Series ZS56/ZS56
Saddle: Selle Italia Model X Superflow Comfort
WHEELS
Hubs: DT Swiss 350
Rims: DT Swiss HX1700
Front Tire: Maxxis Assegai 29×2.5″WT | 3C | EXO+ Casing
Rear Tire: Maxxis DHR2 29×2.4″WT | 3C | EXO+ Casing
DRIVETRAIN
Cassette: Shimano CS-M8100 | 10-51t
Cranks: Shimano EM600 | 165mm
Shifter: Shimano XT M8100 | 12spd
Derailleur: Shimano XT M8100 | 12spd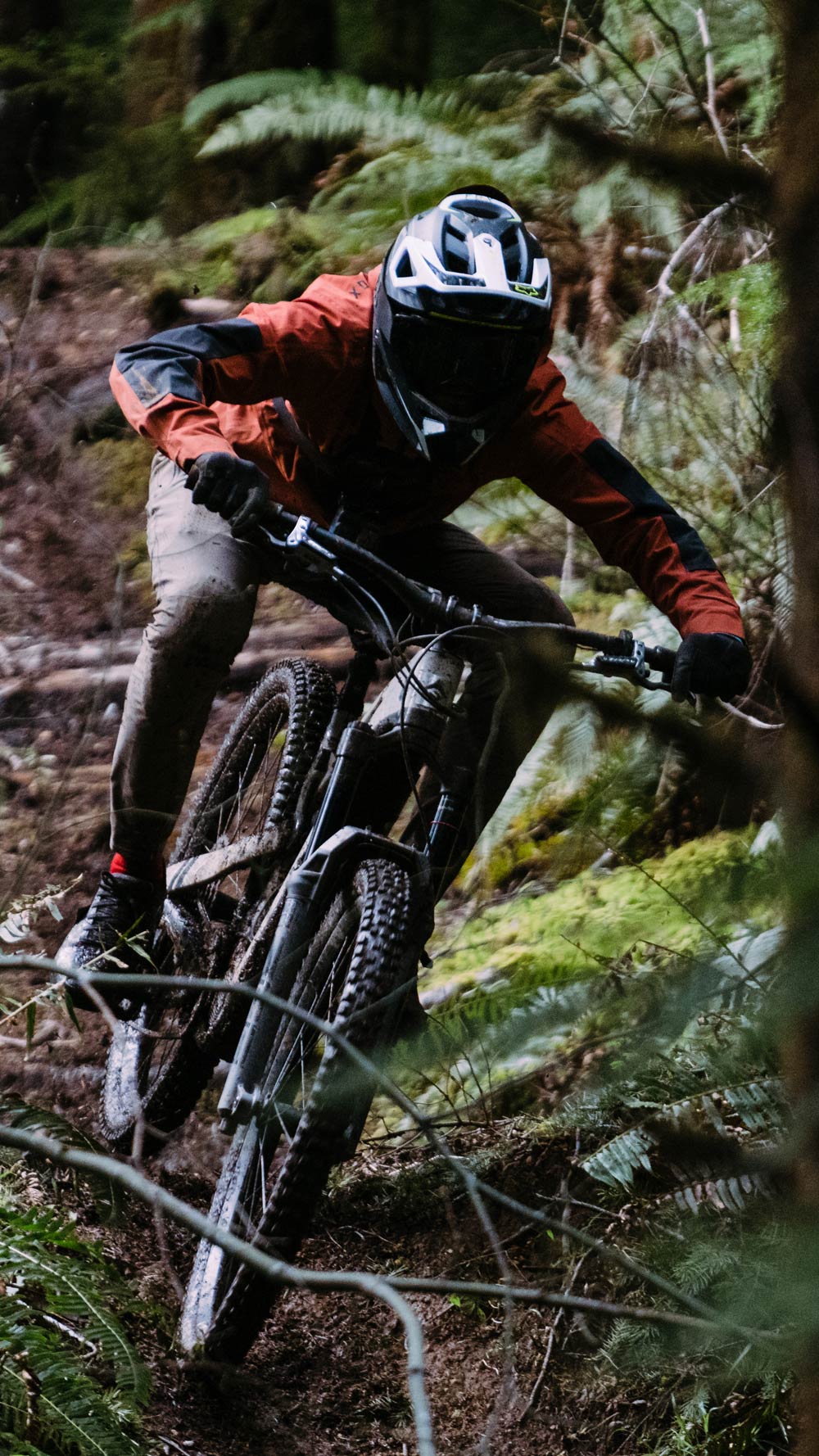 We Dig
Incredible value
Impressively light weight
Supports hard charging
So fun and playful
We Don't
Stiff frame can cause fatigue
Steep terrain climbing
LEAVE A COMMENT | WIN FREE STUFF
Want to win some free schwag? Leave a comment and vote up the most thoughtful comments and each month we'll pick a winner. The person with the smartest and most helpful replies will earn some sweet new gear. Join the Pack and get the latest news and read the latest reviews on the top mountain and electric mountain bikes.