ROCK SHOX ZEB ULTIMATE FORK REVIEW
THE YEAR OF 38MM STANCHIONS
Review by Drew Rohde | Photos by Cole Gregg
2020 has been a wild year, just trying to survive the volatile ride of the world is enough to necessitate a burly fork like the Rock Shox Zeb, let alone the increasingly packed and blown out trails from quarantine escapees looking for some relief and recreation. With so many memorable things happening this year, chances are we won't look back on 2020 as "The year of the 38's," but for die hard mountain bikers, it's certainly a pretty awesome leap in rider performance and one that will be felt in the bike industry for years to come. With the release of both the Fox 38 and Rock Shox Zeb, the progression of aggressive riding continues as bike parts continue to evolve with trends and rider demands.
THE LAB
Now, to avoid offending some of you we will talk about how modern day enduro bikes have damn-near the same capabilities of full-blown DH bikes and the need for stiffer, longer travel single crown forks is real, and that is true… But we all really know that the booming eMTB scene and record sales in the ebike category are major factors pushing the envelope and development of larger brakes, single crown forks and other "enduro" products that are flying off the shelf. Thankfully for us though, regardless of the why, we are all able to benefit from the technologies and benefits these new products deliver.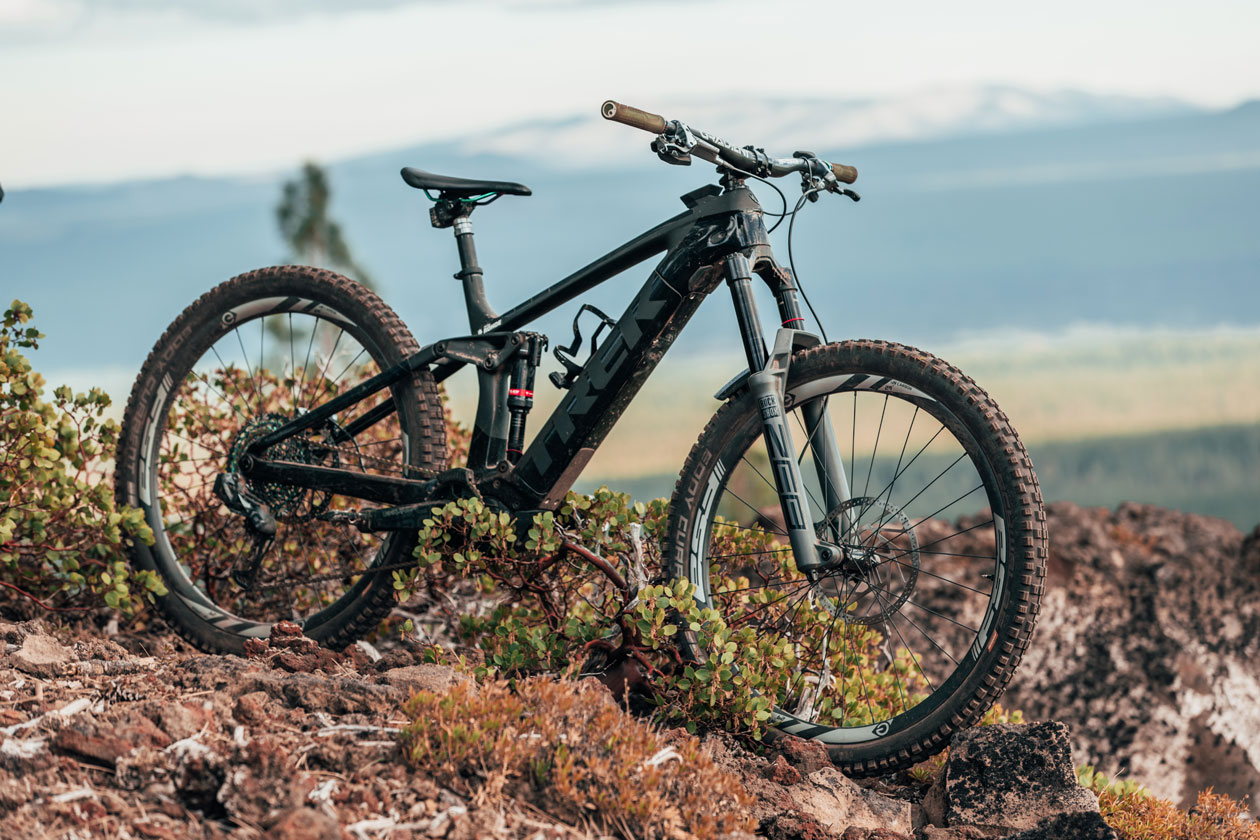 Enter the Zeb. Rock Shox offers the Zeb in 27.5" or 29" versions with travel from 150mm to 190mm and with 38mm (27.5"), 44mm (27.5", 29") and 51mm (29") offsets to ensure you have got the right fork for your rig. Speed management is more important than ever and the Zeb fits brake rotors from 200mm to 220mm. We used a TRP DHR Evo brake with 220mm rotors for our test period.
The Rock Shox Zeb R starts at $699 and goes up to $999 for the top-of-the-line Zeb Ultimate we tested here, which is a bit less expensive than the Fox Factory 38 we reviewed several months back. The Zeb Ultimate features Rock Shox's DebonAir air spring, which is light, highly tune-able and offers a smooth feel throughout the travel. The Zeb takes the DebonAir features found on the Pike and Lyrik but hosts a larger negative air chamber for a more buttery, DH-bike feel.  Another highlight is the Charger 2.1 RC2 system, which features independent high and low speed compression adjustment.
DETAILS
38mm Stanchions
150mm – 190m of travel in both 27.5" and 29" wheel size's
27.5" – Offset 38mm/44mm
29"  – Offset 44mm/51m
Charger 2.1 RC2 (Zeb Ultimate)
2265 grams (29″ Maxle Stealth 190mm model)
Integrated mud guard (optional)
4 Models (ZEB Ultimate, Select+, Select & ZEB)
SKF Wiper Seals
Compatible with rotors up to 220mm (minimum of 200mm)
Use LOAMWOLF15 for 15% off applicable items from our retail partner competitivecyclist.com
One of the big changes we see with the introduction of the ZEB is an increase of Torsional stiffness by 21.5% over the Lyrik (29" 180mm forks). The side load bending stiffness also sees an increase of 7% while the fore/aft stiffness gets a bump of only 2%. In our professional opinion, if you are under 170lbs and/or aren't a super aggressive rider the likely hood of seeing any major benefit from the added stiffness is pretty slim, a 200lb+ rider or eMTB rider will gain the most benefit here. In fact, having too stiff of a fork could be a negative in some applications and will detract from both comfort and traction. If that is that case, we would say the Lyrik is going to be a better option.
While increasing the stiffness of this fork may have you thinking it is a heavy beast, it comes in at a respectable 2,265 grams for the 190mm 29" model. A 160mm Fox 38 (29" model) lands in at 2,289 grams. Yes, you read that right, that's a difference of 24 grams. Sure, that's a small number but all considered that is a great accomplishment. These weight savings are seen in the extra machine work around the crown, Rock Shox has removed as much material as possible with sacrificing quality or durability. This extra machining also gives the ZEB an aggressive, industrial look that we are quite fond of.
THE DIRT
We installed the Rock Shox Zeb on our trusty Trek Rail 9.9, which has seen many upgrades since our eMTB Shootout back in January. It originally came with a Rock Shox Lyrik that was replaced by a pistachio Fox Factory 38. We removed the Fox 38 and put on the new Zeb for a real deal Pepsi challenge as it was the bike, we were most familiar with and had just ridden for months with the 38 up front.
The Rock Shox Zeb has an industrial, tough look about it, a departure from the rounded, wet looking finish of the Fox 38. The arch and crown instantly demand attention with fine touches on the details. Moving past the looks to set up process, the Zeb Ultimate is on par with other Ultimate forks as the rider can adjust progressivity with bottomless tokens, tweak on high speed or low speed compression and rebound adjustment. Within about two or three rides we had our fork pretty dialed in.
Our testers enjoyed the feel of the Zeb in many scenarios on the trail but had some areas of note when comparing it to the recently replaced 38. As a whole we'd say that Rock Shox forks have a bit of a stiff feeling at the higher points of travel. It is something that we love while on flow trails, jump lines or smoother bits of trail where pumping transitions and momentum matter. Where that stiffer platform bites back are initial impacts or high frequency braking bumps. Where the Fox 38 sits in the travel a little bit, making it buttery smooth and plush, the Rock Shox Zeb is marginally stiffer and requires a bit more energy to open up. Again, this could be something that suits some riders and types better than others as it offers a slightly faster ride with more efficiency when pumping and jumping, but also caused our hands to get a bit more fatigued, more quickly.
What is interesting is despite the somewhat stiffer feel off the top, we found the mid-stroke to be a bit softer than the Fox 38. After moving through that first 45-55mm of travel the Zeb has a bit of a bottomless, soft feeling that is buttery and cushy. At first that may sound great, and it could be for some, but we found that it was a bit too soft and vague for wanting to push off the fork out of berms or trying to change lines mid-turn. By no means is it a huge flaw of this fork, but when coming directly off the 38, which feels like it has more support in the mid-stroke, it was something we felt. In some scenarios on the trail, we liked it, in others we did not.
We experimented with increasing air pressure, tokens and both high speed and low speed compression settings but found that any major changes would affect other areas negatively that were bigger concerns than a slightly soft mid-stroke, so we settled on a happy medium that gave us the best support with the best sensitivity we could get.
When it came time to send our 50lb eMTB into orbit, the Zeb was ready to handle it. We did not battle with the harsh bottoms out of the box and need to keep airing up or adding volume reducers like we did on the 38. The DebonAir and Charger 2.1 did a good job of sucking up large hits and landings. It felt like diving into a hot bowl of butter every time we would land larger step downs or drops, and the quick reaction rebound circuit got us back to the top of the travel effortlessly. Rock Shox's effort to design a fork that rides higher in the travel has been achieved and it will quickly get back up, giving riders as much travel as possible for impacts and obstacles ahead.
The Wolf's Last Word
When it comes to hard-charging, long travel single crown mountain bike forks, the Rock Shox Zeb is certainly a force to be reckoned with. With travel up to 190mm, impressive stiffness, damping and tune-ability, our crew liked really liked the Zeb. The fork sets up quickly, looks sharp and performs well. The stiffness is certainly there and should be a topic of discussion when considering a purchase. If you live in an area with lots of loose terrain or ride tons of wet roots, you may prefer the Lyrik over the increased stiffness provided by the Zeb. If you are a hard charger, weigh over 180lbs or enjoy pushing the limits of your eMTB, the Zeb will deliver.
Price: $999;
Weight: 2,282 grams;
Website: rockshox.com
Disclosure: Our team selects all of the products we review and do so with honesty and objectivity in mind. Some of the products we receive come directly from Competitive Cyclist, who also value our readers and have offered them a 15% discount (exclusions apply) on their first purchase by using LOAMWOLF15. Through this program we may also receive a small commission at no cost to you. Thanks for your support, TLW.
We Dig
Tough Industrial Look
Very smooth feel once into the travel
Buttery when landing drops/step downs
Uses full travel nicely
Easy set up
Adjustability
Weight
We Don't
Can be too stiff for some conditions/riders
Feels stiff off top and initial impacts
Soft middle stroke
LEAVE A COMMENT, WIN FREE SWAG!
Want to win some free schwag? Leave a comment and vote up the most thoughtful comments and each month we'll pick a winner. The person with the smartest and most helpful replies will earn some sweet new gear. Join the Pack and get the latest news and read the latest reviews on the top mountain and electric mountain bikes.