MARZOCCHI BOMBER Z1 AND BOMBER AIR REVIEW
BANG FOR YOUR HUCK-A-BUCK
Words by Drew Rohde
Photos by Drew Rohde & Sourpatch

For mountain bikers out who are looking to freshen up their rig with high quality, affordable suspension, the Marzocchi Z1 Bomber and Bomber Air rear shock are worth a closer look. We've been reviewing the new Marzocchi Bomber Air shock since we mounted it onto our Fezzari La Sal Peak with a new Z1 a few months back. Since that initial Tech Check video and write up we've continued to put hours on the two products on everything from pedaly flow trails to flat-out DH tracks up at Mt. Bachelor Bike Park.
THE LAB
Since we went pretty deep into the Bomber Air shock for our Tech Check introduction, we'll glance over the rear shock here. Available with stroke lengths from 40- to 75-milimeters, the Marzocchi Bomber Air shock is DH-rated and comes in a variety of Metric and Trunnion sizes. It is also compatible with Fox bearing mounts on all Metric sizes. Nice features include the asymmetric reservoir position, tool-free adjusters and a 2-position, non-indexed compression sweep adjuster. If you haven't heard yet, Marzocchi's aim is to create durable, user-friendly suspension that works well and doesn't break the bank. So, easy to tune will be a common theme throughout.
Keeping in tune with the rear, Marzocchi's Bomber Z1 fork is intended to urge riders away from counting clicks and seconds, instead focusing on smiles and miles. Marzocchi shares some parts with their parent-company, Fox Shox, so some technologies and features cross over. The chassis shares some similarities however there are some notable differences like a heavier-grade alloy used in the fork legs. Also, since Marzocchi strives for affordability and reliability, the 36mm lower legs, crown and arch are not machined as much as Fox's 36 chassis, which adds a little bit of weight and stiffness to the fork.
Marzocchi's Z1 also utilizes the Float air spring and Grip damper. It is also available in a coil sprung version, but we're big fans of Marzocchi's air fork feel. Compression damping is controlled via a shiny gold sweep lever, which offers notable changes to the characteristics. A simple rebound adjuster on the bottom of the right leg helps keep the fork under control on the way back to max travel, a place this fork likes to be.
THE DIRT
Over the course of this year we've spent a lot of time riding the Marzocchi Bomber shock and Z1 fork on our Fezzari La Sal Peak enduro bike. What's more impressive is that we removed some incredibly expensive EXT suspension from the bike and didn't feel a huge degradation in performance. In fact, the bike was even more alive in certain types of terrain where a coil spring kept the bike planted before.
On this 170mm 29er, the Marzocchi Bomber shock and Z1 fork were right at home, and I instantly noticed a change in how the bike rode. Pedaling performance of the La Sal Peak is already impressive for an enduro bike like this, but the air shock certainly added some platform and stiffness for increased efficiency. This extra bit of platform also translated into more speed and resistance against the pedals when it came time to pressing into berms, pumping backsides or sending the bike into orbit while riding jump trails.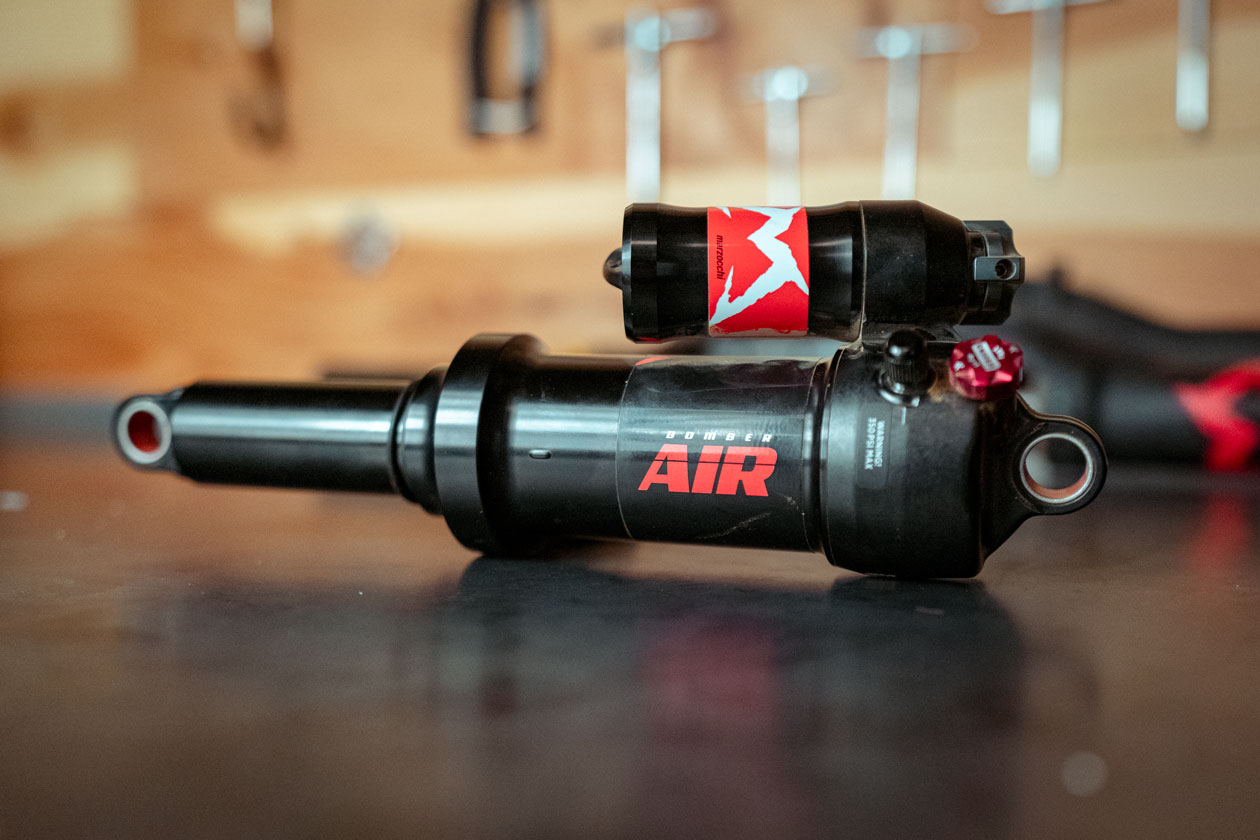 While most of the time increased platform and stiffness results in fatigue or harshness, I am pleased to say, it was barely noticeable compared to the EXT stuff in most conditions. I'm not saying Marzocchi's Bomber Air shock is as good, but I do think it performs very well over a majority of trail types and that a lot of riders out there will likely not notice enough of a difference to justify the added cost. We're big fans of a strong performance to value ratio.
Up front, I was equally impressed with how the Marzocchi Z1 fork performed. Compared to Fox forks, they have a slightly different ride feel. I don't want to say more aggressive for fear of scaring away riders, but Marzocchi's forks ride high in the travel, are spritely and fast and almost feel as if they have more progressivity tuned in. Where I normally find the need to spend time tuning a Fox fork or add more volume reducers, the Marzocchi was good to go right out of the box. I set up the air pressure and rode it, which is Marzocchi's goal. Take away the fidgeting of complicated suspension products and just let riders enjoy the ride.
The Wolf's Last Word
Over the many months of passing our test bike around we have absolutely no qualms saying that the Marzocchi Z1 and Bomber Air combo is one of the best bangs for the buck when it comes to affordable mountain bike suspension upgrades. During our review of the Marzocchi products we pedaled, jumped and bike parked countless miles and were constantly impressed by how the ride quality of our test mule that originally came with EXT suspension performed.
Marzocchi's goal isn't too dumb down mountain bike suspension, but to make products more affordable and easily enjoyable. In those goals they have succeeded. As a professional bike tester, one who is constantly experimenting with suspension settings, evaluating the amount of hand or foot feedback I'm receiving through the bars and pedals, it was nice to just get on the bike, check my sag and have fun. And fun we had! Two thumbs up Marzocchi.
Price:
Bomber Z1 – $729
Bomber Air – $479
Weight:
Bomber Z1 – 2,219g (170mm 29er)
Bomber Air – 496g
Website: Marzocchi.com
We Dig
All about fun
Value
Performance to Price Ratio
LEAVE A COMMENT, WIN FREE SWAG!
Want to win some free schwag? Leave a comment and vote up the most thoughtful comments and each month we'll pick a winner. The person with the smartest and most helpful replies will earn some sweet new gear. Join the Pack and get the latest news and read the latest reviews on the top mountain and electric mountain bikes.